Soaring through the air over Ontario!
By Natalie & Phil Monday, March 13, 2017
---
Helicopter Rides & Balloon Adventures (planes too) – reserve your spot for spring & summer
There is something about looking down at the earth from high above that makes you realize how small you are.  While we usually are way up high, looking down through the small windows of a jet airplane, there are some other pretty cool ways to fly, many of which allow you to be a bit closer to land. Some adventures are highlighted below. For more ideas check the Outdoor Adventures category on Summer Fun Guide.ca.

Helicopters
If you have never been in a helicopter, it is an experience to try one day. It may seem adventurous, but it is surprisingly smooth and is a wonderful way to see a fair amount of country in a short time. Because you don't need an airport, you can also take off and land anywhere, making a helicopter ideal for things like winery tours. Here are a few to check out: Central Helicopters Inc does Muskoka tours.  Niagara Helicopters Limited offers the highest, most spectacular view of the Falls. 1000 Islands Helicopter Tours in Gananoque lets you enjoy the 1000 Islands from the air.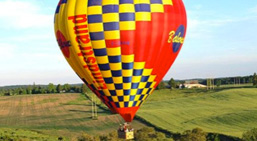 Balloons
Balloons offer a magical way to experience flight. They are a visual treat to view from the ground and are equally wonderful to go up in. For some reason, SW Ontario is a hotbed of balloon activity, but you can also enjoy a balloon experience elsewhere: Skyward Balloons Hot Air Balloon Rides operates out of  Kitchener-Waterloo, while Sundance Balloons has locations in London, Kitchener, GTA & Ottawa.

Scenic flights
While the flights in this section are still on planes, these planes are very different from those that fly out of Toronto's Pearson or Ottawa's Macdonald–Cartier Airports. These planes are small and only seat 2-3 people plus the captain. Book a sightseeing tour or try the fly in dining package at Genesis Flight Centre – Scenic Flights out of Collingwood or treat yourself or someone else to a Vintage Biplane Experience at the Canada Aviation Museum in Ottawa where you can fly in a vintage open-cockpit biplane.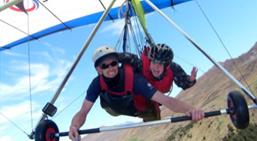 Hang Gliding and Soaring/Sailplanes/Gliders
While the other options above are all engine-powered, this section offers the experience of a fully wind-powered flight. The most peaceful and silent of all the options, it is also the most adventurous! Try a tandem HangGliding flight at High Perspective Inc. HangGliding in Pickering or try soaring in a motorless glider/sailplane at either Toronto Soaring Club or York Soaring Association (SW) for a serene or extreme flight.
Choose your adventure today! And have fun exploring Ontario by air.
Enjoy!
Shari & Elisa