Spring activities & Maple Syrup
By admin Tuesday, April 5, 2016
---
We know that spring is here when sugaring-off starts. This tradition and the maple and spring festivals that accompany it symbolize the end of winter; we know that after the sap starts to run, it won't be long til the sun starts to warm us up and the first green shoots will start to push through the ground. Check all the maple and spring festivals on the Summer Fun Guide event calendar.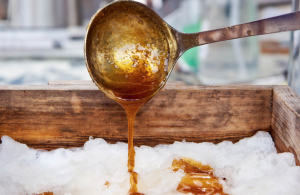 Maple Syrup Capital
Did you know that Lanark County is the Maple Syrup Capital of Ontario? Me neither! Because sugar maple trees grow incredibly well in the region's mineral rich soils, the county boasts over 100 family maple farms that produce the world's highest quality 'liquid gold'. Lanark has so many sugar bushes (clusters of maple trees where the sap is collected and boiled into syrup) that National Geographic listed visiting a sugar bush as their number-one recommended food experience in Ontario! The County even has a Maple Syrup Museum that holds the Guinness World Record for "Largest collection of maple syrup production artefacts". Make sure you taste maple taffy, made when warm maple syrup is poured on snow.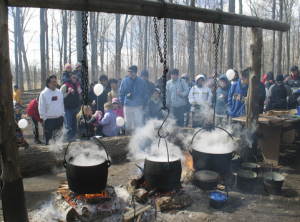 Maple Syrup Festivals
Canada produces 85 per cent of the world's maple syrup so there are maple syrup festivals all over Ontario; one of the best sites to check is the Ontario Maple Syrup Producers Association, which lists all of the sweet festivals in the province. With producers and sugar shacks all over, you will find one near you. Don't forget about other festivals too, like the Proulx Farms Maple fest as well as events at Conservation areas province-wide, including Sugarbush Maple Festival at Bruce's Mill, Kortright, and Terra Cotta Conservation Areas.  There is also a Tap into Maple event March 1- May 31, a route created to support and showcase local maple syrup, maple products & events in Ontario's Lake Country & Springwater.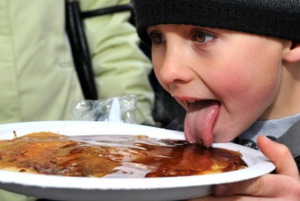 Spring Events
There are lots of events happening around Ontario, and all of them have to do with Spring! From Maple, to Easter to flowers blooming, you can celebrate spring in all its glory. Here are a few to check out, but there are more below. Hop to it at Whitchurch-Stouffville Easter Hoppenings or at the Downtown Orillia's Great Easter Egg Hunt, search for colourful Easter eggs hidden throughout Downtown Orillia. At the Return of the Swans Festival, you can see over 10,000 ducks, geese and tundra swans on flooded fields.  Click…at the Spark Photography Festival, enjoy a month-long celebration of photography in Northumberland, Peterborough & the Kawartha Lakes.
Other stuff in spring
Many Ontario attractions, museums, farms and zoos close for the cold winter as they don't have enough visitors to justify being open year round. But as soon as April arrives, many of them re-open and while spring may not be hot enough for swimming, it is perfect weather to visit many of these indoor and outdoor locations. For example, check out Doors Open Ontario which starts in April and offers free admission to many of Ontario's most charming heritage sites. Some of the zoos and farms open in March and April such as Oshawa Zoo, and Springridge Farm (open March 24). Or have a fun day playing at Adventure Village or Ziplining at Boler Mountain or Treetop Eco-adventure Park. There are a lot of other options too – like taking a sightseeing tour or going on a canoe trip or hiking in one of Ontario's gorgeous parks or conservation areas.
The birds are tweeting. The sap is flowing. The sun is shining and there are even days when you don't have to zip your jacket. Spring is here and there are lots of ways to enjoy it! Don't forget to check the Summer Fun Guide event calendar for festivals and special events happening this week too!
https://credit-n.ru/zakony/pamjatka-zaemchiku-credita/pzpk.html заим на картузайм 10000 на картузайм онлайн переводом золотая корона