Top SFG picks to get your adrenaline fix this summer
By Natalie & Phil Monday, July 20, 2015
---
Sometimes, you feel like relaxing in the summer sunshine, but sometimes, you'd rather feel the wind in your hair & enjoy the beautiful warm weather while simultaneously getting a real adrenaline rush. Here are some of our top picks for outdoor adventures where you'll experience some of the best rushes around. Check out our just launched, newly designed website for lots more options and let us know what you think!
ATV Rentals/Tours
Ontario has such amazing backcounty – gorgeous terrain & forests that can sometimes be hard to navigate by foot. An ATV tour is a great way to explore these areas. Back Country Tours (Muskoka, Haliburton), takes you on a guided ATV tour or you can rent an ATV for your own adventure. Gopher Dunes (30 min. S of Woodstock in SW Ont) offers ATV or Dirt Bike instruction & a professional track or enjoy scenic trail with a trained Guide. At Horseshoe Resort, you can experience the thrill of a Hummer ride deep in the heart of the Horseshoe Valley or tour the area on a Segway! It's  lots of fun (I've done it) & it's easy. No experience necessary.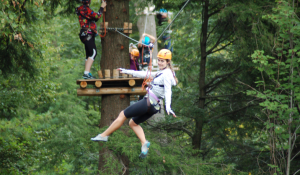 Ziplining
Taking off on a zipline is sure to give you the rush of a lifetime. (although I have to admit, it might be too much of a rush for me!) At Camp Fortune in Chelsea, Quebec (just 15 minutes from Ottawa), you'll find ziplines & activities for all skills & thrill levels. In Southwestern Ontario, at Long Point Eco-Adventures & Boler Mountain Treetop Adventure Park & More!, you can take a canopy tour & zip through the trees (multi-levels also available.) Treetop Trekking Zipline Aerial Parks has 5 locations available across Ontario where you can zipline, test your balance on the balance logs & wooden bridges or try the Tarzan swings. They also have a new kids' adventure park called Treewalk Village, so even the little guys can have an adventure!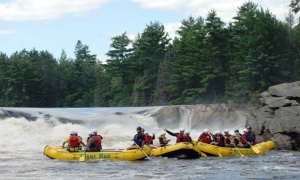 Whitewater Rafting
Whitewater rafting is a real thrill where you challenge yourself & work in a team to get through choppy waters at different levels of difficulty. Madawaska River Family Rafting (Eastern Ont) offers 2 hour rafting trips in Algonquin where you hold on tight as your guide takes you down the rapids. RiverRun Rafting on the Ottawa River has different levels of excitement to suit your needs– high adventure, ultimate adventure & family adventure. With Whitewater Music & Adventure (GTA or Southwestern Ont.), you traverse often difficult waters by kayak to get to a beach or forest where you learn about & play hand drums. Wilderness Tours Raft & Kayak Resort (Eastern Ont.) has so much to offer, including gentle, adventurous & extreme whitewater rafting excursions.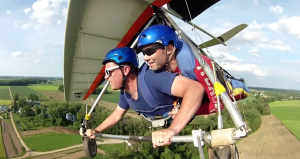 Hang Gliding or Flying a Plane
It's a bird, it's a plane – no – it's YOU on your latest adventure. If you haven't already done so, now's the time to try hang gliding or to learn to pilot your own plane. Instinct Windsports in St. Jacobs (Southwestern Ont.) has a full set of training options available for your flight – you can even get certified after completing their courses. In Pickering (GTA), you can hang glide with High Perspective either on a tandem flight with a certified instructor or learn to fly yourself. If piloting a plane is your dream, you can learn to fly with many companies around the province. The Genesis Flight Centre in Collingwood (Central Ont.) offers different flight lesson packages to meet your needs.  In Sudbury (northern Ont.), learn to be a pilot with Discovery Aviation Academy. For further flying information visit the Learn to Fly website.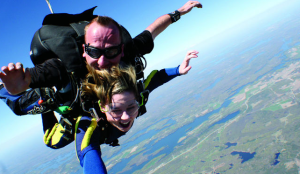 Skydiving/indoor skydiving
What could be more of a thrill than jumping out of a plane? With Skydive Gananoque (Eastern Ont.), you can experience the thrill of free-fall on a tandem jump & if you like, learn to jump solo. You can soar over southern Ontario with Skydive Burnaby on a tandem jump. In Southwestern Ontario at the Grand Bend Sport Parachuting Centre,  once you're ready to "fly," you'll jump from the plane with the assistance of two instructors who will hold on to you & direct you via a radio – they'll let go of you once your parachute is released. Believe it or not, you can also experience the excitement and weightlessness of free-falling from the safety of the indoors. With iFly Toronto Indoor Skydiving (GTA), experience the excitement of free-fall from the safety of an indoor facility. At the Niagara Free Fall & Interactive Centre (Niagara), you can also skydive indoors with their indoor vertical wind tunnel.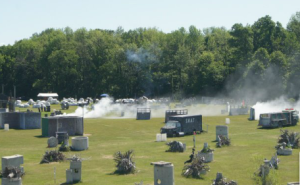 Outdoor Paintball
Imagine yourself as a soldier, running through the bush. At an outdoor paintball facility, try to cross enemy lines.  In Southwestern Ontario (just west of London), check out Adrenaline Paintball & Airsoft where you can join a big group game or book your own private game or party. In London you must try Flagswipe Paintball, with a 60 acre outdoor field and a an option for a gentler program for 6-12 yrs. Wasaga Beach Paintball (Central Ont.) has 13 fields for different types of games. The facility is on 70 acres of landscaped & wooded fields designed specifically for paintball. In Northern Ontario, in Goulais River, you'll find Treetops Adventure & Paintball where they say that the best hiding places have yet to discovered!
It's time to get your thrills on at these amazing outdoor activities.  From ATV tours to whitewater rafting, hang gliding to paintball, there's an activity & a level of excitement that's just right for you.