U-PICK FARMS, CORN MAZES & MORE FALL FUN IN ONTARIO
By admin Wednesday, October 14, 2020
---
Just in time for Canadian Thanksgiving on October 12, take advantage of prime harvest season with the bounty of U-Pick Farms and "fall" in love with the changing colours en route to your road trip destination. Whether you're looking for the best apple orchards, pumpkin patches, or corn maze to explore, we've got you covered by region. Plus, there's tons more of activities to do with the whole family while you're there from playlands, campfires, and wagon rides. Happy October and picking season!
Eastern/Ottawa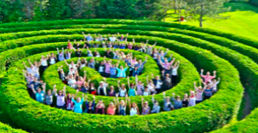 There are so many orchards and fall fun available, less than an hour outside of Ottawa! Log Cabin Orchard is the pick for a classic apple orchard, where apples are pre-picked or you can pick your own. Day or night, fall is prime time at Saunders Farm! Whether you're here for their famous Haunting Season or you're here to check out the 100 acre farm known for its full-sized hedge mazes or hayrides, this is the ideal day trip in autumn! Check out their campfire nights on Friday and Saturday nights until November 1. Packages (complete with s'mores!) are available for families, date night, or birthday parties. Book in a wagon ride after your picking at Mountain Orchards and don't forget to indulge in some butter tarts and doughnuts along the way! There's tons of family fun available at Cannamore Orchard, including their famous cow train, wagon rides, hedge mazes, and pedal cars.  In Hampton, Pingle's Farm offers a farm market, a pick-your-own area, a corn maze, and more!
GTA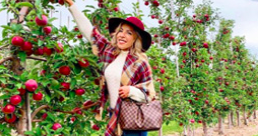 There are so many farms to explore in the GTA region which means prime picking for apple and pumpkin season! Make sure to check the websites and book your tickets online, if needed, before you go. Chudleigh's Farm offers over 22 varieties of apples for your apple picking adventures. In Mount Albert, come for the pumpkin and squash picking at Brooks Farms but let your kids stay for the barnyard playland, offering a multitude of activities for them to run and play! Explore a 10-acre corn maze while you pick up your farm box (and even bring your dog on Saturdays only) to Cooper's CSA and Farm & Maze in Zephyr. In lieu of its Pumpkinfest, Downey's Farm has its Fall Farmyard Play Area, which includes a new pirate cove and mini farmers golf, one of the dozens of activities available.
Central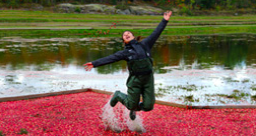 Up the ante on navigating a corn maze at night at Rounds Ranch's flashlight corn maze every Saturday evening in October from 4pm to 10pm. Get a wagon ride out to the pumpkin patch to pick your own pumpkins and squash at Murphy's Farm. Their fall festival is full of fun activities for the kids including an obstacle course and pumpkin cannon (on weekends only) until November 1. For something different, take a cranberry plunge which is exactly as it sounds! Wade into a sea of floating cranberries and stock up on turkey's sweet accessory in time for Thanksgiving at Johnston's Cranberry Marsh at Muskoka Lakes Farm & Winery. This is part of their all access pass for $55, which includes a wagon tour, tutored wine tasting and the cranberry plunge.
Southwestern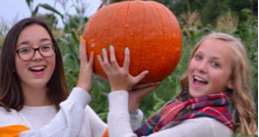 Create a fun day trip or weekend by choosing a U-Pick Farm and a hike nearby. 20 minutes west of Hamilton in Copeland, choose from pre-picked apples or pick your own at Myers Apple Farm.  Pick-Your-Own season at Carluke Orchards ends in mid-October and features over 13 varieties of apples and pumpkins, too! Pick from over 7 varieties of apples in season and pumpkins at Brantwood Farms. Their fall festival includes a straw castle, haunted barn, and a hayride to the Magic Forest! Come to Snyder's Family Farm for a 2 hour visit to the corn mazes, barnyard, and play areas. Stay for the sunset campfires.
Fall is such a beautiful season, we hope you enjoy all the fall fun to to be had in Ontario!
Phil & Natalie