Waterfalls around Ontario
By Natalie & Phil Monday, July 21, 2014
---
I had no idea that Ontario was home to so many spectacular waterfalls. All over our province you can find easily accessible, family friendly waterfalls (think restaurants & washrooms nearby) & many others that are off the beaten track & take a little more effort to find. All in all – you can feel like you're in a tropical paradise right here in Ontario!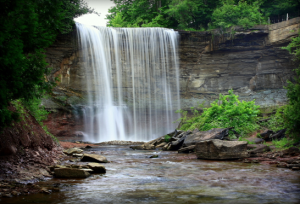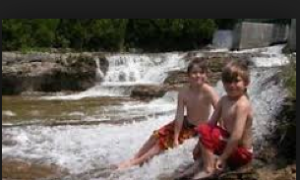 Family Oriented
If you're looking for a waterfall to visit with the whole family, there are plenty to choose from. These waterfalls generally have paved walkways or boardwalks, easily accessible viewing areas, plenty of parking & washrooms. Check out Weavers Creek & Eugenia Falls on the Grey County Waterfalls Tour. Hamilton is known as the "waterfall capital of the world" and has lots of waterfalls for all skill levels. Ragged Falls, just outside of Algonquin Park, is one of the top 10 waterfalls in Ontario & is easily accessible to most.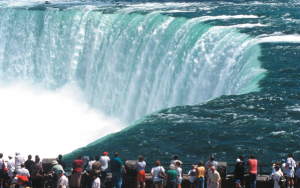 Famous Waterfalls
There are also many famous waterfalls in Ontario. Of course there's Niagara Falls, one of the wonders of the world. The Falls are really made up of 3 waterfalls, which together form the highest flow rate of any waterfall in the world. The adventurous can check out the White Water Walk where you can walk along a boardwalk that runs along the whirlpool rapids, several kilometres north of the Falls. Webster's Falls in Hamilton is famous in the area. It is the most widely known and frequently visited falls in the region and is the one to visit if you have to pick just one. Tew's Falls, also in Hamilton, is the tallest waterfall found in the Hamilton region.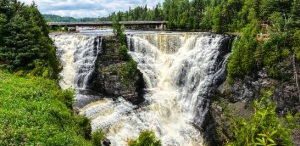 Waterfalls for Experienced Hikers

Many of Ontario's waterfalls have hikes for visitors of different skill levels. Kakabeka Falls in Northern Ontario, is the second highest waterfall in Ontario & has many trails for the more experienced hiker.  (Luckily it also has an excellent viewing area at the boardwalk that wraps around top of the falls for those who don't want a difficult hike.) Ball's Falls Conservation Area has hikes for all levels, including more advance hikers. Indian Falls & Hoggs Falls in Grey County are also beautiful but more challenging to access.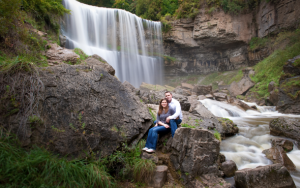 Waterfalls with Historical Remains
If you're looking for some history with your outdoor experience, then check out any one of the following destinations.  Inglis Falls & Grist Mill (Southwestern Ont.) is where you can see the remains of the grist mill & water filtration plant from 1862. In the Niagara Escarpment, there's Walter's Falls where you can still see the original woolen mill. In the Hamilton region, there's Webster's Falls  where the Webster family manor still stands on Webster's Falls Road along with the family gravestones. (You can visit on your way to Tews Falls.) Finally, there's Hilton Falls where you can see the remains of the 19th century saw mill.
A visit to a waterfall is a wonderful thing.  It brings you so close to the power and beauty of the natural world. For the best photos of a waterfall, try visiting on an overcast day.  The summer is a great time to be outdoors at a waterfall, but the fall is also incredible for the gorgeous fall colours.  In terms of volume of the water – spring is the best time of year.  Bottom line – you'll have a different experience at a waterfall whenever you visit, but it will always be pretty incredible!
– Michelle Brandes,  SFG newsletter editor,  Michelle@SummerFunGuide.ca