Wear your rainbow colours with PRIDE!
By Natalie & Phil Thursday, May 26, 2016
---
Members of the LGBTQ community worldwide have come to associate Ontario with an accepting and even welcoming tone.  As one of the earliest to allow gay marriage (4th country in the world), and with loads of LGBTQ bars and clubs, publications, and even 3 geographic areas that form the LGBTQ hubs of Toronto and Ottawa (Toronto's Gay Village, Toronto Queer West Village and Ottawa's Gay Village),  Ontario is a great destination to visit and an even better place to live!  Check out the various pride celebrations around the province, by month below.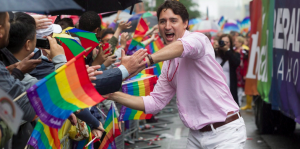 May
Kick off summer with events in SW, Eastern, & Northern Ontario and in Niagara region. Note that dates are current as of this newsletter but changes may occur so please check before booking time off to attend. If you visit the Niagara event, don't forget that this is wine region – plan to add a day or 2 to your trip and set up some tastings at some of the award winning wineries – the food is pretty amazing too!
Guelph Pride, April 29 – May 8 Pride Niagara, May 28 – June 4 Tri-Pride, Cambridge, Kitchener, Waterloo, TBC
Elliot Lake Pride, May 27-29 Kingston Pride, May 30 – June 15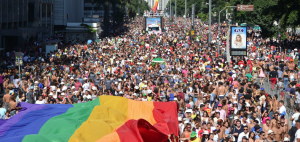 June
While you can attend pride events around the province this month, at some point, whether you belong to the LGBTQ community or not, you should try to be in Toronto during Pride. Toronto Pride is one of the largest organized LGBTQ event celebrations in the world, with attendance of up to 1 million people. 2016 marks Canada's first-ever Pride Month with extended programming and events throughout the city, culminating with the 10-day Pride Toronto festival, June 24 – July 3. Hamilton Pride, June 15-21 Thunder Pride, June 7-18 Pride Month and Pride Toronto, June 1 – July 3 Barrie Pride, June 7-14 York Pride Fest, June 11-19 Grey Bruce Pride, June  Brantford Pride, June 13-18  Pride Durham, June 2-8 Perth Pride, June 7-14.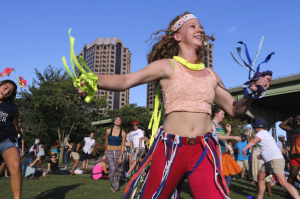 July
Feel the heat with July's Pride celebrations. Make a holiday week of it with a visit to Ontario's famous Cottage Country in Muskoka or to the beautiful 1000 Islands region (Brockville), where there are lots of places to stay and things to do. London's Pride fest is a great stopover if you are in the Golden Horseshoe region too!
Belleville Pride, July 15-23 Muskoka Pride, July 15-24 Pride London Festival, July 14-24 Peel Pride, July 13-25 Brockville Pride, July 11-16 Sudbury Pride, July 18 – 24 Fierté Simcoe County Pride, July 28-Aug 6.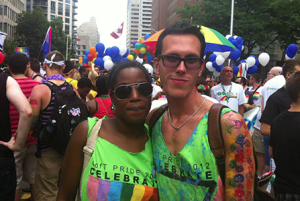 August/September
Summer isn't quite over yet – there is still time to visit Canada's capital and take in some of the amazing things Ottawa has to offer either before or after the Pride event there.  Or take a tour of SW Ontario and visit one pride event after another! Ottawa Capital Pride, August 15 -21 Halton Pride, August Windsor Essex Pride Fest, August 3-7 Chatham-Kent Pride, August Peterborough Pride, September 17-24.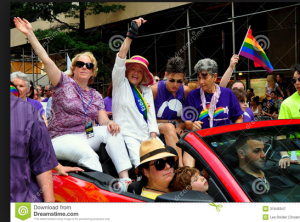 There are many places in the world where belonging to the LGBTQ community can result in criticism, barriers, and in some countries, even death. While Ontario is far from perfect, it prides itself (pun intended) on being welcoming and inclusive of all, and the world has noticed.