WELLNESS, ADVENTURE, FAMILY-FUN OR ROMANCE? PLAN YOUR STAYCATION AT ONE OF THESE ONTARIO RESORTS!
By Natalie & Phil Thursday, April 22, 2021
---
Sometimes it feels like Groundhog Day, doesn't it?  We are in yet another lockdown in Ontario and while we know many of you are growing weary, remember that the warmer weather is almost here making lockdown feel much less 'locked-in'.  With a big question mark surrounding what this summer's travel recommendations will look like, why not plan a staycation at one of these awesome Ontario resorts?  You don't have to go far to enjoy a relaxing getaway.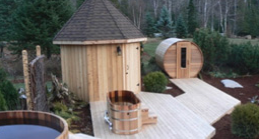 Are you looking for a holistic retreat where you can reconnect with yourself or your partner -all while being surrounded by nature? Grail Springs Retreat Centre for Wellbeing is dedicated to the wellness of its guests and the planet.  You can enjoy yoga, hiking, meditation, drum journeys, guest speakers and enjoy delicious plant-based meals to bring the full-circle wellness experience.  They've also got a unique equine meditation experience (horses!).  Spa treatments range from body wraps to massage therapy to energy healing and more.  All of this is set within Northern Ontario's beautiful wildlife filled forests.  Refill your mind, body and soul at the magical Grail Springs Spa for a soul-filling staycation.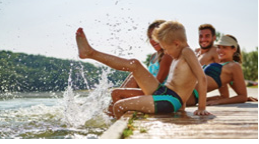 If your family is going a little stir-crazy after lockdown, why not switch up the scenery for a fun-filled Muskoka staycation.  Bayview Wildwood Resort in Port Severn has so many activities available, it will be impossible to be bored.  With an indoor/outdoor pool, lawn games, hiking, waterfront and tons of sporting equipment + access to courts – everyone will be entertained.  The resort even offers scavenger hunts, and smore kits for a lakeside campfire.  Expend some of that pent up energy from being home for so long in Ontario's quintessential cottage country.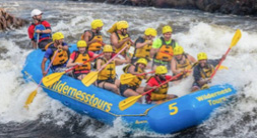 Maybe you're looking for the opposite of relaxation and are craving an adrenaline rush.  In that case, opt for an adventure and a rustic cottage stay at the Ottawa River Wilderness Tours Raft & Kayak Resort.  From there, you can choose one of their many white-water rafting, kayak, or mountain bike tours to get your blood pumping.  If white-water rafting down the Ottawa River makes your sweat just thinking of it, elect for a 'resort day' where you can kayak, stand up paddleboard or hike on the extensive trail system. An Ottawa river experience and stay at the Wilderness Tours Resort definitely will go down in the books as one to remember.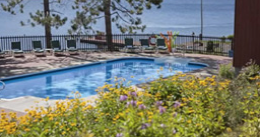 It's Valentine's Day every day at Couple's Resort in Algonquin park. Bring on the romance for an adult's only weekend at this secluded resort.  Have drinks by the lakeside patio and pool, indulge in a couples massage, explore the beautiful surroundings of Algonquin Park, or dig into a 5-course chef-prepared meal fireside.  While we're sure you've been spending a lot of extra time together this past year, a change of scenery is always a fun chance to reconnect and focus on each other.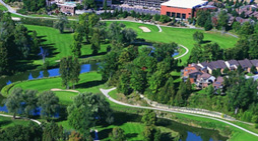 Tee off at two incredibly scenic golf courses along the Nottawasaga River at Ontario's only 45-hole golf resort, the Nottawasaga Resort. If the kids come with you, they'll be entertained by the indoor mini-put, 3 story waterslide and the tropical rainforest themed pool. If relaxing is your thing, choose a luxurious suite (with a gas fireplace and jacuzzi) or hit up the spa for a soothing massage. Located a short 45 minutes from Toronto in Alliston, this resort checks the boxes for everyone's needs.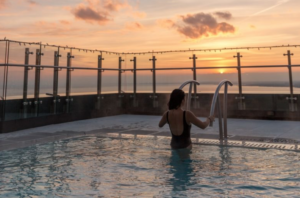 One of Toronto's latest hot spots is the brand-new stunning Hotel X, with an unmatched and unencumbered view of Lake Ontario.  A must-do while at Hotel X is check out the 55-foot indoor/outdoor heated pool. The sunsets from the Falcon Skybar are unrivaled, offering a panoramic view of Lake Ontario. When restrictions lift, enjoy the premier gym 10XTO with its 6 glass-backed squash courts, 4 tennis courts, hot yoga studio and more.  For the kids, they can play at the 3000 square foot kids play area with a sports court, quiet area, age-appropriate books and toys, and a big screen for movie time. Watch a movie as a family in the screening room, dine at one of the many top quality dining choices or explore the waterfront. Hotel X is a gorgeous and modern city-resort for you to treat yourself to a staycation in the big smoke!
With so much time spent at home this year, when it's safe to do so treat yourself to a change of scenery at one of Ontario's wonderful resorts, hotels, fishing lodges, campgrounds or spas! Check out our Accommodations Category for a full list of accommodations available province wide!
Natalie & Phil