The Diefenbunker: Canada's Cold War Museum
By Shari & Elisa Tuesday, January 15, 2013
---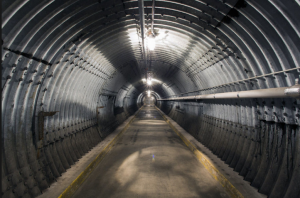 The Diefenbunker museum is located in Carp, Ontario, just west of Ottawa. It was built in the late 1950s to protect government officials from the threat of nuclear war, and it was named after Prime Minister John Diefenbaker, Canada's 13th Prime Minister. In the 1990s, the Diefenbunker was classified as a museum and as a National Historic Site of Canada.
In the summer of 2011, my family and I explored the underground 4-storey bunker. Visitors have the option of taking guided tours, or of having self-guided experiences with audio/video players. The museum is open year-round, and is available to the public, schools, and groups.
The exploration was like a time warp back to the 1960s. The entire bunker is over 100,000 square feet in size, and takes an hour or more to view. We enjoyed learning about the Prime Minister's suite, the War Cabinet Room, the CBC Radio studio, the Bank of Canada vault, and the Emergency Government Situation Centre.
The rate for a family (maximum two adults and five youth) is $40.00 + HST – at the time of this posting. Children under five enter for free. From our experience, the museum could be scary for younger children.
Find out more about the Diefenbunker museum at here or check out other fascinating Museums and Historical Sites on the Museums page of Summer Fun Guide.
By Robin Rakowsky
Robin Rakowsky is a happily married mom of two, a Librarian, and a writer. You can find more of her work at www.momwithlotsofthoughts.wordpress.com