GET OUT OF TOWN AND EXPLORE WATERLOO!
By admin Wednesday, September 16, 2020
---
Plan your next weekend getaway to Waterloo, Ontario! The Waterloo Region is made up of three vibrant cities — Cambridge, Kitchener and Waterloo — and four pastoral townships: North Dumfries, Wellesley, Wilmot and Woolwich. Whether you're looking to hit the trails, partake in fine dining, or hit some of the destination's most renowned breweries, Waterloo has a variety of things to do! Here are some of our favourite things to check out while you're there.
Fall Hiking Trails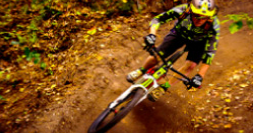 Revel in the fall foliage in the multitude of urban and rural trails whether you're walking, hiking, biking, or jogging. The Iron Horse Trail, part of the Trans Canada Trail, and the Huron Natural Area are great for nature lovers and photographers. The Hydrocut Trail–a series of 25 connected trails–is considered to be one of the top destinations in Ontario for riding your mountain bike. Explore more than 50 km of natural and urban trails in Cambridge, including the popular Cambridge to Paris Rail Trail and Devil's Creek Trail for a day outdoors.
St. Jacob's Market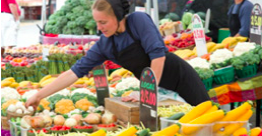 A weekend in Waterloo isn't complete without visiting St. Jacob's, located in the town of Woolwich, known for its Mennonite history. With over 300 vendors, turn your grocery shopping into a trip at St. Jacob's Market, and famous for being the largest year-round farmers' market in Canada. Shop around for antiques or take the family for a wagon ride with Elmira Wagon Rides. Train enthusiasts will get excited at the St. Jacobs & Aberfoyle Model Railway, featuring hand built trains representing the Canadian National and Canadian Pacific railways.
Breweries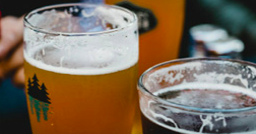 The Waterloo Region has quickly become a destination for beer lovers with its variety of craft breweries. Soak up the last of patio season at Block 3 Brewing and The Village Biergarten with a pint in the heart of St. Jacob's. Get a craft beer sampler at one of four locations at the popular Abe Erb or make a coffee and beer pitstop at Red Circle Brewing Co. Not only is it a microbrewery but it is also a coffee roaster, market and bakery!
Museums & Galleries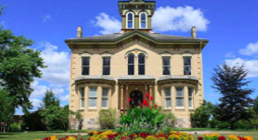 The Waterloo Region has a variety of unique museums currently open to the public. Make your way to The City of Waterloo Museum located in the Conestoga Mall, featuring more than 6,000 artifacts that relate to the Seagram family including a historic and rare bottle collection. Elevate your trip as an art day for the family at The Kitchener-Waterloo Art Gallery (KWAG), featuring over 4,000 works from different artists and an emphasis on its contemporary collection. Bonus: admission here is FREE! Marvel at the Victorian grandeur of Castle Kilbride, which you may notice as the set of the CBC/Netflix series, Anne with an E!
Fun Activities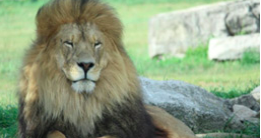 Open daily until October 12, explore the African Lion Safari and its seven game reserves from the comfort of your own vehicle for its drive-through experience. Experience Mirage VR, Canada's first full-body, free-roam, multiplayer virtual-reality experience! Enter fantasy worlds where players use magical powers and teamwork to overcome obstacles. For a real-life fantasy experience visit the Cambridge Butterfly Conservatory and get lost in a 10,000 square foot tropical garden that showcases thousands of butterflies along with other animals, such as small birds, and tropical plants.
Other Cool Stuff to Do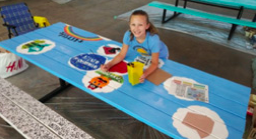 If you're dining al fresco this fall, look out for the Art Fresco Public Art Project, which features a series of decorated picnic tables hand painted by local artists. In Cambridge, Langdon Hall Country House Hotel and Spa is a destination unto itself. Visit the Relais and Chateaux Property for a pampering spa weekend or splurge on a decadent lunch, dinner, or afternoon tea at its award-winning restaurant. While exploring the Waterloo region you most likely won't get very far without noticing one of the many hand-painted signs for brown eggs and maple syrup. Make your road trip into a scavenger hunt looking for these farm gate sales and "honour stands," which lead you to delicious honey, summer sausage or sweet corn, found via laneways off the county roads. Payment? Leave your money in a box and "on your honour."
It's always fun exploring a new place and the Kitchener Waterloo region has something new to discover all year-round!
Natalie & Phil