10 things to do in London Ontario
By Natalie & Phil Thursday, May 30, 2019
---
Discover the London on this side of the Pond
As their tagline says…London is ON! This sleepy university town has become a great place to visit, with loads of festivals and events, outdoor activities, great museums, markets and more. Easy access via highway 401 means that London should be on your list.

Museums in London, Ontario
London has a surprising number of great museums for a smaller city. Some of the standouts include the Museum of Ontario Archaeology which has archaeological artifacts of 10,000 yrs of human history in Ontario. It also has the Lawson archaeological site – a 16th century Indigenous village settlement – and a Traditional Pow Wow & Harvest Festival September 14 – 15, too! London Children's Museum is focused on hands-on learning experiences, innovation and creative discovery. Royal Canadian Regiment Museum showcases an important piece of Canadian history since the 1860s.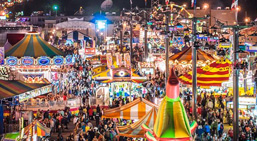 Festivals in London, Ontario
The London is ON! tagline is meant to signify that there is always something happening in London and that is so true! Festivals include TD Sunfest – July 4-7 which features 35+ top world music & jazz acts, international cuisine & crafts & visual art and it is FREE Admission! Home County Music & Art Festival – July 19-21, London's longest running summer festival, features 3 days of Canadian music + Canadian crafts, food, and craft beer garden. Or head over to Western Fair District. They have year-round events, music, racing, sports, Yuk Yuk's Comedy Club, & a weekend market plus their signature event- the 144th annual Western Fair, Sept 6-15.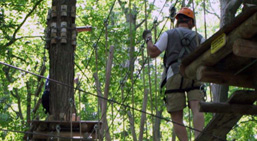 Activities in London, Ontario
East Park is a great place for Summer Fun with its New State of the art Wave Pool, 7 slide water park, gokarts, rock climbing, bumper cars, batting cages, mini golf, driving range, & 18 hole executive golf course. Boler Mountain – Treetop Adventure Park is not just for summer but it really does rock when it gets nice. See the Carolinian forest from the Treetops on Zip Lines, Rope Courses, Swinging Bridges, Tarzan Swings, & Pirate Nets.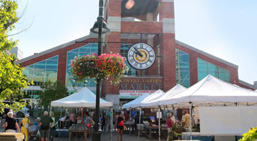 Other cool stuff to do in London
Have you ever wondered how beer is made? Take Labatt London's Hometown Brewery Tour which includes a guided tour of the brewery & of course, a sampling session. (MUST be pre booked by email or phone) Covent Garden Market & Outdoor Farmers' Market  has year round fun with an indoor market and outdoor seasonal market. Visit its Public Square for  Music/theatre festivals & community events year round and its winter ice rink.
Did you know that London Ontario is considered to be the perfect test market for companies wanting to test their products before launching across Canada? It's a diverse, forward thinking population of over 400,000 and makes a great test market. It is situated midway between Detroit and Toronto, is the 11th largest city in Canada, and has big-town appeal with small town charm. Worth a visit this summer!
For more things to do & places to stay in Ontario, see Summer Fun Guide.
Shari & Elisa, Publishers – Summer Fun Guide