4 family fun, outdoor summer activities!
By Natalie & Phil Monday, July 22, 2019
---
When summer is in full swing, we don't want to spend our free time inside. It is so nice to take advantage of warm weather and do something fun outdoors! Of course, on rainy days, there are loads of options for indoor fun on Summer Fun Guide.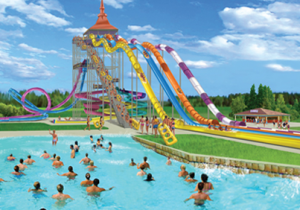 Waterparks
The hotter the weather, the more fun it is to go to a waterpark. Ontario has loads of them, all over! East Park London has a state of the art Wave Pool & 7 slide water park. Splash On Water Parks has Barrie & Orillia waterfront locations. Calypso Theme Waterpark near Ottawa is Canada's biggest waterpark & has Canada's largest wave pools. Kingston Aqua Park has a 10-metre water slide, lazy river & more. Wet'N'Wild Toronto has something for all ages. Earl Haig Family Fun Park has waterslide, lazy river ride & more. Wild Waterworks in Hamilton has Canada's largest outdoor wave-action pool & four 5.5-storey tube slides. Bingemans Big Splash & FunworX Indoor Playland Kitchener not only has Big Splash Waterpark, but mini golf and arcade too.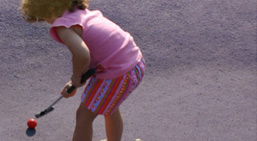 Mini Golf & Go-Karts
Mini golf and go-karting are activities in which adults and kids can participate together and both have fun. Wild Water & Wheels Peterboro has a 1/2 mile go-kart track, 18 hole mini golf & a Pipeline Express Coaster. Wasaga 500 Family Entertainment Centre & Go-Karts has a 1.6KM High Banked Track and 2x 18 Hole Mini Golf Courses. Balm Beach Go-Karts has 1/2 mile paved track w/ 24 Go-Karts & 18 hole mini golf course.  Adventure Village has Mini Golf, Batting Cages, Krazy Kars, and even Gemstone Mining.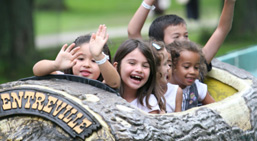 Amusement Parks
We call something an amusement park when it has attractions, such as rides and games, as well as other entertainment activities. While there aren't that many true amusement parks in Ontario, the ones we've got ROCK!  Centreville Amusement Park is great for young children (see info in the Only in Ontario section below). Storybook Gardens in London is also perfect for young kids with its enchanted storybook-themed park. Owen Sound's Story Book Park has classic amusement rides plus waterpark and animals.  The big daddy of them is Canada's Wonderland just N of Toronto  – it is Canada's Premier Amusement Park & now has the world's fastest, tallest and longest dive roller coaster.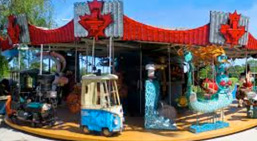 Carousels
There is something really special about riding a carousel; it somehow brings you back to simpler times. There are several carousels in Ontario; almost all are REALLY old! Pride of Canada Carousel has 44 uniquely Canadian – rideable sculptures crafted from recycled objects! Chippewa Park – 1915 Historic Carousel & Amusement Park (Thunder Bay) has 28 wooden horses & was built in 1915 by the C.W. Parker Company; it's one of only three left in the world. Roseneath Carousel (1906-2019) is a restored Carousel with 40 wooden horses & 2 boats. Lakeside Park Carousel in Port Dalhousie is a fully restored & working 1903 Carousel. Still 5¢ per ride!
Every season has it's plusses but there's nothing like summertime in Ontario!
Enjoy!
For more things to do & places to stay in Ontario, see Summer Fun Guide.
Shari & Elisa, Publishers – Summer Fun Guide