4 Things to do in Kingston, Ontario
By Natalie & Phil Tuesday, August 15, 2017
---
Kingston is situated on Lake Ontario, at the mouth of the Cataraqui & St. Lawrence rivers. It was originally the home of a French trading post and military fort and after the British conquered New France, it was renamed Kingston. In 1841, Kingston was named the first capital of the Province of Canada, a title which only lasted til 1844, but it still remained an important military installation.
It is a great destination to visit, as it has loads of history to discover. It is known  as "Limestone City" because of its outstanding 19th-century buildings, including Bellevue House National Historic Site, the home of Sir John A. Macdonald, Canada's first prime minister. But Bellevue house certainly isn't the only attraction. There's lots to see in and around the Kingston area.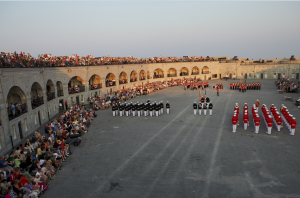 Military & Historical places to see in Kingston
Spend the day at Fort Henry National Historic Site of Canada and fire a Rifle, watch a Garrison Parade, take a Haunted Ghost Tour or enjoy the famous Sunset Ceremony. Or learn about History, people, leading edge technology & their impact on Canada & the world at the Military Communications & Electronics Museum. At the aforementioned Bellevue House National Historic Site, see one of Canada's best examples of Italian Villa architecture and interact with costumed staff. Go behind the walls at Canada's oldest and most notorious maximum security prison which predates Canadian confederation.  Kingston Pen Tour shows you the inside of a prison which closed in 2013.
Events In Kingston
Kingston has events going on year round, but it has some annual ones that are really well known. A few of these are: Limestone City Blues Festival which showcases the best in blues music for 4 days in Mid-late August.  Kingston Buskers Rendezvous celebrates the world's best street performers with 4 days of entertainment in July.  Love the 4 legged type of entertainment? Plan to visit the Kingston Sheep Dog Trials Festival in mid August handlers from around the world participate in trials competition. K-9 demos, the Ultimutts Stunt Dog Show & other attractions too.
Kingston Sightseeing
This is a great place to take a guided tour as there are so many sights and so much history.  Try 1000 Islands Cruises Kingston has sightseeing lunch & dining cruises.  Haunted Walk of Kingston can either take you through the streets of the city by lantern light, or can explore the haunting at Old Fort Henry. SPOOKY! Want to cover a lot of ground? Kingston Trolley Tours lets you Hop on, and Hop Off around Kingston.
Markets and Shopping in Kingston
You can't visit Kingston without doing a little shopping. Visit Kingston Public Market, Est. 1801, which is Ontario's oldest market.  Or take advantage of the great deals at King's Crossing Outlet Mall  which has dozens of brand name retailers at outlet prices.
Kingston may not be the capital anymore, but it is still a hub of fun things to do and see. Put it on your list for a day trip or getaway soon; it will be worth it!