8 Places to Ride the Water in Ontario
By Natalie & Phil Thursday, August 10, 2017
---
Almost 11% of the total area of Ontario is comprised of freshwater lakes, rivers, streams, etc…ie WATER. No matter where you live or visit in Ontario, you're never very far away from an opportunity to swim, paddle, beach, or boat. One of the fun things to do in Ontario waters is raft. Because Ontario has some fast-flowing waterways, we can do everything from white-knuckle pro level white water rafting to family-friendly rafting to riding down a river on a tube. You can find some options on Summer Fun Guide as well as some beaches to hang out at before and after or experience  one of the places below.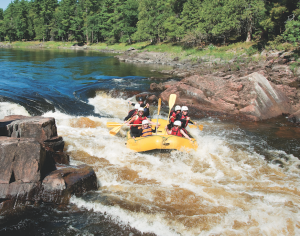 1. OWL Rafting on the Ottawa River (Foresters Falls) has 1&2 Day Adventure & Family Rafting Trips.
2. Wilderness Tours Rafting & Kayaking Resort (Foresters Falls) may have wild rafting, but it also offers family rafting (ages 5+) and a great adventure resort, making it an all-around holiday destination.
3. RiverRun Rafting, just one hr west of Ottawa, does have high-adventure rafting, but it also offers Family Rafting & Tubing. It, too, has accommodations at its 165-acre resort next to the Ottawa River Provincial Park.
4. Grand River Rafting Company in Paris, Ontario offers a full range of water activities, including rafting, kayaking, canoeing, SUP, and tubing.
5. Madawaska River Family Rafting's specialty is its two-hour Family Rafting Trip on 5 gorgeous kilometers of the Madawaska River in the Algonquin Park area.
6. Esprit Whitewater Adventures is just over the provincial border in Davidson, Que but it is still on the Ottawa River and offers trips down BOTH channels of the River in one day. National Geographic ranked them the World's #1 Whitewater Outfitter.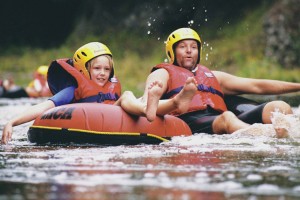 7. Canoeing The Grand in Kitchener not only has stable ocean kayaks and paddle boats, it also offers tubing for those that like to take it slow! You can even hook tubes together for a "group experience" & drag a cooler tube for a floating family picnic!
8. Rail Yard Wake Park is a cool opportunity for both those with experience and newbies to learn or perfect their boarding skills on a private, calm lake in Mount Albert. Try Cable Wakeboarding, Wakeskating, Kneeboarding or they haveTubing too!
Summer is short in Ontario, so we need to take advantage of the weather when it is nice out. While it is great to be on the water, it is even more fun to be IN it!