Fly Through the Air with the Greatest of Ease! 11 Places to go Ziplining in Ontario
By Natalie & Phil Tuesday, July 25, 2017
---
There is something cool about seeing Ontario from high up and luckily, there are some great options to let you enjoy a zipline or canopy tour all over the province. Here are a few, but visit Summer Fun Guide http://www.summerfunguide.ca/outdoor-adventures.html for more! Note that most of these places require reservations. Some are open year round and offer winter and even nighttime adventures, while others are more seasonal, so check before you visit.
Ziplining in Greater Toronto Area and Central Ontario
Starting in the GTA and heading north, you will find a bunch of options to fly high. Treetop Trekking has 5 locations (Barrie, Huntsville, Port Hope Brampton & Stouffville) and offers aerial games & ziplines in the forest canopy on a 3-hr tour. They have Night climbs too! Their Stouffville park also has an area called Treewalk Village that welcomes kids as young as 3 to 11 tree-houses connected by hammock-nets, ramps & slides, tunnels & mini treetop aerial course. Treetop Eco-Adventure Park in Oshawa lets you challenge mind, body & soul on aerial games & zip lines, great for beginners or advanced participants age 5+.  Santa's Village – Muskoka's Theme Park in Bracebridge has Zip Lines & Aerial Park Open mid-June thru Labour Day & weekends through Thanksgiving. They also have the Santa's Village Theme Park and Sportsland activities so you can spend the day. Visiting Blue Mountain? Their Timber Challenge High Ropes has more than 75 aerial elements including suspension bridges, ladders, cargo nets & zip lines. And finally, Haliburton Forest & Wild Life Reserve Canopy Tour  lets you walk in the clouds on their 1/2 km long canopy boardwalk (the longest of its kind in the world) 10-20 meters above the forest floor.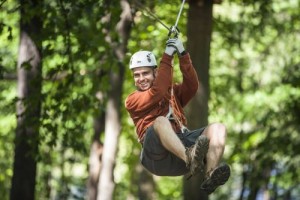 Ziplining in Eastern Ontario
While Eastern Ontario may be more well-known for whitewater rafting, it is also the home to some pretty impressive ziplines. Skywood Eco Adventure in Mallorytown is part of the Parks of St Lawrence group and is Canada's largest aerial adventure and zip line park. Camp Fortune Ski, Aerial Parks & Ziplines is a year round facility that switches between ski and aerial adventures; during the spring, summer and fall weekends, you can enjoy 2 adult courses and 1 children's course just 15 minutes from downtown Ottawa. There is also Logos Land Resort, a popular spot in the Ottawa Valley, which has 3 Zip Lines totaling 3100 feet over Astrolabe Lake which are accessible both to resort guests, and to those who just come for the day.
Ziplining in Southwestern Ontario
Southwestern Ontario has gorgeous beaches, beautiful towns and cities and lots of wilderness. See it from the air at Long Point Eco-Adventures which not only has incredible zipline & canopy tours, but also stargazing, luxury glamping & pod camping. Radical Lines Aerial Adventure Park in Port Dover has suspension bridges, cargo nets, tarzan swings, lumberjack logs & more. And finally, Boler Mountain – Treetop Adventure Park lets you see the Carolinian forest from the Treetops on its Zip Lines, Rope Courses, Swinging Bridges, and Tarzan Swings.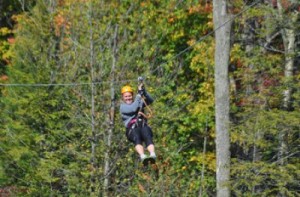 So, while it is always fun to see a place from the ground, try one of these when you visit – you'll gain a whole new perspective from the air!