INDOOR WINTER ACTIVITIES IN ONTARIO
By Natalie & Phil Tuesday, January 14, 2020
---
If you love the snow and all the fun outdoor activities it brings, then you're in luck as the snow came a bit early this year. But perhaps you are the type that prefers to huddle up and hibernate when winter season moves in. No matter what your preference, we all need some warming up indoors at some point. Who says being indoors can't be full of fun? There are so many ways to still experience the thrills of summer activities by just moving them indoor
Golf Lovers Rejoice!
It may not be a balmy sunny day on the greens but if you are missing the feeling of golf clubs in hand why not mini-golf indoors and continue your streak of "holes in one"? Putt N' Blast  and Putting Edge  indoor courses are open all winter long around the GTA and Eastern Ontario. On the Green Indoor Golf in Southwestern ON, is North America's largest indoor facility with a tropical-themed environment that will have you forget that you are not outside!  Up the challenge by playing in the dark for some serious glow-in-the-dark fun! GlowZone 360 is full of active entertainment including glow in the dark mini-golf, laser tag and a big arcade! All fun stuff to create memories and bring out the competitive side in you!
Make a Splash!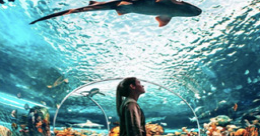 Swimming in the winter can be just as fun so go ahead and take a plunge into a Wave Pooland swoosh down the 100-foot water slide, splash in the big waves, soak up the heat on the on-deck-sauna and make this your new family favourite winter day trip! Need more twists and turns, tunnels and splashes or a quick weekend getaway? Americana Conference Resort, Spa and Waterpark offers something for everyone, including a huge waterpark, restaurants, spa, shops and lovely accommodation. Perhaps staying dry is more your style. Both Aquatarium in Eastern ON and Ripley's Aquarium in the GTA offer you thousands of square feet to get an up-close view of the water and see some of the many diverse fish, water creatures, animals and natural wonders among the sea.
High in the Sky Fun!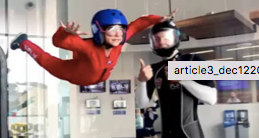 Being indoors to stay warm from chilly winter days does not mean it has to be boring! Try something new, scale to new heights, take on a challenge, or go out and have some fun! There are so many thrilling activities to do indoors year-round that will get your heart pumping. IFly Toronto offers the epic experience of a free-fall just like skydivers feel. Urban Air Adventure Park Sudbury is a massive indoor trampoline park with Pro Zone Performance Trampolines and basic trampolines. There are also climbing walls, obstacle courses, battle beams and more! Playtrium Kingston is their largest indoor play centre where you can swing, slide, and soar high through their massive multi-level structure. How about scaling rock climbing walls and challenging yourself doing different climbs. East Park is London's place to play from rock climbing walls, jungle gyms to scale up high plus an arcade too.
Play All Day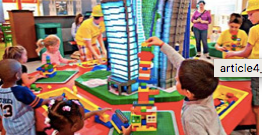 It does not matter your age, skill level, or where you live.  We all need a "play day", and there are so many great indoor play all-day places for winter fun! From playing tag at Tag Zone that offers Indoor Tag-ball and known as Ottawa's best "paintless" paintball or to Niagara's Zap Zone for a challenging game of Laser Tag. Visit Mississauga's newest playground The Rec Room It has more than 36,000 sq. Ft of games, eats & entertainment all under one roof and they have two other locations as well in London, Ontario and downtown T.O. Take a road trip to LEGOLAND Discovery Centre for loads family fun with 2 rides, 10 LEGO build & play zones, a 4D cinema & much more! Even grandparents are doing LEGO now!
Chop some Wood!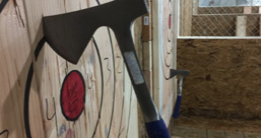 O.K. so maybe not lumberjack style chopping down trees for firewood, but it still does involve wood and an axe! Get out some aggression, go with friends, a fun date night or just because…  axe throwing has become all the rage of new indoor entertainment. Bad Axe Throwing has fun locations all over Ontario. It is the largest axe throwing company in the world where many celebrities visit too! Axes and Allies is The Bay of Quinte Region's premier axe throwing club, and you can even become a league member. The Rec Room has amazing axe throwing and loads of other games, food and entertainment all under one roof! Skilled staff are on hand at all locations of the Backyard Axe Throwing League (BATL) in Ottawa to ensure you throw well and safely while having loads of fun. They proudly promote 22 axe throwing targets with digital scoring and fully licensed bar and kitchen.
Great Winter Escape!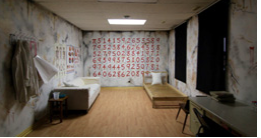 Bring friends, take the family, challenge your mind, laugh all the way as you work your way through the puzzles, clues and time limits to find your way out of great escape room adventures! At Bingeman's EscapeworX experience the totally immersive fantasy worlds of three very different and newly created escape rooms each with its own intense storyline. Escape Manor  is Ottawa's number one escape room experience with multiple locations all over Ontario too. Escape from the 6  creates real-life escape games that create excellent team-building skills, and it has received numerous Trip Advisor Certificate of Excellence awards. If you are a history buff, then Escape Maze is the place for you!  With 6 different escape rooms that take you back into history with creative storylines to keep your mind engaged for solving puzzles and finding clues. They also have Outdoor Adventure Games that are a cross between doing an Escape Room and running The Amazing Race. No matter what type of escape room style you are looking for they are all innovative, engaging and best of all an enjoyable experience for all!
I hope we have given you some ideas to get you through our good ol' Canadian Winters. Wishing everyone a warm and fun winter season!
Natalie & Phil
https://credit-n.ru/order/zaim-finmoll.html займ денег по паспортузайм для мужчинзайм онлайн через контакт