INDOORS OR OUTDOORS, THERE'S SAFE FUN TO BE HAD IN ONTARIO AND BEYOND!
By Natalie & Phil Sunday, May 17, 2020
---
In this unique and challenging time where social distancing is being encouraged, everything is closed and the kids are not in school, you are probably wondering how long this is going to last and what am I going to do with my time?! Unfortunately, no one knows the answer to the first question, we can only hope this situation is resolved as fast as possible.  We can however answer the second question with a list of fun, educational and safe activities to keep yourself and your kids busy during this unprecedented time.
Nature is our greatest Healer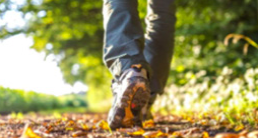 Did you know that it is thought that nature lowers blood pressure, boosts immunity, reduces stress and helps to prevent disease? Breathe in the crisp, fresh air with a trip to one of your local parks. Go for a run, a walk or just find a quiet place and enjoy the silence.  A quiet walk can do wonders for the soul if you have been feeling anxious, need to clear your head or just take a breather from being home cooped up with your family or roommates.  If you have your kids in tow, there are a number of fun outdoor activities that you can create on the fly. Create an outdoor scavenger hunt where your kids collect items from nature or a simple piece of chalk an go a long way! Create a chalk obstacle course or create art pieces on sidewalks and rocks. Have an old sheet lying around?  Use a sheet and rope and help your kids make an outdoor fort.  Depending on where you live you can set up a bonfire night and play a round of hot potatoe. Stand in a circle around the bonfire. When the music starts toss  a potato from person to person around the circle. Whoever is left holding the 'hot' potato when the music stops is out. Continue playing until only one player remains to claim their victory!
The learning never stops!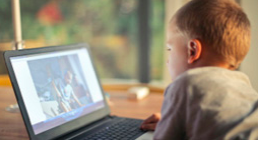 School may be cancelled but that doesn't mean that learning is!  Get your learn on with Scholastic's Learn at Home Program. Introduced to help kids stay engaged and learning while off school, this free resource offers daily projects, games and material to get kids reading, thinking and growing! With subject matter ranging from kindergarten to grade six plus or check out Khan Academy for kids 4-18. If you're not a kid and just want to use your time wisely while learning a new craft Coursera is one of the leading providers of MOOCs – massive open online courses. It is a website that partners with universities and organizations around the world to bring a wide variety of topics and perspectives to one searchable database. This gives the site an extremely wide range of in-depth courses. Some Coursera courses provide certificates of completion to recognize that you passed the class. If you enjoy learning in a structured classroom-style environment and want to do this at home, now would be an excellent time to start.
Pour Yourself a glass of wine and enjoy the show!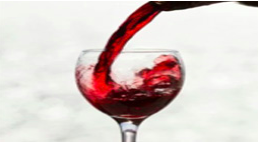 With travel, events and concerts all being cancelled, experiencing everything virtually has quickly become the new norm.  Google Arts & Culture has partnered with over 2500 museums and galleries around the world to bring anyone and everyone virtual tours and online exhibits of some of the most famous museums around the world. If you've dreamt about seeing some of the world's greatest attractions, now's your chance to get a sneak peek. If it's opera you love, check out the New York Met's opera streaming service! At 7:30 each evening, you'll enjoy a recording from a previous live performance and you can stream for 20 hours for free. From La Bohème to La Triviata, these are the classics. Just get comfy in your pajamas and enjoy the show! Rock out with free concert performances you can enjoy right from your living room. Celebs from Rhett Miller to Bruce Springsteen are hitting the right note with content! Search #togetherathome to enjoy performances from John Legend, Jann Arden, Niall Horan and many more. Watch your favourite stars perform together and separately, from all different venues, without even missing a beat.
Stay fit & go within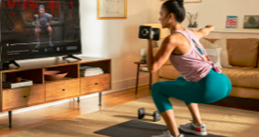 Looking to stay fit while staying indoors? Give the Peloton app a try. With their free 90 day trial, you'll experience intense workouts ranging from bootcamp to cycling to strength, all from the comfort of your own home. If you thought Peloton was just for bikes, think again! They've got thousands of live and on-demand classes, including outdoor workouts. For all the runners out there, the Nike Run Club is  a free app that is downloadable for either Apple or Android and provides, performance tracking and guided runs so you always have a coach with you encouraging you to achieve your goals and showing you how to do it.  Also, on the list is the app FitOn which really is entirely free.  Check out our favorite instructor Sydney Benner for her signature yoga and dance fusion workout called Take Flight Fitness. For a more zen approach, Yoga with adriene could be just what you need to calm your anxiety and help you breathe easier. From beginner to expert, you'll find videos in all ranges to suit your mood. Just grab your mat and get ready to stretch! These days you might not be feeling that calm and centered, so make meditation part of your quarantine schedule.  Apple's Breathe app takes you through guided meditations, so you can practice taking calming breaths. You set the length of time you want to spend and the app even mutes your notifications so you can really focus on getting centered.  If you're having trouble sleeping, the Calm app will have you resting easy.  Follow the steps to getting a good night's rest with sleep aids, meditation, gentle movement and music designed to get you to your happy place. With hundreds of meditations and sleep stories added weekly, you'll be on your way to catching some zzzz's in no time.
Talk to the animals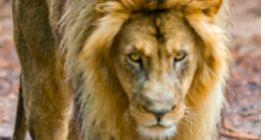 With virtual tours gaining momentum, several zoos around the world are opening their doors for a virtual look at some of their top exhibits! At The San Diego Zoo, check out their live cams featuring apes, elephants, owls and more. Catch the Panda Cam at the Atlanta Zoo. Learn about the naked mole rat at the Smithsonian's National Zoo, and at the Reid Park Zoo, you'll roar with excitement watching the lions in all their glory. If you're more interested in a marine experience, aquariums are offering you an inside look what's happening under the sea. Take a guided tour of the Seattle Aquarium, a virtual tour of the National Aquarium, enjoy the shark cam at Ripley's Aquarium or chill out with the soothing live jelly cam view from the Monterey Bay Aquarium. These are just a few of the must-seas you and your family can enjoy!
Escape with entertainment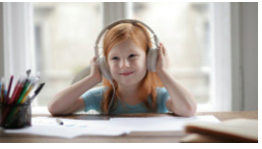 Haven't ventured into the world of podcasts yet? Now's the perfect time! They're free, fun and cover a broad range of topics for all ages. Looking to entertain your little ones? Focus on growth and optimism with Big Life Journal's mindful content, make sleepy time super with 20-minute segments on Storytime or nurture your mad scientist with Brains On! Want to keep your teens busy? Introduce them to Pants on Fire, a silly gameshow for full-on laughs, keep them entertained with Stuff You Should Know, break the tension with the teen interviews on Socially Awkward or give them the chills with Spooked.  From Harry Potter to girl talk, you're sure to find something that hits your teen's fancy! Make it a family affair with these great podcasts for some togetherness fun: for trivia-loving families Stuff You Missed in History is the perfect choice. Or maybe you're in the mood for a performance and StoryNory is the go-to for fables and stories, both classic and modern. Looking for exploration and adventure? Treat your ears to The Cramazingly Incredifun Sugarcrash Kids Podcast for storytelling like none other.  Make some popcorn for a family night in, create a road trip adventure or listen separately for some much-needed me-time. Any way you look at it, it's guaranteed fun for the whole family!
Stay Safe & Healthy,
Natalie & Phil
https://credit-n.ru/order/kreditnye-karty-sovkombank-halva.html займ экспресс красногорскзайм экспресс серпуховбыстрый займ улан удэ oneclick займзайм не в банкезайм под 0 %