Summer Activities for the Family in Ontario
By Natalie & Phil Tuesday, July 3, 2018
---
What to do in the summer with the family
When the kids are off school during the summer, it is always a challenge to find things to do that make everyone happy. We have a few suggestions below, but don't forget that http://www.summerfunguide.ca has 16 different categories and 7 regions and an event calendar, an itinerary planner and more, so don't stop with this newsletter! And by the way, we're not skipping water fun (beaches and waterparks) or outdoor adventures – they're just each getting their own dedicated article (July 10 and 24 respectively).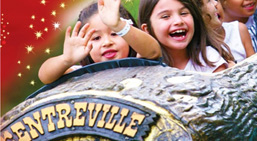 Amusement Parks in Ontario
One of the best ways to spend a summer day is to visit an amusement park, play mini golf, or go Karting – they're all fun, outdoor and active things to do and the day will fly by! Centreville Theme Park had to close much of last summer due to the flooding of the Toronto Islands. They're back, better than ever, so please support them.  With 30+ rides & attractions, beaches & 14 restaurants, it's fun! Adventure Village, Hamilton, is a family oriented amusement park, on 7 acres. Wild Water & Wheels N of Peterborough has go-kart track, bumper boats, batting cages, mini golf, roller coaster and more. Wasaga 500 Family Entertainment Centre & Go-Karts in Wasaga Beach has offered go-Karts, Batting Cages, Mini Golf since 1960! Balm Beach Go-Karts has 24 Go-Karts & 18 hole mini golf course.  Shanty Bay Go-Karts & Mini Golf has Go-Karts, Mini Golf, & a Party Hall. And Storybook Gardens in London is a storybook-themed park for littler kids and their families.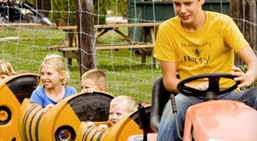 Farms in Ontario perfect for family fun!
Now that gardens are in full bloom, a visit to a farm is not just a fun activity, it is also an opportunity to pick your own or purchase fresh produce. Chudleigh's Apple Farm, Milton, has Family Fun & Apple Farm all in one! Andrews Scenic Acres Farm, Winery & Pick-Your-Own, Milton, has some PYO & fresh-picked and also has wagon rides, playground, farm animals, etc. Downey's Farm Market & Winery, Brampton, specializes in growing fruit, fun & memories. Brooks Farms, Mt Albert, has loads of fun including Barnyard Playland, Animals, Train Rides & Zip Lines. Springridge Farm, Milton, has seasonal festivals, the Fun Farm Yard, wagon rides & pies. YUM! Applewood Farm & Winery, Stouffville, has fruit & wine, plus an Animal yard. Cooper's CSA Farm & Maze, Zephyr, has animals, horse swings, mini maze…year round. Wildhagens Adventure Gardens, Milton, has a 6000sq ft fun barn & an acre of outdoor play. Clovermead Adventure Farm, Aylmer, wants you to Bee Happy at their Bee themed Adventure Farm! Kustermans Family Fun & Berry Farm, Mount Brydges, has acres of outdoor fun plus PYO berries & pumpkins.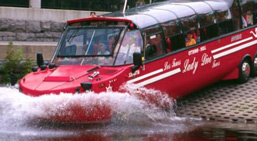 Sightseeing in Ontario
One of the best activities to do with your kids is a hop-on, hop-off bus tour, even in your own city! You learn so much and discover places you knew nothing about, sometimes right around the corner. Any kind of sightseeing is fun and there are lots of cool options other than a traditional bus tour too, such as a foodie tour with culinarily adventurous (older) kids: Foodies on Foot, Tasty Tours. and Chopsticks and Forks, all in Toronto, Taste the Town Tours in Niagara on the Lake and C'est Bon Gourmet Food Tours in Ottawa are all good choices. Other fun tours are the Kingston Trolley Hop-on, hop-off tour, and Go Tours Canada which offers Segway tours of Toronto's distillery district, and off-road at Horseshoe Resort. Lady Dive Splash & Tours does Ottawa city tours on land & in water in the famous Amphibus vehicle. Looking for a little education with your sightseeing? Consider a tour with Niagara Bound Tours, which offers Niagara Falls/St Catharines region Underground Railway Tours led by slave descendants.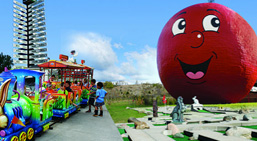 Attractions in Ontario for families
We sometimes need a push to enjoy the attractions in our own city/town. We might go when we have out of town guests, but who needs to wait?! Summer holidays are the perfect excuse.  For example, kids love Bonnechere Caves (E Ont), with their stalactites and fossils. They also love to go see live sports and while it may not be hockey season, why not bring them to see the first North American member of England's Rugby Football League, Toronto Wolfpack? Or enjoy the thrill of a Whirlpool Jet Boat Tour on the lower Niagara River. It's exciting and you might even get wet! Have you ever climbed inside the world's biggest apple observatory at The Big Apple? Taste their pies, ride the train and visit their petting zoo too!
As mentioned in the first paragraph, there are many beautiful beaches and waterparks in Ontario that are perfect for a hot summer day out with the family. An article dedicated to Water Fun is coming up in the next coupe of weeks but if you can't wait – check out the Discover Ontario section on Summer Fun Guide for a list of regions with beautiful beaches and the Waterparks section for great water parks across the province.
Enjoy your summer with the family!
Shari & Elisa, Publishers – Summer Fun Guide