UNIQUE GLAMPING EXPERIENCES ACROSS ONTARIO
By Natalie & Phil Thursday, July 22, 2021
---
By now you've probably heard the term 'glamping' (AKA glamourous camping), considering how it's fully carved out its place in modern society, but here's a little refresher.  Sometimes one wants to get close to nature, but not TOO close – this is where glamping comes in.  You can satisfy all your nature desires without sacrificing comforts like a soft bed, or light.  Glamping is often off-grid making it a more sustainable choice of accommodation.  Really cool treehouses, yurts, tents, and other types of structures that are 'more-than-a-regular-tent-but-less-than-a-cabin' have been popping up all over Ontario to fill this super popular tourism niche.  We've put together some of the most unique glamping spots in Ontario for you to check out when nature and silence starts calling your name.
Glamping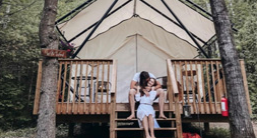 Whispering Springs in Grafton, Ontario was designed as a place for families to slow down and reconnect with each other.  Stepping up the traditional camping experience to make these wilderness connections more accessible, Whispering Springs was born.  Stay in a safari tent, a bell tent or a cabin and enjoy craft cocktails or woodfired pizza at the camp outpost.  There's a saltwater pool and hot tub, spring-fed pond, outdoor gym, and lawn games making this a truly luxury camping experience. Tune out of work and tune into yourself at the Glen Oro Eco Retreat.  All their lodging features king-sized beds, a fire pit and environmentally friendly heat sources inside.  Choose from the Explorer Tent (plumbing and electricity) or The Stargazer Dome where you can stare up at the night sky from the loft-style bed!  The land is nestled into Oro Mountain where you can check out wetland and valley views and enjoy farm-to-table food grown right on-site.  For the budding equestrians among us, trail rides are available to really deepen your connection with nature. Wild Exodus near Timmins, Ontario is set among the Boreal Forest where you can soothe your soul in a white-linen prospectors' tent, hike, go for a pontoon cruise or paddle the gorgeous waters.  Wild Exodus offers amazing outdoor adventures to fill your soul, and delicious locally produced meat and fish to fill your belly. What is better than enjoying a wild adventure and ending the day cozied up in a soft bed at night?
Eco-Tourism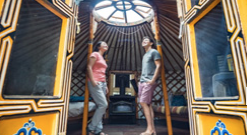 Eco-tourism is for those who are looking for sustainable destination options.  Typically, these are fully off-grid accommodations and very no-frills.  Nature's Harmony Ecolodgeoffers yurts and glamping tents all year round where you can disconnect in a wilderness setting overlooking the Laurentian Mountains in Mattawa, ON.  This magical destination will rejuvenate your spirit during any season, and you can also learn about environmental sustainability and practices you can bring home. With a thorough recycling and composting program, a well for water and off-grid accommodations, the Buffalo Farm is a perfect sustainable option to immerse yourself in stillness and Mother Nature.  Choose from a hand-crafted yurt, a tipi or even a basic cabin as your jump off point to explore the northern tip of Algonquin and experience all the wildlife up close and personal. Outpost Co. offers two types of tents that are fully equipped with beds, tables, chairs, and other small comforts to host you while you have a genuine wilderness experience on the shores of Lake Huron.  They even have locally sourced menus to make on an outdoor oven so you can top your stay off with authentic glamping meals.  Dig in, guilt-free!
Tree Houses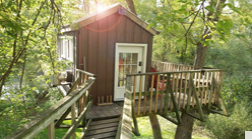 Could you be any closer to nature than sleeping IN a tree?  Not really.  The Sydenham River Treehouse is a fully off-grid experience complete with a composting toilet.  The treehouse is at the end of a 1km trail and has a porch, suspension bridge, and woodstove.  It attracts hikers and canoeists who subscribe to the leave no trave mentality.  Live out your childhood fantasies of a treehouse, and your adult fantasies of living in a forest all in one by visiting this secluded rustic treehouse set on a pond 30 minutes from Ottawa.  This is a fully off-grid experience, and you are provided with drinkable water and a canoe to paddle the peaceful pond. Want to get your creative juices flowing? Try a weekend at the Collabo Camp's treehouse which is located on a 100 wooded-acre property.  It's actually two treehouses connected by an observation deck, complete with a hammock and lounge area underneath.  The grounds are meant to offer private space and communal space (including a dojo, art studio and music studio and shala) to spark collaboration.
Architectural Eye Candy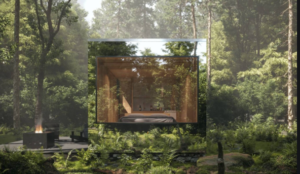 Who doesn't like to stay somewhere that is pleasing to the eye?  Check out these places that are a feast for the eyes as well as the soul.  Maybe you don't want to 'rough it' but still want to experience nature in a unique way?  Ontario also has super luxurious options with A/C, Wi-Fi, a kitchenette – like Arcana's striking mirrored steel cabins.  Enjoy some solitude in a modern, aesthetically pleasing design with the forest being reflected to you off the walls of the cabin. Geometric shapes are so aesthetically pleasing, the perfect symmetry of these domes against a natural setting just feels novel and good.  The Dome House is located just outside Collingwood and is equipped with a kitchenette and a panoramic window to enjoy the views.  Wind down in a hammock or by the fire and you're even welcome to help yourself to the home-grown veggies and eggs! Stay in a bright red 10×10 tower in Castleton, Ontario; appropriately named The Red Tower.  This tiny house set on a hilltop has lots of windows, an outdoor seating area on the deck, and is located close to tons of trails.  If you're going to go glamping there's no need to compromise on design!