WINTER BUCKET LIST – BEST THINGS TO DO THIS WINTER IN ONTARIO
By Natalie & Phil Wednesday, January 18, 2023
---
Winter can be one of the most beautiful times of the year, with the glistening snow, fluffy white snowflakes, snow covered treetops and warming up with a hot bevy…ok this is on a good day but with the right snow gear and the right activity any winter day can turn into a magical experience.  Whether you are the more active type or you would rather sit back and take in the winter wonder around you, we've put together a list of some incredible winter activities that need to be on your bucket list!
Winter sleigh ride and horseback riding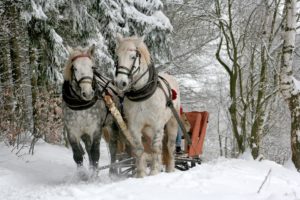 There is something so enchanting about being led through a forest in winter by these majestic creatures.  The glistening snow makes it all that more romantic and magical.  If you are looking for a more private experience, Back of Beyond Equine Centre in Muskoka offers private winter sleigh rides through a magical winter wonderland and ends with a cozy campfire and a cup of delicious hot chocolate.  Von Doeler's Ranch, halfway between North Bay and Mattawa, offers winter riding with miles of gorgeous forest and river trails. They even offer lakeside cabin stay-and-ride packages for those that want to make a weekend of it. If you are looking for guaranteed snow, Captiva Farms in Ottawa offers horseback riding adventures through a winter wonderland of protected trails that the whole family can enjoy.
Drive your own dog sled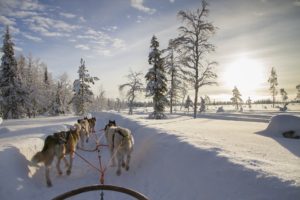 Becoming a very popular activity in the last few years, dog sledding is a great way to enjoy winter vibes and meet some adorable and friendly huskies. One of Ontario's most epic dog-sledding outfitters is Snow Forest Adventures. This outfitter runs multi-day trips in Algonquin Provincial Park.  Book a two-night adventure or for those seeking that truly off the beaten path adventure they even have eight-night expeditions to choose from where you can see the northern lights! Learn to drive your own dog sled with Winterdance in Haliburton. Enjoy the silence of Haliburton's breathtaking wilderness for a 2-hour, 1/2-day, full day or multi-day dog sledding trip. They even offer a night tour under the glistening stars and moon light that ends with a roaring campfire and hot chocolate, an experience the whole family will love. In Cochrane, Ravens Adventures offers a variety of Ontario dog sled tours from one hour to overnight expeditions. Opt for the overnight and you may even get a chance to see the northern lights which brings us to our next bucket list activity!
See the Northern Lights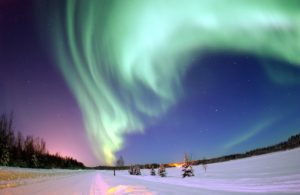 Tip alert! The best time to see northern lights also known as the aurora borealis in Ontario is in the Winter! Canada is actually one of the best places in the world to witness the Northern Lights and you don't have to go all the way to Nunavut to see them! In Ontario, there are eight designated Dark-Sky Preserves, which are natural areas identified by the Royal Astronomical Society of Canada (RASC) that protect the night sky from light pollution for the ultimate stargazing experience. In Northern Ontario check out Manitoulin Eco Park on Manitoulin Island on Lake Huron. Manitoulin Island is a magical place all on its on with a huge presence of authentic aboriginal culture. Stay in an insulated star gazing cabin right inside the Dark Sky Preserve and partake in one of their Stargazing Night Hikes and scheduled Astronomy Nights for an immersive experience with an experienced Astronomy Guide. Killarney national Park on the northern edge of Georgian Bay is also perfectly situated to view the northern lights. Coxy up in the beautiful Killarney Mountain Lodge where you may even get views straight from your balcony or head into the park which has a dark sky observatory for the ultimate star gazing experience. In addition, many of Ontario's national parks, provincial parks, conservation areas and wilderness spaces are prime places to witness the northern lights. To make sure you have the best chance possible of seeing this amazing phenomeno,  the astronomers and researchers provide an Aurora Forecast that can help you plan your stargazing expedition!
Hike to a frozen waterfall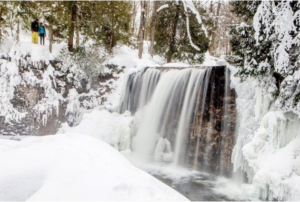 When most people think of a Canadian waterfall, they picture Niagara Falls. Many don't realize that Ontario actually boasts numerous beautiful waterfalls. These falls are even more remarkable in the winter when the cascading water can sometimes even freeze into a gravity-defying pose and the ice sparkles like diamonds. Whether you're looking for a hike, to snap some awe-inspiring photos, or to commune with nature, these 4 spots are for you. Bridal Veil Falls, near the village of Kagawong, is a 34-meter-tall waterfall fed by Lake Kagawong. Take the steel stairway down to the gorge for the best view of the falls. Alternatively, you can walk around the falls to take in all their beauty. Inglis Falls in Owen Sound boats an 18-metre-high cascade that is worth the hike it takes to get there (6.3 kilometres in out and out along the Inglis Falls Trail. Kakabeka Falls just west of Thunder Bay, is known as the "Niagara of the North," Kakabeka Falls is the second highest waterfall in Ontario with year-round access for viewing. Hamilton known as the city of waterfalls is host to many incredible waterfalls. Our pick is Devil's Punch Bowl Falls which is 37 metres high and freezes into a beautiful icy formation. The falls are best viewed from the bottom, where you can see the coloured rock layers of the Escarpment.
Take a boozy snowshoe tour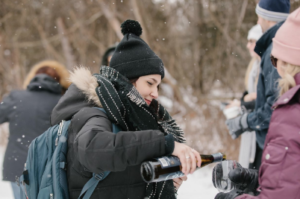 For a truly unique Canadian experience strap on some snowshoes and sip your way through snow covered vineyards. My Wine Countrywill take you on a guided trek through the Riesling vineyards of the Thirty Bench vineyards in Beamsville, Niagara, including wine sampling and warm snacks. Enjoy a picturesque guided snowshoe hike along the Bruce Trail with Free Spirit Tours then hop in the car for a quick drive to Georgian Hills Vineyard and cozy up with local wine paired with cheese and a charcuterie plate. Coffin Ridge takes their visitors on a snowshoe trek through the 25-acre grounds. Learn all about the history of the wine and the growing process then head inside to warm up fireside with a hot mug of mulled wine and a hearty bowl of soup and artisan cheeses. In Blue Mountain, Blue Mountain & Collingwood Adventure Tours offers the ultimate winter bucket list adventure that offers a snowshoe, waterfall and wine tour all in one!
Check out a winter festival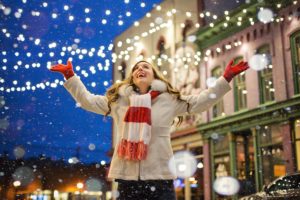 Winter is a great time to enjoy a number of amazing festivals that truly bring out the magic of winter. Our top pics are Winterlude in Ottawa running from Feb 3-20th.  Offering both indoor and outdoor activities, most of which are free, there is seasonal programming including beautiful ice sculptures, skating on the world-famous Rideau Canal Skateway and Snowflake kingdom, a gigantic snow playground the kids will go crazy for! The Winter Festival of Lights in Niagara runs until February 20th and is Canada's largest free outdoor light festival. Experience the spectacular displays with millions of light and larger than life displays across the tourism districts. New this year the Horseshoe falls will be lit up for a new illumination light show with live family entertainment on the weekends. In Bracebridge, the Fire and Ice Festival kicks off January 29th offering a unique approach to a traditional winter carnival with a full list of scheduled activities like axe throwing, drum circles, outdoor bowling, Ice Sculpting, Busker Shows and so much more!
Stay warm and have fun!
Natalie & Phil