BRING YOUR FURRY FAMILY MEMBER ON YOUR NEXT TRIP TO THESE DOG-FRIENDLY ACCOMMODATIONS!
By Natalie Wednesday, October 13, 2021
---
We all know dogs are a human's best friend.  Nothing beats seeing that tail wag at the sight of its favourite people.  Dogs bring so much joy to us, so why not treat them to a little doggie R&R?  Traveling without your pet can be a hassle; finding (and paying for) a dog sitter, packing up all the food, treats, toys, carefully writing instructions on your routines, and then constantly asking the sitter for updates while you're away. While many places in Ontario don't allow dogs or other pets, we've dug up some awesome accommodations that welcome your pup with open arms.  Even dogs appreciate a change of scenery here and there!
Great Blue Resorts
Great Blue Resorts has 8 resorts across Ontario located in The Kawarthas, Muskoka, Prince Edward County, and Perth.  These cottages are furnished, and each resort has its own awesome amenities from heated pools to multi-sports courts and playgrounds.  For a fee of $99, 2 pets are welcome at the pet-friendly designated accommodations.  Dogs are allowed to swim in the areas offshore so long as they aren't on the beach.  You won't have to leave any family members at home, even the 4-legged ones!
Viamede Resort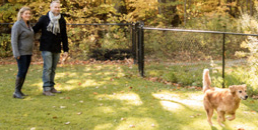 Not only do pets stay free at Viamede Resort, but there is also an off-leash dog area for them to run around in to burn off energy.  Located in Woodview, Ontario, you can stay at their pet-friendly cottages and rest assured that if you happen to forget treats, a leash, doggy bags, etc. they will have it on-site for you.  The site has 9 kilometres of private forest trails, indoor and outdoor pools, tennis court, fitness centre, disc-golf, and beautiful landscaped gardens.  You & your furry friend will have tons to do.
Pine Grove
At Pine Grove Resort in Port Loring, Ontario your dog will be incredibly spoiled!  Dogs are just as welcome as their owners!  The property has 250 acres with hiking trails, water, and even the "Dog Patch".  The Dog Patch is an agility course that will entertain your pup for hours.  There are jumps, weave poles and more.  The accommodations consist of individual cottages along the shoreline of Pickerel River for a cozy retreat with you and your best bed.
Tally Ho Inn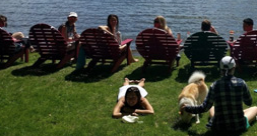 Another pet friendly getaway destination is at Tally Ho Inn in Huntsville, Ontario.  Designed for small groups and families, this inn is located on the shores of Lake Peninsula, close to Algonquin Park and Arrowhead Park.  During the summer there is basketball, badminton, lawn volleyball and tennis and during the winter you can go for a skate on the lake!  Your pooch will love running and swimming along the 1300 feet of shoreline while you go for a relaxing ride in one of the paddleboats, kayaks, or canoes.
Woodhaven Country Lodge
Woodhaven Country Lodge on beautiful Sandy Lake in the Kawartha's considers itself a "VERY dog-friendly" lodge with B&B style hospitality.  There are 5 self-contained suites for you to choose from and some even include fenced in yards for dogs who can't be trusted to not venture off while off-leash!  There are trails, a firepit, waterfront and a common area that has a swim spa, library, pool table, TV room in case you want to rent a few cottages with friends or family.  No more feeling guilty about leaving the dogs for a trip!
Forest Rock Cottage Resort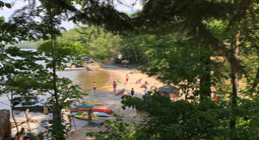 Forest Rock Cottage Resort is in Utterson, Ontario and offers 1-, 2-, and 3-bedroom waterfront cottages for you and your dog.  With 1300 feet of shoreline on Three Mile Lake in Muskoka, you and your pooch can go for a swim, take lots of long walks, or even convince Fido to go for a canoe or kayak ride.  At night, hang out by the campfire and take in the beautiful stars with your pup at your feet (or in your lap!).
We know all our pets want is to be with us and with this list of pet friendly accommodations you are sure to find the perfect getaway with your pooch.
Natalie & Phil