THE BEST PLACES TO VIEW THE FALL COLOURS IN ONTARIO
By Natalie Wednesday, October 13, 2021
---
It's the most beautiful time of year!  Pumpkin spice, knit sweaters, candles, and cozy slippers – you've got to love the hygge vibes that fall brings.  We're lucky enough to live in the place with all four seasons, so let's make sure to reap the rewards of that by breathing in the crisp fall air and taking in the beautiful fall colours.  In the next few weeks, the leaves will begin to change colour in a spectacular show of red, orange, and yellow.  We've put together a list of the best places to view the fall leaves.  As L.M. Montgomery said, "I'm so glad I live in a world where there are Octobers."
Dundas Peak (GTA)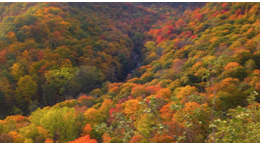 Dundas Peak in Dundas Ontario is probably one of the most well-known lookout points for the fall leaves in Ontario.  And for good reason!  A short 20-minute hike brings you to a full luscious canopy of vibrant fall colours.  You'll be overlooking the beautiful Spencer Gorge, Dundas & Hamilton which makes for an incredible photo op.  Due to its popularity, a reservation is needed in advance to see this must-see fall view.
Blue Mountains (Central ON)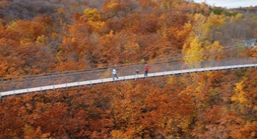 Did you know the longest suspension bridge in Ontario can be found in the Blue Mountains?  What better way to experience fall then suspending yourself 82-feet above the valley floor to have a clear view of Georgian Bay in all its glory.  The 420-foot bridge is operated by Scenic Caves Nature Adventure.  The suspension bridge is included in park admission and takes about 45 minutes there and back.
Niagara Glen (Niagara)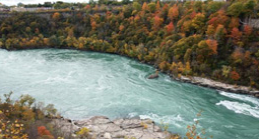 At the Niagara Glen you can take an amazing Autumn hike through Carolinian forest to a metal staircase that overlooks the Niagara River Gorge Whirlpool.  If the roaring river and whirlpool alone don't blow your socks off, it's set on a heavily forested backdrop that will transform into vibrant fall colours over the next few weeks.  Enjoy 4 km of trails, rock-climbing boulders, and the sheer force of the Niagara River whizzing by.
Rattlesnake Point Conservation Area (GTA)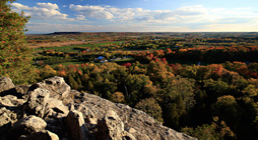 Take a hike in the fresh fall air to the Buffalo Crag Lookout Point at Rattlesnake Point in Burlington to get a stunning view from the Niagara Escarpment.  Keep an eye out for the turkey vultures who frequent the area soaring through the sky.  Along the escarpment you'll also find 800-year-old ancient cedars to make you really appreciate this beautiful province.  Reservations are needed to visit the park so make sure you book ahead!
Balsam Lake Lookout Point (Central ON)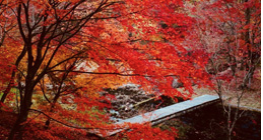 The Balsam Lake Lookout Trail in The Kawarthas is a 2.6 km hike that will take you about an hour and a half to complete.  Walk through an open meadow, a cedar swamp, and deciduous forest with brilliant-coloured leaves.  The Park is open during every season and is a part of the Trent-Severn Waterway.  Come recharge your mind & body on a fall hike in The Kawarthas!
Gatineau Park (Ottawa)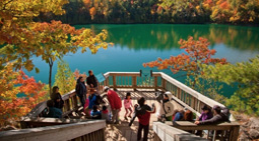 15 minutes from Downtown Ottawa & just across the Ottawa River is the largest greenspace in the region at Gatineau Park.  This is the 2nd most visited park in Canada and is a favourite viewpoint for the fall rhapsody.  You'll be able to see the fall colours all over the downtown and the capital region so hop on a bike and go for a colourful cruise.  Book your spot and check out the fall colour meter to see where the leaves are in their colour journey before you go!
There is no shortage of beatuiful fall foliage in Ontario.  These are just some of the highlights.  For more fall fun ideas check out our Events Page for a full list of events in each region.
Natalie & Phil