FESTIVE HOLIDAY & CHRISTMAS EVENTS
By Natalie & Phil Wednesday, November 16, 2022
---
Although we have summer in our name, we also love all things winter, especially because it means the holiday season is here! Magical twinkling light shows, festive Christmas markets, mulled wine and Santa Clause parades are just a couple of our favourite things to do around the holiday season. Below we have highlighted some not to be missed holiday events that will surely get you in the Christmas spirit!
GTA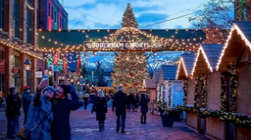 Santa Clause is coming to town and hitting multiple parades this year across the province. After a 2-year hiatus he will be sprinkling some extra holiday magic this year with larger-than-life festive floats. One of the biggest Santa Claus parades in the GTA is Sunday, Nov 20th, The Original Santa Claus Parade in Toronto starting at 12:30 but make sure to go early as this popular parade attracts hundreds of thousands of people.  Can't' make it in person, no worries enjoy on live television from the comfort of your own home. Stroll the cobblestone streets at the Distillery Winter Villageoutdoor Christmas market. Browse the many vendor cabins offering specially curated seasonal items and gifts, indulge on delicious treats, sip a hot bevy and enjoy time with friends at this picture-perfect holiday experience. Another notable Christmas market is Holiday Hills a free festival at stackt market that will transform a whole city block of Toronto into a winter wonderland where you can immerse yourself in the holiday spirit with a whole lineup of cozy, fun, festive activities and experiences. Check out Illumi in Mississauga, the largest light, sound, and multimedia show in the world! Take in the wonder of a 47-metre-tall Tree of Lights, a multimedia display standing as tall as the Statue of Liberty! This dazzling light show is an outdoor journey on foot where you will explore the wonders of 13 magical universes across a 600,000-sq-ft site, equivalent to ten football fields!
Ottawa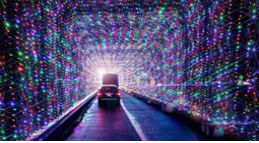 Experience the magic of Christmas from the comfort of your own car at the Magic of Lights, Nov 18 – Jan 7, a dazzling drive thru holiday light show featuring your favourite holiday scenes and characters of the season using the latest LED technology and digital animations. In Albrdeen Square, the Ottawa Christmas Market, Nov 25 – Dec 23, is a festive atmosphere featuring thousands of Christmas lights and décor, holiday entertainment, local cuisine and shopping. From Dec 8- Jan 8, enjoy another dazzling edition of Christmas Lights Across Canada where each evening, thousands of colourful lights illuminate buildings, parks and streetscapes throughout downtown Ottawa-Gatineau, as well as a free multimedia show on Parliament Hill. At Saunders Farm explore snow covered mazes, hayrides, play structures and Christmas displays at the Country Christmas celebration.  Enjoy a visit with Santa and his elves and warm up by the bonfire after and enjoy seasonal treats and hot beverages. Also new this year at the farm, the Holiday Light Festival – a stunning walking trail adorned with thousands of colourful lights and music.
Central ON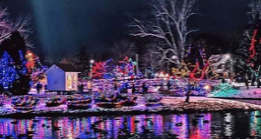 Nov. 19-20th, Murphy's Farm Christmas Market returns.  Shop for Christmas gifts from 45 amazing local vendors, enjoy holiday treats, activities and holiday experiences including gourmet hot chocolate, marshmallow roasting over fire pits and a visit from Jolly Ol' Saint Nick himself. For festive light shows, In Oro, the Mystical Lights, starting Dec. 1st – Jan 2nd, is a magical drive-thru event for families to enjoy this holiday season or in Simcoe, The Simcoe Christmas Panorama turns Simcoe's downtown parks into a winter wonderland with more than 60 displays and 200,000 lights. Come experience the magic and enjoy horse drawn trolley rides, a festive Christmas market, character meet and greets, and a warm cup of hot chocolate. In Keene at Lang Pioneer Village, get into the Christmas spirit at the Christmas by Candlelight event, a traditional Pioneer Christmas. Join along in a carol sing, tour the village by wagon ride, meet Santa, witness a live nativity and learn about the origins of Christmas traditions.
Eastern & Northern ON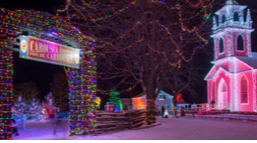 The 4th edition of the Brockville Christmas Market will be taking place on November 19th and 20th. Shop from more than 40 vendors, enjoy festive food, live entertainment and activities! The River of Lights is a free holiday light display on Blockhouse Island which includes thousands of twinkle lights, flood lights, and other lighting effects set to music. Enjoy the show from the comfort of your vehicle. The light and music show runs nightly from November 26-January 1 from 6-10pm, the hour before and after the full show is a static light show (no music) that features softly lit trees that slowly change from one colour to another. Alight at Night Festival at Upper Canada Village kicks off Dec 1 – Jan 7th. Bundle up for an evening stroll through this picture-perfect postcard setting! Over one million lights adorn the heritage buildings, trees, and fences of Upper Canada Village creating a one-of-a-kind magical backdrop. In Beautiful Perth, Once Upon A Christmas, Saturday, November 26, 10am-5pm, is a day to enjoy a storybook Christmas including choirs, music, fire pits, Santa Claus and his elves, horse drawn wagon rides and face painting.
Niagara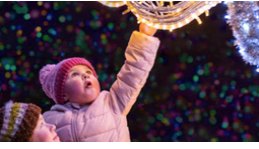 If you don't already live in Niagara, the 40th annual Ontario Power Generation Winter Festival of Lights is worth the visit. Canada's largest FREE outdoor light festival, this spectacular festival displays millions of lights and larger than life displays across the tourism districts. For a unique holiday experience, visit Safari Lights in Stevensville, a 3km dazzling holiday lights drive-thru adventure! Immersive light tunnels, luminous motion lights and whimsical animal light displays you won't see anywhere else! Inside the Niagara Parks Floral Showhouse, celebrate the holiday season with Niagara's Annual Poinsettia Show. This iconic show features traditional holiday landscapes with modern touches of brilliant colours and lights that make the warmth and magic of the holiday season come to life. Running every weekend starting Nov 12 – Dec. 18th, the Niagara Falls Christmas Market has tripled in size this year! This festive market will feature shopping from artisanal vendors and local businesses, light displays, live entertainment, photo-ops, glow swings, glow seesaws, and more! New this year, enjoy Christmas-themed street food, holiday treats and drinks by warm, cozy fire pits!
Southwestern ON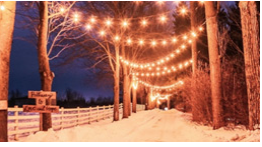 In Kitchener check out the Gift of Lights, a family-friendly drive-thru holiday light display with two tunnels and over 300 animated and static light displays. Visit Amherstburg, every night until Jan 8th, for the River of Lights Festival,  showecases 100's of customized LED light displays, carolers, angels, soldiers and more on the town's two main parks, Toddy Jones Park and King's Navy Yard Park. Take a stroll through wooded trails in Mountsberg for Winterlit. The Winterlit Trail features a unique and stunning lighting experience with inspirational art installations including soundtracks from local musicians. In London, The Merry Market kicks off Dec 1 – 18th. Wander through the beautiful Winter Village and Twinkle Town to get the perfect selfie or photo of you and the family by the magical Christmas tree, ice sculpture, and the big red phone booth decked out for the holidays. The kids can write their letters to Santa and mail them into Santa's mailbox on-site. It's a one-stop shop!
Wishing you all a very merry Christmas!
Natalie & Phil