WHERE TO ZEN OUT, UNWIND AND RECHARGE IN ONTARIO
By Natalie & Phil Friday, October 28, 2022
---
November is a great month to take a well needed pause after a busy summer and fall. Whether you only have a couple hours or a whole weekend, there are many options all over Ontario specifically designed to nurture your mind, body and soul. Soak in thermal baths at incredible spas, go through hydrotherapy circuits, get a personalized spa treatment, try farm to table food, go to a wellness retreat to recharge and reset, try meditation and breathwork, learn about world renowned practices for healing and self-inquiry, have a therapeutic experience in salt caves, or relax and dine at bed & breakfast
Relaxing Spas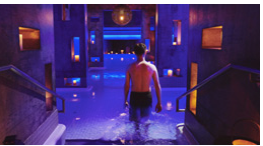 In Whitby a new spa village has just opened, Thermea Spa Village. This is the first spa village in Ontario with thermotherapy, sauna rituals, bathing areas, relaxation areas, a floatation pool, massage therapy, face care, body care and foot care, a biergarten and farm to table dining.  In Grafton, just 90 minutes east of Toronto, relax at St. Anne's Spa where you can create your own relaxing experience or choose a package for ease. Relax in the meditative and therapeutic hydrotherapy pools, visit the spa, take a wellness class, work out in the on-site gym, try gourmet food and spend a night in the onsite accommodations. Ten minutes from downtown Ottawa, go to Chelsea, QC to relax at the largest spa in North America, Nordik Spa-Nature. Try the thermotherapy and relaxation techniques in the ten outdoor baths, nine saunas, infinity pool, saltwater flotation pool, yoga and meditation room, exfoliation room, outdoor massage pavilionsand four restaurants. In Toronto, visit the Body Blitz Spa, exclusively for women. Here you'll go through a circuit to enjoy the Warm Dead Sea Salt Pool, Hot Epsom Salt Pool, Cold Plunge Pool, Eucalyptus Steam Room, Infrared Sauna and relaxation areas.  In Collingwood relax at the base of the Blue Mountains at Scandinave Spa. Dip in and out of warm, hot and cold baths, lay on the outdoor hammocks surrounded by nature, unwind next to fire, go in the saunas and steam rooms and get a full body relaxation massage. Lastly another new Nordic spa has opened in Horseshoe Valley. Vettä Nordic Spa will leave you feeling recharged with their Finnish hydrotherapy circuits, quiet zones, massage therapy and delicious Finnish-inspired restaurant or in-spa bistro.
Wellness Retreat Centres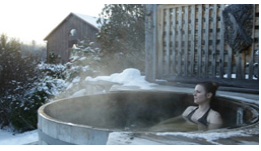 In Bancroft, plan a wellness retreat at Grail Springs Retreat for Wellbeing where you will enjoy plant-based meals, restful rooms with sleep technology and holistic healing spa therapies. Go hiking, take workshops and classes, go in the thermal tubs, finnish sauna, infrared sauna and practice yoga, meditation and mindfulness.  For a natural and pet friendly retreat experience, visit Sugar Ridge Retreat Centre in Wyebridge. Choose a retreat theme to make your stay exactly what you want – yoga retreats, meditation retreats, life transforming retreats or create your own unique retreat. Enjoy plant-based food prepared fresh while you're surrounded by nature. In Cobourg, plan a retreat at the Northumberland Heights Wellness Retreat & Spa to experience wellness through a rejuvenating escape. Choose a package that suits you to enjoy treatments from all over the world, try Ayurvedic body treatments and German cuisine. In Kemptville, enjoy a holistic experience at the Pure Lotus Wellness Retreat. You'll enjoy a private day retreat to find your solace and balance through a range of holistic treatments, healing workshops, massage therapy, activities in nature, freshly prepared lunch and finish off in the pool, hot tub and lounge areas.
Meditation & Therapeutic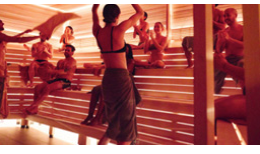 In Toronto, book a bathhouse with a serious vibe at Othership to focus on wellness and empowerment as you go through guided sauna, ice bath and breathwork sessions. Have a Halotherapy wellness experience at the Salt Caves in Niagara Falls. This holistic approach to healing and cleansing with hot and cold salt therapy while you're inside a salt cave will help with boosting energy and your immune system and increase your blood flow. In Hastings, join a meditative workshop at Harmony Dawn Retreat.  Practice mindfulness and reconnect with yourself through mindfulness meditation, yoga, tai chi, qigong and sitting practice, dharma talks and more. In McArthur Mills, practice deep meditation for self-inquiry at the Samadhi Centre. A meditation retreat here will take you through the pine forest where you'll practice meditation techniques to do deep self-work, yoga, breathwork and meditation through sound.
Bed & Breakfasts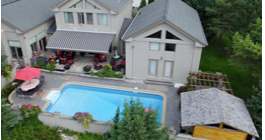 In Orono, book a restful stay at Rising Spiritwhere you'll unwind, relax and rejuvenate in nature along the Ganaraska River on 5-private acres of the Oak Ridges Moraine. Try therapeutic healing and yoga, massage therapy, reiki, vibrational sound therapy, go in the infrared sauna, enjoy delicious food and relax in your quaint room. In Port Colborne, stay at Talwood Manor B&B that is ranked in the top 1% of B&B's in Canada! Settle in and enjoy views of Lake Erie, stroll on the Port Promenade along the Welland Canal, see live theatre, lounge by the fireplace and take part in tons of outdoor activities in the area. In the Blue Mountains of Collingwood, stay and relax in a resort style environment at the Blue Mountains Bed & Breakfast. Your stay will include access to a hot tub, cedar barrel sauna, outdoor fireplace, seasonal saltwater pool, tiki hut and luxury accommodations. You can golf at the Monterra Golf Course on the property and you're a five minute walk to Scandinave Spa and Blue Mountain Village. On Manitoulin Island, stay at Twin Peaks Bed & Breakfast, a quaint and elegant Victorian style Inn set on twelve acres along Lake Mindemoya. Open year round, close to shopping and dining in Mindemoya and located only 15 minutes from the Cup & Saucer Trail, Bridel Veil Falls and Providence Bay Beach.
Balance is key to a healthy and joyful life.  We all deserve to take some time to ourselves to relax and recenter our being.  Whether you only have an hour or a whole weekend we hope this list inspires you to find your inner peace.
Natalie & Phil