HOLIDAY & CHRISTMAS EVENTS IN ONTARIO
By Natalie & Phil Wednesday, November 17, 2021
---
The weather is colder, the days are shorter, and the nights are darker.  What better way to cheer up then by stretching out the festive activities for as long as humanly possible?  Ontarians are great at celebrating despite the dark, cold days and this year feels extra special after how lockdowns affected the Holidays last year.  This year Ontario is back in action and open to make memories with friends and family.  Let's remember that all we have is the present moment, get out there and enjoy it!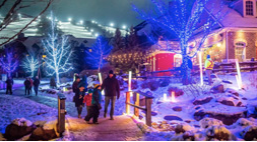 From November 19th to January 2nd the beautiful Blue Mountain Village is transformed into an illuminated, joyful holiday environment hosting tons of events all season long.  Take a stroll down the 1km light trail, shop, dine at some incredible restaurants, and take in the overall cheer in the air.  Head to Blue Mountain's event calendar to see what's going on each day for their Holiday Magic in the village!.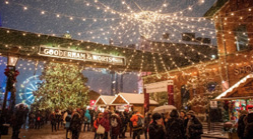 Toronto's most epic outdoor Holiday market is back in 2021- Distillery District Winter Village.  Visit the cute booths set up that are selling artisanal goods and stroll through the cobblestone streets of the Distillery District.  The area is impeccably decorated to suit the season, complete with lights, a huge tree, live entertainment, restaurants, shops and more.  This is one of our favourite holiday traditions, make sure to visit before Dec 31st!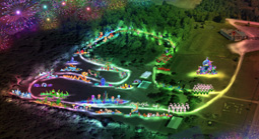 Crafted by Artisans, this incredible light exhibit showcases scenes of nature, animals, festive displays and Chinese culture.  Seasky International Light Show is a 1.2 km trail of spectacular LED technology and has been showcased in over 40 countries.  It's now come to Niagara and is here until February 27th.  This is the perfect place to take the family to create some beautiful memories.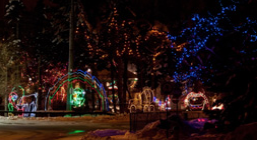 The Festival of Northern Lights is a beautiful event that takes place yearly in Owen Sound with 400 displays and over 25 kilometres of beautiful light displays that illuminate the harbour, the Sydenham riverbanks, the downtown core, and Harrison Park.  Owen Sound's Festival of Northern Lights will begin on November 20th and will shine nightly from 5 pm – 10 pm.  The opening celebration on November 20th will start with music and dancing at 6 PM and the festival and fireworks at 7 pm!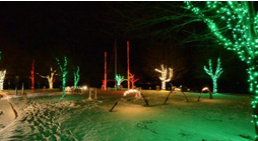 The River of Lights is back!  Every night from 5:00 – 11:00 PM starting on Nov 27th there will be a free, family-friendly light show on Blockhouse Island in Brockville, Ontario.  Turn your radio to 88.1 to enjoy the show from the comfort of your car!  The full show is 50 minutes long.  The show was designed to attract visitors to Brockville, so while you're there why not grab some local snacks to enjoy in your car-ride and stop to support a few local businesses.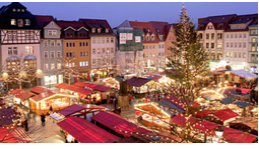 Ottawa's European Christmas Market is the perfect place to get into the holidays spirit.  This event attracts up to 100,000 visitors over the course of the month and boasts over 35 vendors.  Get yourself a warm drink and delicious food at the traditional style kiosks at this holiday market.  This is a free and family-friendly event that will have shopping, live music, performers, vendors, and a whole lot of festive spirit. Check the schedule for dates and programming!
It's definitely starting to look a lot like our beloved Christmas season, the one we all remember that is.  There are so many wonderful holiday events to choose from this year. For even more events check out our Event Calendar for a complete list.  Happy holidays!
Natalie & Phil