FALL ACTIVITIES YOU CAN DO WITH THE FAMILY FOR HALLOWEEN SEASON
By Natalie & Phil Friday, October 22, 2021
---
It's Halloween season and whether you celebrate Halloween or not, there's no denying that this season serves up some of the most nostalgic experiences & traditions.  Tractor rides, haystacks, corn mazes, pumpkin patches…Ontario's got it all.  And it just screams 'childhood memories!'.  Everything you need for a fang-tastic Halloween (I couldn't help myself).  Grab some warm apple cider and get on board with these fun, and sometimes scary fall activities you can do with the whole family.
Greater Toronto Area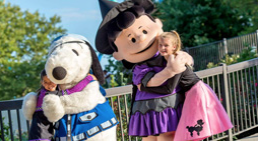 Camp Spooky, taking place at Canada's Wonderland, is a family-friendly daytime event with Halloween activities like mazes, trick-or-treating, the PEANUTS gang, rides, a costume parade and more. Also taking place at Canada's Wonderland is one of Ontario's most renowned Halloween attractions, Halloween Haunt. The 'scream park' has 20 terrifying haunted attractions and shows, and 700 ghostly creatures waiting to scare you. Another noteworthy Halloween attraction in Vaughan is Screemers, Toronto's original haunted attraction running for its the 28th Year! With 7 haunted mazes and 120 creepy live actors, you will be terrified over and over.  This classic Halloween event is not for the faint of heart and not recommended for young kids. If you would rather stay in the comfort of your own vehicle this Halloween season there is no shortage of drive thru attractions in the GTA including the Spooktacular Light Show, one of the largest Halloween Drive Thru Light Events in the GTA with Over 1.5 Million Halloween lights, 2D to 3D animated displays, music lights and much more!
Niagara Region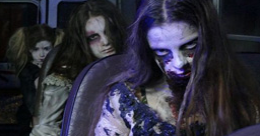 Visit Old Fort Erie for an eerie experience listening to Halloween stories and learning the interesting history that took place on one of Canada's most famous battlefields for the All Hallow's Eve Ghost Tour Series. Take a weekend stroll on Downtown Queen Street in Niagara to check out the scarecrow contestamong the local businesses.  Who can come up with the best, most creative scarecrow?  The official judging day is on October 30th.  Through a well-known haunted area in Niagara, Haunt Manor has a hayride, corn maze, and 7 haunted houses.  Look forward to a new theme this year with 100 actors trained to scare you, and an amazing family experience for those who love a good fright!
Southwestern Ontario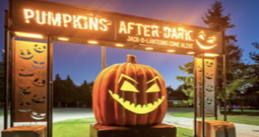 All month long you can enjoy spooky events in Elora & Fergus, Ontario for Monster Month.  Local artists, businesses, museums, and organizations all band together to participate and host themed events for this month-long celebration. Check out the calendar for details on all the events. To name a few, In Elora at Fieldstone Barn check out the Corn Maze or take part in the Walk & Gawk Scarecrow Challenge in Centre Wellington. For a drive thru event, Pumpkins After Dark in Milton is 2.5 kilometers with over 150 unique, hand-carved pumpkin sculptures on display with over 70% new content for this year. If you are a lover of scary stories, take a cemetery tour for ghost stories at Wellington County Museum and Archives, just outside the House cemetery where 200+ inmates were laid to rest.
Eastern Ontario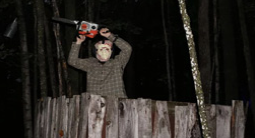 Head to the 29th year of Acres of Terror at Cannamore Orchard in Crysler, including a spooky wagon ride, spooky village, house of terror, and the fog maze.  This event is one-of-a-kind and with 30 human actors will surely scare your socks off and for older kids and adults!  On the weekend, there is a toned down, children's appropriate version so everyone can enjoy! At Smiths Falls Heritage House, be led by candlelight through the corridors on a Ghost Tour where you'll hear all about the mysterious happenings that have been experienced by museum staff, residents and guests.  Grab a flashlight and explore all the dark corners of the museum and then treat yourself to caramel apples and warm apple cider afterwards.  For a limited time at the Aquatarium in Brockville you can challenge yourself at the Trick or Treat Trap, a Halloween-themed escape room which is perfect for adults, teens & older kids!
For more events in Ontario please visit our Event Calendar which is chalk full of events province wide.  Search by region to see what's happening near you.  We wish you a fun Halloween season!
Natalie & Phil