MAGICAL GLAMPING SPOTS IN ONTARIO
By Natalie & Phil Thursday, June 9, 2022
---
Summer weather is here and that means it's camping season! Camping is tons of fun and a great way to get away and spend some quality time outdoors. Camping in a tent isn't for everyone, so why not Glamp instead! Glamping is an elevated form of traditional camping which offers more fancy accommodations and facilities. Each Glamping experience and location is different and offers different stay options like Tipi's, Luxury Tents, Domes and more. Ontario has great locations for Glamping across the province in magical settings and are the unique summer experience you've been looking for! Here are some great places to check out this summer for an awesome experience with amazing photo ops.
Glamping in Domes & Bubble Tents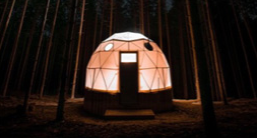 Algonquin Park is known for its incredible outdoor adventures, including camping and glamping. At Four Corners Algonquin just outside the Park, you can rent a Bubble tent, a Safari Tent, a Pole Tent or a Tiny Home for a unique Glamping experience under the stars! In Oro-Medonte take Glamping to a whole new level with Luxury Camping at Glen-Oro Farm.  This Eco-Retreat location focuses on sustainability and the importance of our natural environment where you'll stay in an Explorer's Tent or a Stargazer Dome. Each accommodation has a king sized bed, a private campfire pit, friendly wood-pellet stove or a traditional wood stove, and a cedar barrel sauna. In Port Perry you'll find stunning Glamping Domes to book at Birchwood Luxury Camping. Just one-hour from Toronto, stay in a private forest on Scugog Island in a 24ft dome that has heating and cooling, a moonroof, a queen bed, kitchenette, dining and living area and. free wifi.
Glamping in Yurts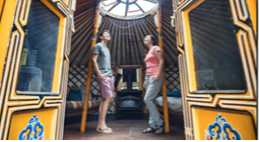 In Mattawa, book a Yurt to explore all that nature has to offer. Nature's Harmony has two different types of Yurts to choose from, The Pacific Yurt or the Mongolian Yurt. Each sleeps up to four people, has 800 sq. ft. of space, a large wood stove for heating, and a fully equipped kitchen and BBQ for cooking. In Kawartha Lakes you'll find another Yurt Glamping experience at Ecofiest Yurts. There are three different Yurts to choose from all located on the semi-private Beach Lake. Enjoy connecting with nature on the private 85-acre property where you can go hiking, biking, visit mineral springs, and explore the unique geology of the area. Explore Bruce Peninsula National Park and stay the night in a Yurt along the shore of Cyprus Lake in one of ten yurts. This stunning location provides views for days with tons of outdoor activities while staying in a cozy Yurt with your own deck, campfire, BBQ, skylight dome and a comfy bed.
Glamping in Luxury Tents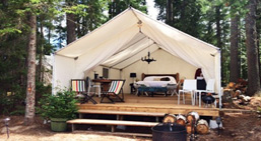 In Grafton, book a glamping experience away from the hustle and bustle at Whispering Springs where you'll get a king-size bed, mood lighting, modern amenities and more, while having a memorable time sleeping outdoors in comfort. Choose from different tent options like a Treetop tent or one of four different Safari Tent options. In St. Williams you'll find your next Glamping experience spot, Long Point Eco-Adventures. This Resort provides glamping suites and outdoor adventures like a large hiking trail network and being close to Turkey Point Beach. Each tent comes with comfy beds, a private fire pit, full bathroom and wi-fi. In Muskoka, stay in a Glamping Tent Suite that's an Instagrammers paradise.  These beautiful tents at The Northridge Inn are decorated to impress and come with the amenities you're looking for while staying in Muskoka on Lake Bernard with a private porch, fresh air, and large luxurious suite space.
Glamping in Tipis & Treehouses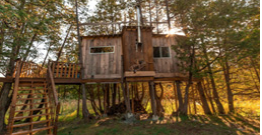 Renew your mind, body, and spirit on a unique adventure while Glamping in a Tipi!  Located on 80 acres of lush forest with a large fresh water pond, Tipi Adventure in Muskoka has three different Tipi's to choose from that each sleep up to 10 people. Cots, dishes, pots, & utensils are provided and each Tipi is fireproof and mosquito proof. In Ottawa, book a Rustic Treehouse that secluded so you can really switch off.  The Treehouse is 9 feet off the ground, has incredible views of the surrounding area, an outdoor shower, an onsite pond from the furnished deck, and comes with a queen size bed and linens. In Lanark Highlands stay at an Eco-Friendly Waterfront Treehouse! This rustic Treehouse is handmade and is 22 feet off the ground. During your stay you'll have a fridge, microwave, induction plates, BBQ, sink, composting toilet, outhouse, and hot water outdoor shower to live life simply while enjoying making memories in the outdoors.
What better way to reset then glamping in nature where you don't have to set up a tent, blow up a mattress and have your own private bathroom! We know you will enjoy every moment.
Natalie & Phil