SIP BACK AND RELAX AT ONE OF THESE BEAUTIFUL ONTARIO WINERIES
By Natalie & Phil Wednesday, August 18, 2021
---
We're about halfway through Summer and we want to savor every last second of it. Ontario is well-known for its beautiful wine regions, the Niagara Peninsula, the north shore of Lake Erie and Prince Edward County.  Beyond those areas, there are lots of equally amazing wineries sprinkled throughout other places in Ontario as well.  When you're looking for a uniquely Ontario way to kick back and relax with friends check out one of these beautiful wineries and taste some local goodness.  These days, most wineries require reservations, so be sure to reserve a spot ahead of time.  Now time to 'sip' back and relax.
Niagara Region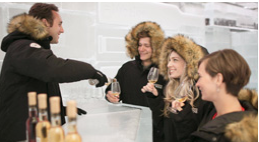 The Niagara wine region is world-renowned for its wine (specifically its icewine).  Niagara's fertile soils and unique microclimate make it a prime grape-growing region for cool climate winemaking.  The limestone ridge of the Niagara Escarpment means the landscape views rivals the best of 'em. Peller Estates has been making wine for 50 years in the Niagara Region.  With plenty of tours and options to choose from you can taste wine in the barrel cellar, on the patio, in the Estate vineyard or in the igloo-like ice lounge which is kept at – 10º C.  This is a great choice for an established Ontario winery to visit. We must pay homage to the Ontario-grown Canadian hockey legend Wayne Gretzky by including the Wayne Gretzky Estates winery.  As one of the newer wineries, it's got a state-of-the-art modern building that houses Niagara's only winery/distillery combo.  There's a Whiskey Bar, patio, beer garden, regular outdoor events, and even an ice rink in the winter months. Have a slow sensory experience at Trius Wines, who've been in the winemaking business for 30 years. Their wines and culinary dishes are inspired by the local seasonal evolution of the lands that surround them.  Sip, sample and shop your way through the Trius Winery.  Enjoy a dining/wine tasting experience in one of the outdoor domes, or My Wine Country offers a tour called myWineCountry Tour that takes you to all three of the wineries mentioned above for and includes lunch.
Prince Edward County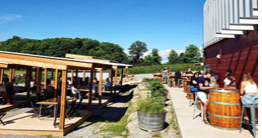 Prince Edward County is Ontario's fastest-growing wine region and each year more and more family-owned vineyards are cropping up.  The burgeoning restaurant, hotel and hospitality scene and the fact that it's so close to beautiful parks and bodies of water is a major draw to the area. Norman Hardie Winery is built into a limestone hill in Prince Edward County.  The combo in the land of clay and limestone leads to delicious Pinot Noir, Chardonnay and cool climate wines.  Visit the tasting bar, have pizza straight from the outdoor pizza oven on the scenic patio or fresh P.E.I oysters and in-house smoked Ontario trout. Sandbanks Estates Winery, one of the oldest wineries in the region, has an outdoor picnic area, a tasting room, barrel room and tasting bar.  They offer tastings with a view of the vineyard, in the retail boutique, or in a sandy lounge area.  The small-town feel of this winery is sure to charm you.  Closson Chase Vineyards is best known for its Instagram-worthy big purple barn and delicious wine.  Closson Chase was an early adopter of sustainable practices and craft intentional wine using centuries-old European traditions.  Book yourself in for a curated tasting where a sommelier will guide you through an interactive and educational experience.  Cheers!
Lake Erie North Shore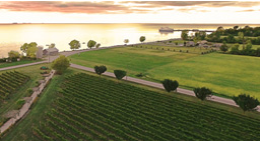 Lake Erie's North Shore region is Ontario's southernmost appellation.  This region has a long growing season because of the surplus of sunshine it gets.  Pelee Island Winery is Canada's southernmost Estate Winery on a 700+ acre farm in the warmest grape growing region in Canada.  Tour the grounds on their 'Vine to Wine' tour where you'll see the antique European grape press, learn about the art of making corks and their importance in wine quality, and enjoy your time on the island sipping a glass of wine in the wine garden that overlooks Lake Erie. Muscadere Vineyards is a family owned and operated vineyard located on a beautiful 163-acre property in Harrow, ON.  All of their wines are hand harvested to create small craft batches of delicious wines.  You can reserve a spot for tastings and enjoy wood fired pizza daily from 11 am – 6 pm. Sprucewood Shores Estate Winery is Ontario's only beachfront winery.  Enjoy a picnic basket, charcuterie cone, or grazing lunch with wine by the glass or a tasting flight at this stunning family-owned winery.  One delicious offering at Sprucewood Shores Estate is a Wine, Chocolate and Cheese pairing and tour – we're already drooling.
Emerging Regions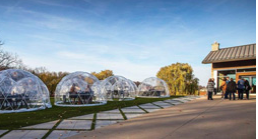 While Ontario has a few known wine regions, there are also lots of cool independent wineries sprinkled throughout the rest of the province.  Visit some up-and-coming wineries in these newly developing or experimental wine regions.  Fielding Estate Wineries is an award-winning winery in Beamsville, Ontario.  Enjoy a self-guided flight experience at The Vineyard Lounge, the Wine Lodge, or the Wine Dome Lounge.   They've also added a cider to the repertoire recently to switch up your beverage on your visit! Good Earth is a dog-friendly, small-lot winery located at the foot of the Beamsville Bench.  The grapes are hand-pruned to create VQA wines that complement in-season foods.  The Good Earth Bistro has incredible local food with a menu that won Diners Choice in 2020! Coffin Ridge Boutique Winery is a beautiful winery for adventurous wine-tasters.  The elevated tasting deck that overlooks Georgian Bay is the perfect place to try this wine that was born as an experiment in Northern viticulture.  Coffin Ridge is Grey County's first winery, on a stunning property near Georgian Bay in Annan, Ontario.