6 Ontario Beach Towns Worth Exploring This Summer
By Natalie & Phil Thursday, June 27, 2019
---
When you think about Ontario, you tend not to think…hmmmm, let's go visit a beach town on our vacation. However, that thinking is dead wrong! Ontario has loads of gorgeous beaches and some of them have charming, fun beach towns that have grown up around them. Here are just a few to visit.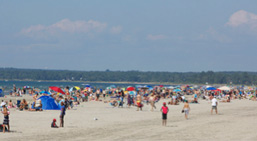 Wasaga Beach (Central)
Wasaga Beach is the longest freshwater beach in the world with 14 km of safe, sandy shore and lots more. It has outstanding paddling routes on the Nottawasaga River, fishing, a ranch with horses and ziplines, mini golf,  fabulous year round events like the Waterfront Festival, Giant Inflatable Festival, Main Street Market, Jazz in the Park, Summer Fireworks, Canada Day celebration & more.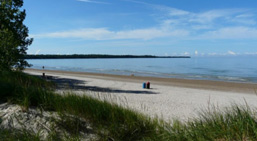 Sandbanks (Eastern)
Sandbanks Provincial Park has the largest freshwater sand dunes in the world and 3 huge sandy beaches that are among the best in Canada. Because it is a provincial park, the only accommodations are camping and a couple of cottages. Most people stay in nearby places like Picton, a town incorporated in 1837. Picton has wineries, cideries and breweries, artisanal foods, the Picton Fair & Picton Art & Craft Sale, (Aug 1st, 9am-7pm) beautiful small inns and a lovely small town feel!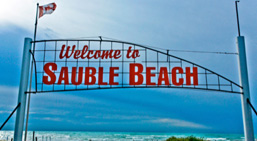 Sauble Beach (SW)
Sauble Beach means Beach of Sand (in French) and it is the 2nd largest freshwater beach in the world! The beach is located in the town of South Bruce Peninsula but a lot of the fun things to do are near the beach. There is an aerial park, arcade, gardens, the Sauble Speedway, plus lots of festivals like the Sauble Beach Classic Car Show and Sauble Beach Sandfest. Don't forget about birding too – its home to the endangered Piping Plovers, small shorebirds that scurry along the water's edge or nest on the beach.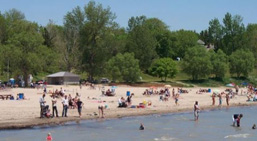 Bayham (SW)
Bayham has stunning beaches but while you're there, take advantage of other things to do as it has lots of options. It has several unique family festivals (EdisonFest/Canada Day/Beachfest/Watermelon Fest), tours of the HMCS Ojibwa, Canada's first Oberon Class submarine, birdwatching, fishing, boating, cycling/hiking trails, an 1840 Historic Lighthouse, and more. Don't miss eating Lake Erie perch served at a local restaurant too!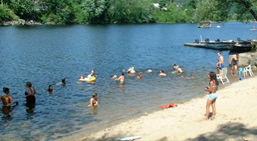 Mattawa (Northern)
Mattawa has beautiful sandy beaches but it is also a place for year-round adventure. From VMUTS, Mattawa's world class 300 km multi-use trail system, to wilderness outfitters for canoe tripping, to lakes and sunsets, Mattawa is a destination for outdoor activities. It also has the  Mattawa Museum and Bonfield-home of CPR's first spike.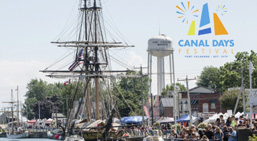 Port Colborne (Niagara)
Niagara's southern coast has outstanding white sand beaches and Port Colborne, a  vibrant, active & fun community nearby. You can learn about the Welland Canal and watch ships pass through one of the world's longest canal locks. Visit the century old farmers' market and maker's market, take a trail ride in the woods and quarries of Wainfleet Wetland CA. Go fishing, scuba diving or cycle the 140 km Greater Niagara Circle Route.  Enjoy festivals like its signature event: the famous Canal Days.
Our summers are too short as it is – let's put aside the errands & chores and get out there to enjoy it!