Take the family on vacation!
By Shari & Elisa Wednesday, April 24, 2019
---
Places to go on holiday with the family!
This post is focused on family– family holidays. While we can be with our families in our own homes on a day to day basis, there is something magical about a family holiday; the memories of those special times are the ones that stand out in adulthood.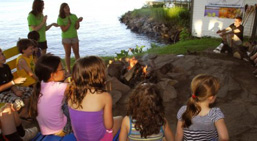 Stay at a family resort
An accommodation that markets itself as a family resort has given a lot of thought about the needs of the whole family. Many have kids' camps or babysitting, special programs, entertainment, great kids' food, inflatables, bonfires with marshmallows and more, and many operate year round with winter fun too. They make sure that the kids have a great time and often have opportunities for the parents to have some adult time while the kids are safely supervised. There is a great list of family resorts here: https://www.summerfunguide.ca/accommodations-resorts-spas.html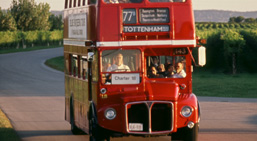 Be a tourist in your own town
One of the things we forget to do is explore where we live. While we love to go on holiday away, you can also pretend you are on holiday right at home, and do the kinds of things you'd do if you were away. Make a proper itinerary so it feels like a trip away. Visit the attractions, explore the various museums and galleries, go to a festival or even take a sightseeing tour! Have you ever done a hop on, hop off bus tour at home? You'll be shocked by how many things you learn and places you see that you didn't know about.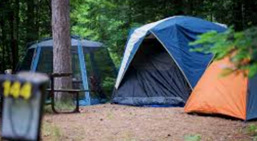 Go camping
There is something really special about going camping with your family. You are in nature, away from distractions and computers and phones. You are working together to gather wood for fires, make meals, maybe canoe down a river or hike. There are marshmallows and campfire songs and getting dirty and maybe swimming. Camping in Ontario has > 430 campgrounds to choose from or check the Ontario Parks site too. If you don't have experience, you can try one of the Learn to Camp programs that Ontario Parks offers. And if roughing it isn't for you, check out our article about Glamping.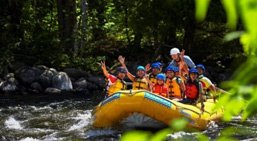 Adventure time
Wherever you go, adding some adventure to your family vacation is a great idea. Kids love to be active and doing something physical is a great break from museums. Depending on the type of experience, doing something adventurous can also help to build confidence, teamwork, trust and family bonds. For example, consider ziplining or river rafting or canoeing; most require the family to work together, and all offer a feeling of exhilaration and sense of accomplishment at completion.  Don't forget about hiking (or biking) in some of Ontario's stunning parks and trails too!
We all know that it's the act of being together and enjoying stress-free, fun times that make for lasting memories. But if we can add a new experience to those fun times, why not? There are plenty of budget-friendly parks to explore and beaches to visit. There are many higher end adventures to try or resorts to book. Whatever you choose, we wish you and your family a wonderful summer vacation!
For more things to do & places to stay in Ontario, see Summer Fun Guide.
Shari & Elisa, Publishers – Summer Fun Guide