THE BEST PLACES IN ONTARIO TO SEE SPRING FLOWERS!
By Natalie & Phil Tuesday, May 11, 2021
---
Take a deep breath…ahh, do you smell that? April showers have brought us May flowers!  Wherever you are in Ontario, things are surely budding and blooming around you. Now that it's warming up and we can spend more time outdoors, we thought we'd put together a list of the best places to get a glimpse of beautiful spring flowers. Whether you need to stretch your legs after a long week of virtual school and work, or you're just need a change of scenery – these vibrant spring flowers are sure to cheer you up.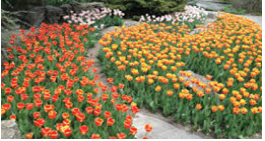 Although currently closed due to the stay at home orders, we are hoping that come the end of the month we will once again be able to visit Canada's largest botanical garden, the Royal Botanical Garden to see Magnolias, Witch Hazel, Irises, Coral Bells & Hydrangeas this spring. Located within the Niagara Escarpment World Biosphere Reserve, there are 5 distinct gardens within the 1100-hectare nature reserve. With 27 km of nature trails, you will see so many types of beautiful blooms that it might make you want to skip. Check out their website to see what is currently in bloom!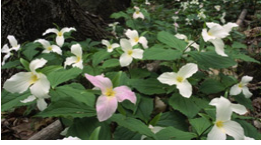 Awenda Provincial Park is located on Lake Simcoe on 2900 hectares of land. With 330 campsites and 31 km of trails, you could turn your visit into an unforgettable destination trip. During the Spring check out Ontario's official flower – the white Trillium – in its wild element!  Also blooming in the Spring is the vibrant purple other-worldly Fringed Polygala. Immerse yourself in nature on a hike and breathe in the fresh spring smells for some much-needed rejuvenation.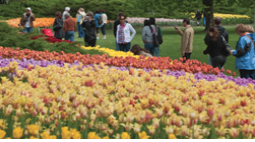 The Canadian Tulip Festival began as a celebration of the Royal gift of tulips following the Second World War from the Dutch to Canadians. They are seen as a symbol of international friendship and the Tulip Festival has been celebrated yearly since 1953. This year, with stay-at-home orders in place, the festival has gone online – where you can see the flowers in all of their glory during a virtual walking tour.  With over 100 varieties of tulips, your eyes will enjoy a feast of colours.  If you're interested in purchasing photos of the tulips, they're also available on the festival's website.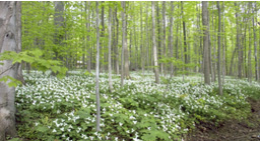 In Beachville, Ontario – between Hamilton & London is Trillium Woods Provincial Park.  Hikers, campers and nature lovers will love walking along the trails in Trillium Woods Park.  Living up to its name, there is a stunning groundcover of Ontario's provincial flower – the Trillium. You'll be able to catch sight of special variations in the colour of the Trilliums at this park, making it a quintessential Ontarian's Spring flower destination!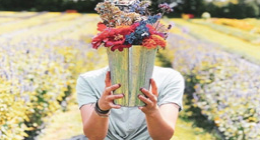 Pick your own flowers and herbs at this magical family-owned farm in Milton. Lochland Botanicals has 150+ plant varieties on acres of land, they offer tons of experiences from pick-your-own-bouquet, tours, workshops, a storefront and essential oil distillation. Opening this year in June, Lochland Botanicals offers you a unique experience while supporting a local family who keeps health and happiness as their core missions!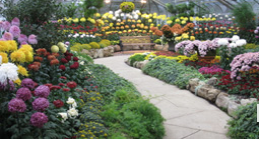 Centennial Park Conservatory is located in Etobicoke, Ontario and features year-round greenhouses with 12,000 square feet of plants including a tropical house and a showhouse that has seasonal displays. Although currently closed, once open the spring show features hyacinths, tulips, hydrangeas and Easter lilies. The grounds of Centennial Park are beautiful to roam around on for a weekend walk, and if you're from Toronto – it's a very short trip to get your fill of Spring flower beauty! Enjoy those deep breaths!
Enjoy the sunshine and warmth that Spring brings. Please also remember to check each location for hours and reservation policies.  Some locations mentioned may still be closed due to the stay at home order.
Natalie & Phil