TAKE ADVANTAGE OF ONTARIO'S STAYCATION TAX CREDIT AND PLAN A GETAWAY AT ONE OF THESE AMAZING ONTARIO RESORTS!
By Natalie & Phil Monday, May 16, 2022
---
You've heard of Ontario's Staycation Tax Credit, but have you planned to use it yet? Book a weekend or week away at one of Ontario's incredible hotels & resorts and take advantage of this tax credit (I mean why not, right?). Ontario is full of unique places to stay all around the province that each have different amenities, features and things to do. With Spring in full bloom and summer around the corner, it's the perfect time to find a resort and plan an adventure!  Below we've highlighted some great hotels & resorts for you to book and our website has even more to help you plan the ultimate staycation!
GTA Region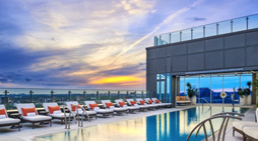 A staycation doesn't mean  you have to leave the city!  So, if you live in the GTA area, plan a staycation in Toronto at Hotel X. Hotel X is Toronto's only lakefront urban resort with spectacular lake and city views from every guest room. This desired location gives you easy access to Toronto's most popular attractions all year-round. This resort-style hotel has a year-round rooftop pool, a spa, restaurants, 3 level Skybar, cinema and screening room, art gallery, luxury sports club featuring indoor tennis and squash, a golf simulator, dedicated studios for Pilates reformer, yoga, spinning, and a kids play centre. Just outside of the city in Mono, stay at Hockley Valley Resort. This boutique resort has 104 guestrooms, culinary experiences in their on-site restaurants, indoor and outdoor pools, and an 8,000 sq. ft. full-service spa. Outdoors, explore the grounds or play on the 18-hole championship golf course. Visiting in the winter? Try out their 16 scenic ski/snowboard runs for all levels.
Niagara Region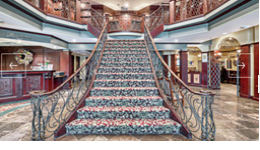 The Casablanca Hotel is the best home away from home for guests exploring the Niagara region. From wine tours to beautiful weddings, outdoor adventures and relaxation, this hotel will give you all the feels. Just minutes away from Lake Ontario, two on-site restaurants, a wine bar, indoor pool, fitness centre, day spa, and local area guides for tours. If you're looking for a little more adventure, book a stay at the Americana Conference Resort, Spa and Waterpark in Niagara Falls. With over 300,000 square feet the resort features amazing attractions and features that the whole family will love. Play in the indoor waterpark that's Niagara's only indoor waterpark with a retractable roof, play on the recreation grounds and in the Arcade. Grab food from the on-site dining options, Boston Pizza, Fields Bistro or the Oasis Pool Bar & Grill. Relax at the Senses Spa and treat yourself to one of the many services offered in this full-service spa.]
Southwestern Ontario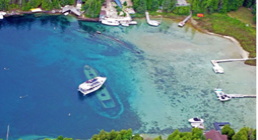 In the Southwestern Region of Ontario, head to Evergreen Resort Red Bay, a Family Resort on Lake Huron. The perfect family getaway boasting natural sandy beach, heated salt water outdoor pool, hot tub, sauna, mini-golf, indoor games room, and a marina. This resort really has it all! The resort hosts Old Fashion Square Dances and Line dancing, and Sing-a-longs! Play basketball, tennis, or volleyball on the courts, or try your luck at shuffleboard, horseshoes, mini-golf, paddle tennis and more games. Grab a blanket and snack at the end of a fun filled day for their featured outdoor movies under the stars. If you're looking for a getaway with relaxation, some of Ontario's most beautiful scenic views and some of the best hiking trails, plan a stay at Big Tub Harbour Resort in Tobermory. Tobermory is a top destination in Ontario in the Summer for its famous views of The Grotto, Flower Pot Island, camping and some of the provinces most picture worthy hiking. Big Tub Harbour Resort is one of the few accommodations in the area.  Whether you arrive by land, air or water, Big Tub Resort is the perfect holiday destination. Go kayaking, canoeing, or paddle boating  to see shipwrecks or take a walk to see the historic Big Tub Lighthouse. This unique location has a protected shoreline for beautiful beaches and the perfect place to relax. Enjoy great food in the on-site restaurant and stay in comfort in this idyllic location.
Eastern Ontario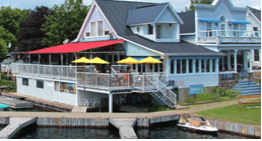 In Rockport, book a stay at The Boathouse Country Inn for a staycation that will combine new and old vibes. With a historic ambience and modern amenities, you'll be able to relax with all the amenities you'd expect while being transported back in time. Beautifully located in the Heart of the 1000 Islands, this is the perfect location to stay and grab a tour of the 1000 islands. Explore the promenade with a historic charm, take a historic walking tour of the village, or cycle the 37km bicycle path along the 1000 Islands Parkway. Continue your historic stays at The Waring House Inn, Restaurant and Cookery School.  The Waring house is one of Prince Edward County's hidden gems.  It's the perfect location for access to great local wine, artists and artisans, fabulous beaches, breathtaking scenery, great dining, and more. The Waring House is furnished and decorated with 19th century furnishings that are representative of the Inn's origins. You can choose from a classic room or a modern room in the  premium rooms and suites. Grab a blanket and get cozy by the fireplace, enjoy incredible food from one of the restaurants and be prepared to try tons of delicious wine!
Central Ontario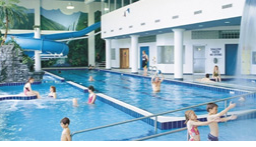 With locations across Central Ontario, Great Blue Resorts has a location with the adventure you're looking for. Choose from 8 different locations like The Kawarthas or Muskoka to make your staycation the perfect getaway!  Each location has beaches, swimming, outdoor activities, heated pools, multi-sports courts and playgrounds. Take the stress of cottage ownership but don't sacrifice on amenities or experience, that's what you'll get in each Great Blue Resorts location. Each accommodation is fully furnished and includes all your appliances so you have all the comforts of home. If you're looking for a gateway location in Central Ontario with a few more amenities, book a staycation at The Nottawasaga Resort & Conference Centre. Located just outside of Toronto in Alliston, this Resort has 575 acres of countryside, 269 guestrooms, a 70,000 sq. ft. sports and leisure dome, family fun activities, hiking trails, and 2 golf courses on the Nottawasaga River. Inside the sports and leisure dome you'll find a 25m indoor pool, 100ft waterslide, racquetball and squash courts, an 18-hole mini golf course, and a full gym! Oh, and we can't forget to mention the two-NHL-sized ice surfaces for ice shaking and ice sports (they are the biggest rinks at any resort in North America!) This resort truly has it all!
Northern Ontario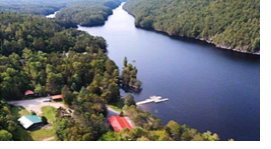 In Mattawa, book a stay at the Mattawa River Resort where you and the whole family can stay at the family friendly cottage resort & RV Campground, located in one of Canada's eco-tourism destinations. Explore 147 acres of land that is the ultimate outdoor playground. Explore the beach, go fishing, hiking or biking. Have a boat? There's a boat launch, so bring your boat too! Motorized vehicles are permitted, so bring your ATV or snowmobile in the winter! There is on site dining or you can cook your own food in your own kitchen or on your own BBQ in your cabin. There are 12 cabins and cottages varying in size to accommodate 2-16 people.  Another eco-friendly spot to check out is the Eco Adventure Trips at Spanish River Resort & Campground in Spanish, Ontario. The campground and resort offers fisherman and nature lovers the perfect spot  to fish, camp and relax. Stay in one of their cabins, bring your own RV, trailer or a tent! During your stay, book and eco adventure tour! Choose from options like kitesurfing downwinders, kitesurfing lessons, canoeing, kayaking, fishing, standup paddle boarding, hiking and biking.
This is a great year to stay local and explore Ontario.  With so many incredible accommodations from glamping to spa resorts you can find something to suit all occasions.  Check out our online directory for a full list of Accommodations in every region.
Natalie & Phil