THE ULTIMATE SUMMER ROAD TRIP DESTINATIONS IN ONTARIO
By Natalie & Phil Monday, July 4, 2022
---
The sun is shining, it's finally hot out, and summer is officially here! One of our favourite things about summer is hitting the road and exploring new places.  Ontario is full of world class wineries, unique accommodations, white sand beaches, quant little towns, outdoor adventure and so much more! We've pulled together some of the top destinations across the province to suit all interests. Make the most of the summer months and visit the great destinations this province has to offer.
Destinations in the GTA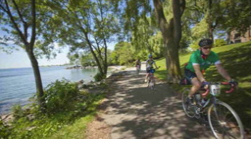 Take a trip to the Greater Toronto Area to explore one of the top destinations in the area, Oakville.  The Town of Oakville is a great waterfront town with tons of festivals, outdoor events, world-renowned golf courses, loads of parks, gardens and trails for hiking & biking, and a beautiful waterfront with two natural harbours that are a must visit for boaters and kayakers. The York, Durham Headwaters area is home to 3 must visit areas just outside of Toronto. Durham Region is a big arts & culture area filled with galleries. Visit farms, wineries, parks & trails, waterfront towns, and lots of history. York Region spans from Toronto to Lake Simcoe with tons of towns in between filled with green space to explore. Take a sail on Lake Simcoe, go golfing, visit a farm, hike the vast trail systems and visit tons of markets and festivals. The Hills of Headwaters has tons of conservation areas, cultural adventures and is hosting the PanAm/ParaPan Games this summer! If you're not from the GTA, maybe you want to visit Toronto this summer!  Toronto is the epi-centre of Ontario with top restaurants, sporting venues, theatres, music festivals and so much more. Destination Toronto lets you explore all the iconic things to do in the city and hidden gems.  Go up the CN Tower, visit the Toronto Harbourfront, or eat at a Michelin Star restaurant.
Destinations in Southwestern Ontario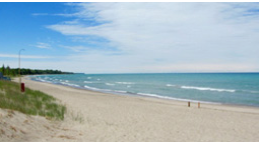 In Southwestern Ontario there are tons of summer must-visit destinations like Kincardine. Kincardine is on the Lake Huron Shoreline boasting beautiful white sand beaches and over 30km of shoreline. An outdoor lovers' paradise, this area is known for visitors from all over to visit for surfing, hiking, conversation areas, boardwalks and water sports. Norfolk County, is a beach lovers paradise. Visit Port Dover, known for its beaches on Lake Erie, the beach at Turkey Point Provincial Park, or the beach at Long Point Provincial Park. Norfolk County is also a great spot for boating, hiking, fishing, gardens, wineries, farmers markets and home to fresh grown fruits and vegetables. If you're an arts & culture lover, plan a trip to The Town of Petrolia, home of the Victoria Playhouse and many other theatres.  Petrolia is Canada's Oil Town with lots of history, Victorian architecture and heritage. Visit the Village of Elora and Fergus, home of the stunning Elora Mill on the Grand River. Go hiking along the river on the breathtaking trails, tubing down the Elora Gorge, swimming in the beautiful Elora Quarry, or go glamping in this unique area of Ontario.
Destinations in Central Ontario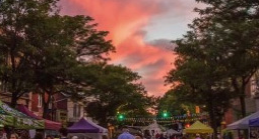 In Central Ontario, visit the waterfront Town of Orillia, home of great waterways on Lake Couchiching and is the gateway to cottage country. Downtown Orillia offers 150 shops, 30 trendy restaurants and pubs, heritage landmarks, the famous Mariposa Market, The Orillia Opera House, Summer Classic Car Show and is located right around the corner from Casino Rama in Rama. Along the north shore of Lake Ontario, you'll find the Northumberland region.  This region is a top water sport area with stunning views. Spend a day at the beach in Port Hope, Presqu'ile Park or Cobourg, go fishing in the Trent-Severn Waterway or Lake Ontario, and hike on the abandoned rail line, theTrans Canada Trail. Make sure you take a walk on the Ranney Gorge Suspension Bridge over the Trent River! South Georgian Bay is home to top summer destinations like Collingwood, Blue Mountain, Clearview, and Wasaga Beach. Nestled on the southern shores of Georgian Bay, this area is the highest point of the Niagara Escarpment and home to amazing hiking trails through the escarpment and bruce trail, top resorts, delicious eateries, top beaches, and tons of water sports.
Destinations in Eastern Ontario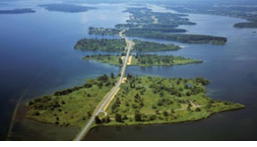 At the eastern tip of Ontario just before entering Quebec, you'll find Cornwall. Cornwall sits along the St. Lawrence River and is home to the Long Sault Parkway, tons of conservation areas, golf courses, Upper Canada Village, the Glengarry Highland Games, county fairs, and more! Smiths Fallson the Rideau Canal is home to Irish Heritage and beautiful waterways. Take a boat ride or rent a house boat and cruise down the canal to see the industrial heritage of this UNESCO World Heritage Site. For golf lovers, visit Belleville, home of more than 17 golf courses that have hosted premier events! Belleville is also known as a destination for hiking (over 17 km of trails!), boating, fishing, power boating, kayaking and windsurfing. Located in the Bay of Quinte, this area is a top sailing destination across the province and Canada.  In Brockville, take a boat cruise on the St. Lawrence and the 1000 Islands to explore the beauty of one of the oldest cities in Ontario. Make a stop at the Aquatarium discovery centre to learn about sea creatures!
Destinations in the Northern & Ottawa Region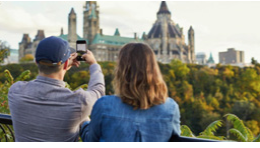 Whether you've visited before or not, a trip to Ottawa will be filled with lots to see, learn and do. Ottawa is the country's Capital with things to do for all ages. Ottawa is rich in history all the way back to European explorers coming to this area in the 1600s! Walk, hike, bike, explore the Ottawa River, The Rideau Canal, cross the bridge into Quebec and visit Gatineau or try out the world's first interprovincial zipline, Interzip Rogers. Visit the Ottawa Valley, located in between Ottawa and Algonquin Park. Ottawa Valley is home to 6 million acres of waterways, 900 lakes, forests, river and trail networks for hiking and biking, and is the Whitewater capital of Canada! Get ready to explore a vast array of landscapes in this outdoor adventure seeker paradise. Go rafting, kayaking, canoeing, surfing and fishing across this incredible area this summer. In Northern Ontario, visit Algoma Country which borders on Lake Superior and Lake Huron. Explore old-growth forests, wildlife, lakes, rivers and hike incredible trail systems. Challenge yourself in provincial parks, remote areas and coastline views your Instagram feed is begging for. Don't miss Ontario's Premier Outdoor City, Thunder bay. Thunder Bay is on the world's largest freshwater lake. It is nestled in the boreal forest where you can enjoy hiking in the Nor'Wester mountain range, zip lining, rock climbing, mountain biking, and sailing or take to the sky for an aerial tour to see the incredible surrounding islands.
Destinations in the Niagara Region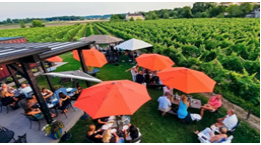 Port Colborne is a small town on Lake Erie and the southern end of the Welland Canal in the Niagara Region. This beautiful town is home to pristine beaches, sailing and boating. The Town of Pelham is a great place to visit this summer for anyone interested in an active adventure. Go cycling, hiking, visit historical landmarks, sample local foods and shopping!  Visit all five areas in this part of the Niagara region to explore the unique offerings of each town – Fonthill, Fenwick, North Pelham, Ridgeville and Effingham. Plan a couple of days in Niagara Benchlands for tastes of local food, wineries, breweries, breathtaking landscapes, or go hiking in the Niagara Escarpment to explore stunning views of the region. Niagara Benchlands is a great spot for a road trip to explore each of the small towns in this area. Stop and have a picnic while you sample local fruits, vegetables and other tasty treats local to this area of the Niagara Region!
Each region has its own special charm and offerings.  You can never run out of new places to explore in Ontario.  Take advantage of the Ontario Staycation Tax Credit this year and start planning your next adventure!
Natalie & Phil