12 Don't Miss Attractions in Ontario
By Shari & Elisa Tuesday, August 20, 2019
---
Every place you travel to has "must-sees". We tend to seek them out when we visit but we don't always see the ones at home unless we have out of town guests. Because of that, we miss some awesome things that are often just a short drive away. While we love things like the CN Tower, and the ROM, which you MUST visit, we have tried to include some attractions below that might be a little more under the radar. Don't wait for out of towners…go to an attraction near you!
GTA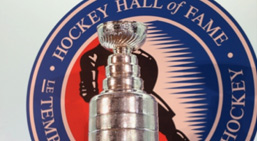 While the GTA has loads of attractions and they are ALL don't-miss, the super biggies suck up all the oxygen (for good reason)! Make sure you add some of the others to your list like Hockey Hall of Fame, home of the world's greatest collection of hockey artifacts and the Stanley Cup. Try goaltending, shooting, play-by-play calling & even hosting your own sports broadcast. Ontario Science Centre's 500+ interactive exhibits, live science demos, and Ontario's only IMAX® Dome Theatre make it a place that kids (and adults) want to visit again and again. 2019 is their 50th birthday!
Ottawa

Ottawa is the home of most of Canada's national museums so you've gotta do those. Canadian Museum of History is one of the country's best- presenting our history from the dawn of human habitation to present day. Don't miss the Children's Museum & CINÉ+ too. Once you're in Ottawa, take a guided tour of Canada's Parliament at two separate locations: Senate of Canada at Ottawa's historic train station, and the House of Commons at West Block on Parliament Hill
Eastern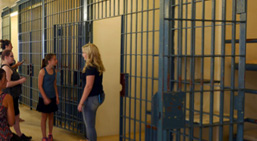 When you head East, it is hard to miss the Big Apple, the World's Biggest Apple-Shaped Observatory that you can climb into. Watch apple pies being made, enjoy its NEW Smokehouse Restaurant & FREE Outdoor Activities. Also, add a tour of the Historic SDG Jail c1833 in Cornwall, a jail that was active until 2002 as an asylum, a house of refuge, a courthouse & minimum or maximum-security jail where numerous escapes & deaths took place.
Southwestern Ontario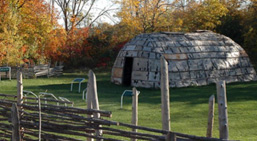 Southwestern Ontario is a big region and there are lots of attractions around the region. Have you heard of the Museum of Ontario Archaeology? This London museum has archaeological artifacts of 10,000 yrs of human history in Ontario & the Lawson archaeological site – a 16th century Indigenous village settlement. If you're there in September, it has a Traditional Pow Wow & Harvest Festival too. THEMUSEUM in Kitchener spans 5 floors & 55,000 sq ft of interactive experiences intersecting art, science, culture & technology from around the world.
Central and Northern Ontario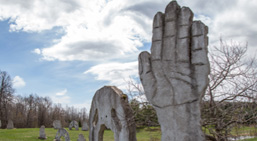 You may think you know all there is to see in Central and Northern Ontario, but we'd bet there are some you don't know about. The Screaming Heads of Midlothian in Burk's Falls contains >100 massive concrete sculptures on 310 acres to walk thru & around. They were created by artist Peter Camani  as  a symbol of how we are treating the earth and humanity. The earth is screaming and crying out. Free admission. Science North & Dynamic Earth Sudbury are the 2nd and 8th largest science centres in Canada. Science North has an IMAX® theatre, digital Planetarium, & butterfly gallery and Dynamic Earth – Home of the Big Nickel – has immersive, hands-on earth science and mining experiences, including a guided underground tour.
Niagara Region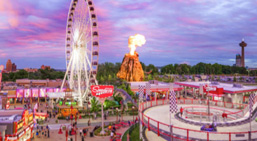 Niagara Falls is the ultimate attraction, drawing millions to see its powerful and dramatic waters. While you're there, you can enjoy the World Famous Street of Fun, filled with attractions such as Clifton Hill SkyWheel & Attractions. Get a spectacular view of the Falls from Canada's largest observation wheel 175' high. It is surrounded by rides, games, & entertainment to keep you busy for days! Niagara Parks also offers Falls-related attractions such as Journey Behind the Falls and White Water Walk, but don't forget to step away from the water so you don't miss the Butterfly Conservatory, Botanical Gardens and Niagara Glen nature trails!
We are so fortunate to live in a beautiful province like Ontario.  There are so many great attractions, it's hard to choose just twelve! Let us know what your favourites are.
Summer Fun Guide