OUR TOP PICKS FOR THE MOST BREATHTAKING WATERFALLS IN ONTARIO
By Natalie & Phil Wednesday, July 7, 2021
---
Summer has officially begun, and the lockdown is over (woohoo!).  As life gets back to some sense of normalcy, we're sure you're aching to get out and enjoy all that Ontario has to offer.  Many events are back up and running (check our events page for all your summer fun needs) plus we have 18 categories online all focused on finding fun things to do in the Summer.  Search within your own region or plan a road trip and discover somewhere new. Ontario summers are short and sweet so let's make the best of it.  To get your started, we've compiled a list of 6 stunning waterfalls in Ontario for you to visit.  Heads up – one is also a natural waterslide!  The Canada Day holiday is on July 1st so there's even a whole extra day for you to enjoy Ontario's natural beauties – cheers!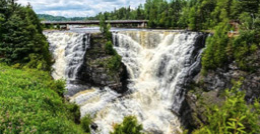 Kakabeka Falls in Thunder Bay is Ontario's 2nd highest falls at 40 metres.  At the bottom of the falls are incredible 1.6-million-year-old fossils that have been revealed due to The Kaministiqua River cutting into the rocks over time.  There is access for visitors year-round and an amazing viewpoint from the wrap around boardwalk at the top of the falls!  Kakabeka Falls Provincial Park is 5 square kilometres and has two campgrounds and 17.9 km of trails.  This is definitely one of Ontario's most spectacular waterfalls!!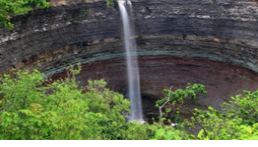 Devil's Punchbowl in Stoney Creek is home to one of Ontario's most uniquely beautiful waterfalls.  A ribbon waterfall cascading down from a large wall of layered rock in the Niagara Escarpment.  This waterfall is in a conservation area and consists of two separate falls (the upper & lower punch bowls).  The pathway that gives you a great view of the punchbowl also offers incredible views of Stoney Creek and Hamilton Harbour.  Hot tip: visit when the fall colours are brightest, you won't regret it!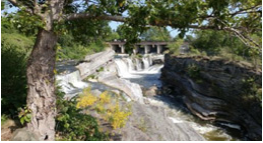 While Prince of Wales Falls is man-made, it is by no means any less worthy of being on this list!  Located in the Ottawa Region where the Rideau Canal splits from the Rideau River, this dam project was constructed between 1826-1832.  The official name of the falls is Prince of Wales Falls, but it is commonly known as Hog's Back Falls.  Now located within Hog's Back Park (20.8 hectares), you can visit between May – mid-October (weather permitting).  This is such a beautiful and peaceful waterfall, it had to make our list of Ontario's best falls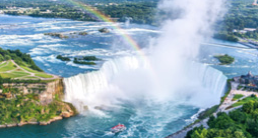 Could we really write a newsletter about Ontario's waterfalls and not include Niagara Falls?  After all, it is one of the most famous waterfalls in the world and has been a major global tourist attraction for over 200 years.  Niagara Falls connects two of the Great Lakes (Lake Erie & Lake Ontario).  You won't run out of things to do while you visit either.  Since it is a tourist destination there are tons of hotels, restaurants, and other attractions to keep you busy.  Niagara Falls is an incredible 51m high and the water that flows over the falls at 25 mph is the equivalent to 70 Olympic sized swimming pools every minute!  One of the classic attractions of Niagara Falls is the famous boat ride (The Maid of the Mist) that takes you right up to the bottom of the falls (prepare to get wet!) You can even get a go behind the falls with Journey Behind the Falls to get an exciting view of the water crashing down in front of you.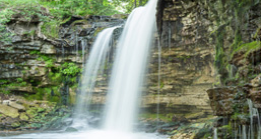 Hilton Falls in Milton Ontario is in Hilton Falls Conservation Area which has over 30km of trails for hiking, mountain biking and cross-country skiing.  Beautiful in all seasons, you can view the falls from a viewing station where you can spend time soaking in this 10-metre-high beauty.  Bring your camera on this hike, Hilton Falls is a favourite for photographers.  Hilton Falls Conservation Area is a quick drive from the city making it an easy place to get your nature fix in!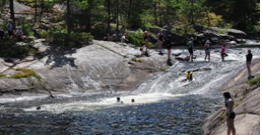 This unique waterfall made our list strictly due to the fun factor of it doubling as a natural waterslide.  High Falls in Algonquin park can be accessed by a 1.9 km (about 1 hour there/back) hike.   Pack a picnic and spend the day slipping & sliding down the polished granite stone.  This popular swimming hole should be enjoyed with caution as the waters can be dangerous at certain times of the year.  High Falls would be easily missed if you weren't looking for it so be sure to follow the trail instructions closely!
Beat the heat this summer and enjoy the mist and cool waters of a beautiful Ontario waterfall.  What better way to cool off!
Enjoy!
Natalie & Phil