FUN FALL ACTIVITIES IN ONTARIO
By Natalie & Phil Wednesday, September 21, 2022
---
The leaves are starting to fall, and the Fall season officially starts today!  As we welcome the crisp autumn weather this also means fun fall activities are here! Fall is one of our favourite seasons with colourful scenery around every corner, fall festivals, pumpkin patches, corn mazes, fall fairs, themed walking trails, apple cider, Oktoberfest and so much more! Although we have summer in our name, Summer Fun Guide is a great resource to use all year long with an Event Calendar chalk full of amazing events and our directory has loads of Fall attractions and activities to choose from. We have summed up a couple fun fall ideas below to get your started.
Fall Fun in the GTA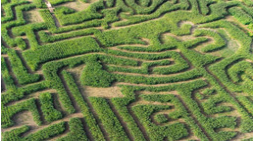 This September and October head to the Toronto Zoo to experience Terra Lumina, a 1.5 km immersive walking path that has luminescent wonders that will transport you to the year 2099, with vibrant lighting, multimedia effects, breathtaking video projections. In Hampton, visit Pringle's Harvest Festival and try to escape the secret agent corn maze, play in Pingles playland, go on wagon rides, pick your own apples, pick your own pumpkins, hear live music, try tasty food and more! Take in the scenic views while having fun high in the trees at Treetop Trekking. Swing, climb, zipline, and test your balance on different obstacles while you make your way through the fall-coloured trees in Stouffville, Hamilton, Brampton (and many other locations across Ontario!).
Fall Fun in Central Ontario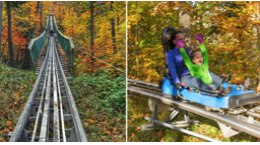 In Elmvale, head to Rounds Ranch for tractor rides, a pie eating contest, pick your own pumpkin in the pumpkin patch, and play games like pumpkin bowling, sack races and more! In Keene on Oct. 2nd, enjoy tons of apple fun at Apple Fest where you'll get to see a cider mill in operation, go on wagon rides, listen to live music, learn history through historic demonstrations, eat apple treats, play games, scavenger hunts, pie eating contests and more. In Collingwood, try tons of different apples at the Apple Harvest weekend, Oct. 8-10th, a true fall harvest experience. Enjoy live music, fall colours hiking, cider tasting, AGORA: Path of Light, family fun and more. While you're in Collingwood, stop by Blue Mountain Village and take a ride on the Ridge Runner Mountain Coasterthat takes you on an exhilarating 1 km ride down Blue Mountain.  You'll get up to speeds of 42 km/h and you get to drive your own cart down the track while you take in all the fall colours and views of Georgian Bay.
Fall Fun in the Southwestern Region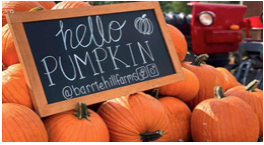 Visit Snyder's Farm for tons of daytime fun with corn mazes, hayrides, pumpkin picking, a petting zoo, a jumping pillow, a jump pad, giant paddle cart track, pirate play ships, tree forts, and more! In Barrie try hot pressed apple cider at Barrie Hill Farms. Try pressing our very own apples, try pumpkin spice mini donuts made fresh, pick-your-own pumpkins and more! In Waterloo, see llamas, peacocks, chickens, potbelly pigs, miniature ponies, goats and more while you walk the trails of Waterloo Park! The Eby Farmstead is home to lots of animals you can see and learn about in the middle of Waterloo Park. You can also discover Waterloo's first schoolhouse, the Abraham Erb's Grist Mill, play sports, play on the playpark, and walk around Silver Lake and Laurel Creek.
Fall Fun in the Ottawa Region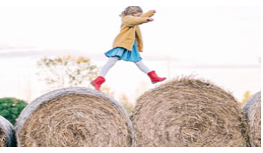 In Ottawa prepare for a day of fun at Bushels Fun on the Farm where you'll get to explore a corn maze, go on wagon rides, pet animals, visit the 150-year-old log farm, pick pumpkins in the pumpkin patch, and take a walk through scarecrow lane.  In Wakefield, go through the immersive Eco-Nocturna experience where you'll experience the magic of the story of Amik the Beaver in an incredible show featuring a water labyrinth, campfires and snacks! Grab some craft beer at the Oktoberfest Beer Gardens with lots of live music, trivia, keg tapping, food trucks, and even a 10 km run. Join in the fun at the 27th Annual Pumpkin Fest at the Proulx Maple & Berry Farm for pumpkin picking in the pumpkin patch, tons of outdoor playgrounds, wagon rides, a corn maze and a petting zoo. For a fun free family event, try some sweet treats at the Fall in Love Maple Event. Take a fall road trip to visit participating sugarbushes from the last weekend in September to the first weekend in October to see all the fall colours while you sample maple syrup and maple treats and learn how maple syrup is made.
Fall Fun in the Eastern Region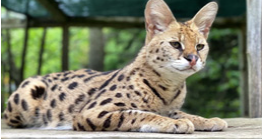 Spend a day with some cute creatures at Saunders Country Critters Zoo in Oxford Station. This unique zoo features more than 60 different species featuring goats, pigs, singing dogs, a variety of cats, lemurs, kangaroo's and more! See all the fall colours by boat on a fall tour around the 1000 islands on the Jewel of The Thousand Islands Cruise. See stunning fall colours while you learn about and sail the St. Lawrence Seaway, Millionaire's Row filled with waterfront mansions, and Brockville's historic waterfront. In Perth go shopping all night long at the Perth Night Market! This fall inspired night market takes place on October 1st and will be filled with shops open until the wee hours of the night, local vendors, local artisans, entertainers and performances and tons of tasty food from local restaurants and pubs to enjoy under the night sky!
Fall Fun in the Niagara and Northern Regions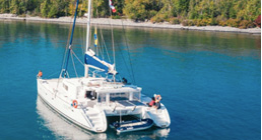 In the Niagara Region, the town of Jordan is holding the annual Balls Falls Thanksgiving Festival with 50+ vendors, a farmer's market, games for kids, heritage tours, nature hikes, local food to buy and more. Sail Lake Superior for incredible views of the fall colours by catamaran onboard the Sail Superior Tours where you can choose a day trip or a day trip, hiking and camping at the Sleeping Giant. These tours boast incredible views of Lake Superior that you'll only get by boat. Eat tasty food onboard the boat, see Thunder Bay's most iconic landmark, the Sleeping Giant, see 1200 ft high cliffs, eagles, vultures, and the boreal forest.
Fall is such a beautiful season, we hope you enjoy all the fall fun to to be had in Ontario!
Natalie & Phil