THE BEST HALLOWEEN EVENTS IN ONTARIO FOR 2022
By Natalie & Phil Thursday, October 6, 2022
---
It's spook-tober! Halloween is right around the corner and tons of Halloween events and haunted happenings are taking place all month long. This season is fun for kids and adults alike with so many Halloween activities to choose from. Whether you are looking for a good scare or something more PG there is something for everyone. From haunted houses, mazes, rides and escape games to Halloween themed light shows and pumpkin villages, we have listed below the most popular Halloween events happening in Ontario right now. For even more Halloween events check out Event Calendar and search for a region and city near you.
Halloween Events in the GTA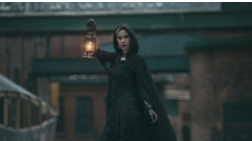 In Mississauga and Richmond Hill, walk a 2 km path featuring over 2 million lights! The Spooktacular Light Show is a not to miss Halloween themed light show with famous characters, a pumpkin drive thru tunnel, 2D & 3D displays, music and Halloween treats! For another fun immersive walk-through experience, Night of Lights in Toronto is partnering this year with a new pop up called Pumpkinville that will showcase a village made out of 30,000 real pumpkins!  In Toronto, brace yourself for a haunted walk in different parts of the city during the Original Haunted Walk of Toronto. In Vaughan, see if you can handle the fear at Toronto's original haunted attraction, Screemers. Walk through seven different haunted mazes with more than 120 live actors or check out Canada's largest Halloween event, Halloween Haunt at Canada's Wonderland where the park turns into a scream park filled with monsters, terrifying scare zones and mazes, ghoulish street performers, live music, thrilling night rides, and electrifying live shows. Lastly Legends of Horror at Casa Loma takes you on a 1.75 km trail winding its way through the castle's tunnels and darkest spaces never before open to the public!
Halloween Events in Central Ontario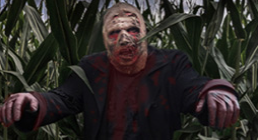 In Peterborough, the long awaited The Stalking Dead returns for the second wave of the Haunted Escape game experience where the corn farmer zombie has caught a deadly virus and is alive in the maze! Solve puzzles and try to escape the maze before the virus catches you! In Cannington, prepare for a night of scare at the Cannington Haunted Attraction where you'll try and make it through haunted wooded trails and the barn maze without being scared to death! Take photos in the photo booth, eat sweet treats, and go axe throwing. In Tiny, pack good running shoes if you're going to attempt Grimm Grounds Hallowe'en Attraction. This theatrical horror maze is set up to terrorize anyone that dares walk through it! With heavy fog, loud terrifying music and monsters, the tall corridors of this maze are sure to scare even the toughest who attempt this maze!
Halloween Events in the Southwestern Region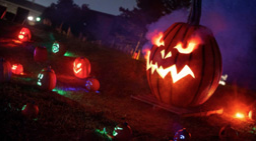 Head to Milton for Pumpkins After Dark, Canada's largest outdoor Halloween event with jack-o-lanterns, a 1km walking path with thousands of hand carved pumpkins, sculptures, carving demonstrations, characters, and yummy food! Experience fear at the Fear Farm with 6 different haunted themed areas that's sure to scare you! This farm is known as the legendary Haunted Farm that'll take you on haunted hayrides through fields and take you back in time. In Kitchener, Bingemans Screampark returns for the 2022 season with 6 terrifying haunts filled with horror and gore!
Halloween Events in the Ottawa Region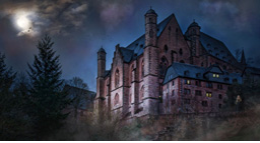 In Munster, visit Saunders Farm for Fright Festfeaturing five frightening haunted experiences on the farm that include The Coven, Haunted Hayride, The Barn of Terror, Shambles, and The Cemetery Crypt. After you make your way through the haunts, watch a stage show, eat farm fresh food and try craft drinks on the patio. In Ottawa, join A Ghost Outing – Rideau River for the best haunted scavenger hunt in the region. Try to escape an escape room, go geocaching, and try and solve all the clues in the haunted scavenger hunt in this thrilling race. Finish off in a haunted cemetery where you'll try to capture a ghost!
Halloween Events in the Eastern Region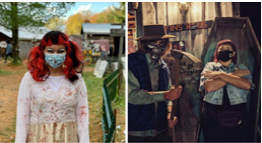 In Morrisburg join in the Halloween fun at Pumpkinferno at Upper Canada Village with 7 themes this year. Take a walk along the 1 km lit path with over 7,000 hand-carved pumpkins. In Kingston go on a jack-o-lantern walk at Pumpkinferno around the historic site of Fort Henry. See tons of glowing pumpkins lighting up the old, scary heritage buildings. In Brockville, try to escape The Halloween Hostage at The Aquatarium. This exclusive three-day only escape room in the Aquatarium is the ultimate Halloween scare-filled adventure that you'll have to try and solve the murder mystery and escape! At Cannamore Orchards experience Acres of Terror where you'll go through the haunted house of terror, go through the Halloween themed village with seven different houses like The Coffin Maker's House or the Vampire's House. Try and get through the fog maze and go on a haunted, live narrated wagon ride through the 60-acre fields.
Halloween Events in the Niagara and Northern Regions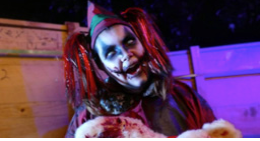 In Sudbury, come dressed up in your Halloween costume and take part in the Great Pumpkin Hunt at Kivi Park. Make your way through more than 500 pumpkins hidden throughout the Park, eat smores at the Scary Smores station, go on scavenger hunt, take photos and go on a spooky trail walk! Witches and Wizards Halloween event is filled with wizardry-fun! Learn wizard spells, learn how to make witches potions, make Halloween crafts, play quidditch, go through a haunted house, make magic wands and decorate your own pumpkin! In Niagara Falls, go through Haunted Manor, Canada's largest haunted attraction featuring hayrides and a haunted house. This frightening experience will take you through a haunted journey with screams around every corner in the Haunted Horror Story mazes with fright music and drinks in the beer garden.
Have a spooktactular Halloween everyone!
Natalie & Phil