TAKE IN THE FALL COLOURS ON A SCENIC TRAIN RIDE!
By Natalie & Phil Monday, September 19, 2022
---
One great way to explore the fall colours is on a scenic train ride where you can sit back and relax and let the beautiful shades of greens, reds, oranges and yellows roll by.  Fall train excursions run in each region and are a fun and unique activity to enjoy as a family with friends or as a couple. Get cozy and take in Ontario's beautiful countryside with sparkling rivers, untouched forests, rolling hills and historic history covered in a blanket of stunning autumn colours.
Fall Train Rides in the Niagara and Northern Regions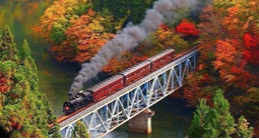 In Sault Ste. Marie, hop on board the Agawa Canyon Tour Trains one of the most popular train rides in Canada! This one day, 10-hour train ride departs from downtown Sault Ste. Marie where you'll relax and travel alongside pristine northern lakes, rivers and the untouched forests of the Canadian Shield. This full day excursion stops at Agawa Canyon Park which is only accessible by train to enjoy a riverside picnic, scenic look out points, trails to 4 different waterfalls and wildlife encounters. In downtown Niagara Falls, hop on the Falls Incline Railway for immersive views of the changing tree colours and the falls! This attraction provides riders a unique vantage point of the Horseshoe Falls as they rise and descend along the inclined track. This quick ride is short, but well worth it!
Fall Train Rides in the GTA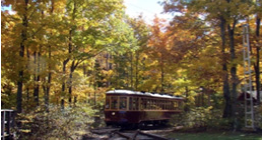 In Milton, hop on the Halton County Radial Railway Ride to ride a full-size operating electric railway, featuring historic rail cars operating on two kilometres of scenic track. Pack snacks or a picnic to enjoy after the train ride and explore the display barns and railway station. In High Park in Toronto, hop on the trackless train for a ride throughout the scenic High Park to take in the fall colours and see all the park has to offer! The York Durham Heritage Railway in Uxbridge has an open-doors baggage car train ride through the rolling countryside of Uxbridge-Stouffville corridor, with a brief stop in the town of Stouffville.  Grab a treat from the 1950's snack car, like ice cream, sweets and more! For those looking for some extra comforts, the Credit Valley Explorer, Orangeville Brampton Railway includes different class levels with some excursions offering drink, bar and meal or snack services. Enjoy a glass of wine or hot beverage while travelling though the beautiful Credit Valley and Headwaters regions.
Fall Train Rides in Central Ontario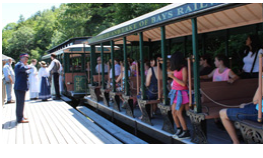 In Huntsville, book tickets for the Muskoka Heritage Place Portage Flyer Train to travel along the Muskoka River for incredible fall colour views in Muskoka and finish at Fairy Lake Station, the original Purser's Cabin at Norway Point Lake of Bays to learn some history!
Fall Train Rides in the Southwestern Region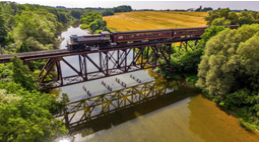 Travel back in time on board the South Simcoe Railway for a narrated train ride aboard a historic branchline railway with restored coaches from the 1920s! This one-of-a-kind train ride will take you through history while you take in the breathtaking views of the fall colours in Tottenham to Beeton. In Port Stanley, hop aboard the Port Stanley Terminal Rail for a scenic ride throughout the Port Stanley and St. Thomas areas for great photo ops of the fall colours and see the historic train tracks! Before you leave, pick a pumpkin from the patch at Whytes Park. In Waterloo, all aboard the Waterloo Central Railway to enjoy the Waterloo Region countryside where you can enjoy incredible fall views of the famous Mennonite farm countryside on a heritage railway first built in the 1800's. Make sure to visit the St. Jacobs Farmers Market next to the station with over 250 vendors selling fresh, local fruits and vegetables; international cuisine; pantry essentials; artisans; gift-ware; home decor and more!
Although we have summer in our name, Summer Fun Guide is chalk full of things to do all year round! Make sure to check our Event Calendar and our Online Directory for a full list of attractions and accommodations that are great for fall and winter too!
Natalie & Phil