PICK YOUR OWN BOUQUET AT THESE GORGEOUS FLOWER FARMS
By Natalie & Phil Wednesday, October 13, 2021
---
One of the best parts about living in or visiting Ontario is that you're never far from a rural area. Even if you live in a big city like Toronto or Ottawa you're under an hour away from plenty of beautiful farms. As we soak up the last few weeks of Summer and the heat wave lifts let's bring a splash of summer colour indoors. We've put together a list of some beautiful flower farms where you can frolic, picnic, and leave with a bright bouquet and an even brighter outlook.
Andrew's Farm Market & Winery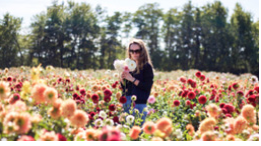 One of Ontario's most scenic flower farms is currently blooming.  Right now, pick your own sunflowers, dahlia's, raspberries, and blueberries at Andrew's Farm Market & Winery in Milton.  Depending on the time of year you can also get fresh pumpkins, apples, and a huge variety of fruit, veggies, and flowers.  Andrew's Farm Market & Winery is located on 165 acres of stunning escarpment landscape that offers trails, wagon rides, a farm, mini corn maze and beautiful photo opportunities.    The striking flower fields make for a beautiful photo background, and even prettier DIY bouquets.
Windecker Woods Flower Farm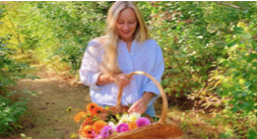 At Windecker Woods Flower Farm in Cayuga, Ontario you can cut your own flowers to create a vibrant bouquet of pink, red, purple, lilac, mauve, orange, salmon and more.  Their variety of flowers are currently blooming but if you're after a specific type check their website ahead of time to be sure it's in bloom.  Grab a basket and a pair of clippers and start cutting!  Depending on how big your bouquet is you can decide to pay what you think is fair.  Some flowers (like Peonies) have a specific price per stem.  Flower power!
Country Cut Flowers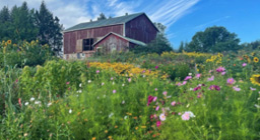 It doesn't get much more 'pick your own' than this.  Country Cut Flowers is a pick-your-own flower farm located in the rolling hills of King Township.  Visitors can purchase a ticket that grants you a mason jar to collect your blooms.  With your rustic mason jar in hand, you can go to town on a field of beautiful country flowers.  The field is full of beautiful zinnias, yarrow, astrantia, celosia, gomphrena and even some dahlias.  Country Cut Flowers also offers meditations, workshops, and events.
Bombshell Blooms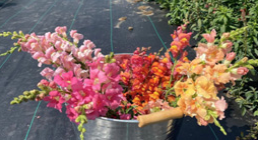 Explore a gorgeous 'Secret Garden' flower field in Oro-Medonte, Ontario, where you can choose from 10, 20 or 30 stem cut-your-own flower packages.  This ½ acre flower field called Bombshell Blooms is nestled between a sunflower field and a heritage farm.  With 28 varietals of flowers to choose from, you'll be leaving with a stunning bouquet that's sure to rival the professionals. Head to their website to book ahead of your visit.
Stems Flower Farm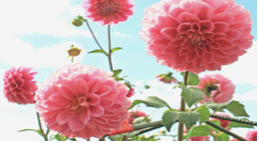 Cut your own flowers at Stems Flower Farmlocated 40 minutes north of Toronto.  Stems Flower Farm is a small family owned 8-acre farm.  Their cutting farm is new for 2021 and features over 500 varietals of flowers.  Cut your own bouquet from the thousands of blooms you'll find; all you have to do is book your spot ahead of time!
Robintide Farms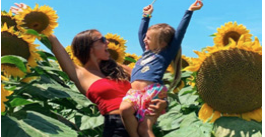 Robintide Farms is offering over 25 varieties of flowers for the 2021 cut-your-own flower season.  Right now, there are sunflowers, zinnias, celosia, cosmos, marigolds, salvia, and much more in bloom.  Guests pay an entry fee and can purchase a small or large mason jar to create their own bouquet.  Located in Maple, Ontario, it's just a quick drive from Toronto to wander through these vivacious flower fields.  While you're there, see what vegetables and fruits are in season at their farm market.
There's no better way to lift your mood then filling your home with fresh cut flowers! We hope you enjoy these suggestions.
Natalie & Phil