Boat Cruises around the province
By Natalie & Phil Monday, August 14, 2017
---
There are lots of ways to see our wonderful province but seeing it from the water can't be beaten. You get a completely different perspective and to boot, you are out on the water with the wind in your hair. See a city (Ottawa or Toronto) or cruise through the Muskoka Lakes or Thousand Islands. Below, we highlight some cruises to experience, but there are more here: http://www.summerfunguide.ca/boat-train-excursions.html
Eastern Ontario & Ottawa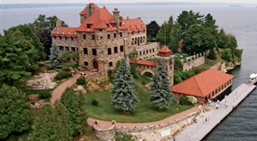 From the 1000 Islands in Eastern Ontario to the parliament buildings in Ottawa, the eastern part of the province has some great sights to see. View Boldt & Singer Castles with 1000 Islands & Seaway Cruises –Brockville or Gananoque Boat Line Ltd. or experience the Majestic St. Lawrence River with 1000 Islands Rockport. Looking to see Ottawa from a boat? Rideau King Tours offers daily Rideau Canal tours & Paul's Boat Lines cruises the Ottawa River. Most cruise lines offer sightseeing dining cruises and many also do sunset tours. You can even do a 4-7 night cruise with St Lawrence Cruise Lines or a 5 day voyage on the Rideau & Trent Severn Canals with Ontario Waterway Cruises.
Central Ontario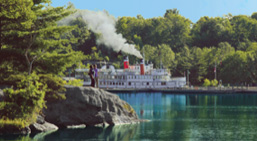 Central Ontario has an abundance of lakes and gorgeous scenery with loads of island views. Orillia Boat Cruises journeys around Lake Couchiching, and Boat Cruises – Midland & Penetanguishene has 3 departure locations and coasts around Georgian Bay's 30,000 Islands. And don't forget the Island Queen Cruise which also focusses on Georgian Bay's 30,000 Islands & departs from Parry Sound.  Sunset Cruises offers the "Muskoka Experience" with Canadian Shield vistas & gorgeous cottages. Prefer to do your cruising on a historic boat?  Muskoka Steamships & Discovery Centre lets you board the famous RMS Segwun or Wenonah II to steam around the lakes and SS Bigwin Steamship Cruises takes you on a Lake of Bays cruise on a majestic wooden hybrid vessel.
Southwestern Ontario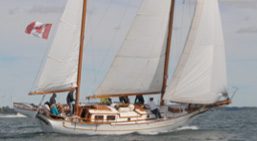 Southwestern Ontario has cruises in a variety of different areas, from Grand River to Manitoulin Island to Lake Erie. Grand River Dinner Cruises offers memorable scenic cruises on the Grand River. Chi-Cheemaun Ferry (Owen Sound Transportation Company) travels to  Manitoulin Island with its rich Aboriginal heritage & natural beauty. Windsor River Cruises Limited cruises down the historic Detroit River and offers Day Trips to Amherstburg, while Rogue Tiger Sail Charters, which departs from Port Dover Pier, offers 2-hr sailing charters on a classic and beautiful Formosa Ketch.
Greater Toronto Area (GTA)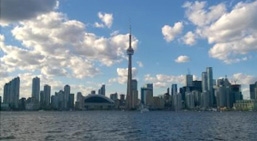 We often think of Toronto as a big city and forget that there is adjacent water that lets us enjoy the gorgeous skyline from a boat. Mariposa Cruises, operating in Toronto's Harbourfront, has harbour tours, as well as a variety of other cruises. Tall Ship Kajama offers day & evening sails aboard Toronto's only Tall Ship boat cruise attraction, a 165 foot three-masted Schooner. Jubilee Queen Cruise Lines is Canada's most popular River Showboat. And finally, bring the kids to A Pirate's Life & search for treasure:  fire the water cannons and haul up the loot if yer one of the lucky ones!
Considering that Ontario is home to one-fifth of the world's fresh water, it is the perfect place from which to explore our beautiful province. Whether you choose a historic boat cruise, sailboat charter, dinner cruise or tall ship, you will, no doubt, have a great time.
Enjoy!
Shari & Elisa