6 FUN FALL ACTIVITIES IN ONTARIO
By Natalie Tuesday, September 12, 2023
---
As the leaves start to change and the air becomes crisp, there is no better time to explore Ontario's beauty. We've rounded up the top 6 activities to help you make the most of this season. Take a scenic drive through Algonquin Park, indulge in a hot apple cider at a pumpkin farm, hike through the stunning Niagara Escarpment, pick your own apples at a local orchard, enjoy rides and cotton candy at fall fair or get lost in a corn maze with friends and family. Fall in love with Ontario all over again with these unforgettable experiences.
APPLE PICKING IN NIAGARA REGION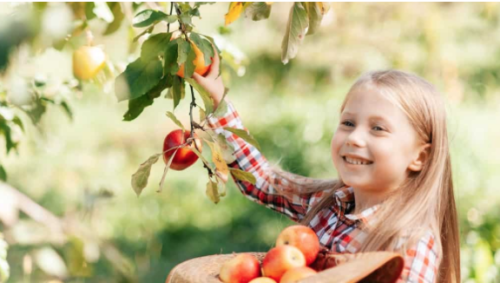 Nothing says fall like apple picking in the picturesque orchards of the Niagara Region. As the leaves change color, the apple trees bear their delicious fruit. Places like Silmaril Farms and Parkway Orchards offer visitors the chance to pick their own fruit while enjoying the fresh, crisp air and scenic views. Be sure to try some freshly baked apple pies and cider!
Click here for a full list of where to pick apples in Ontario
LEAF PEEPING IN ALGONQUIN PROVINCIAL PARK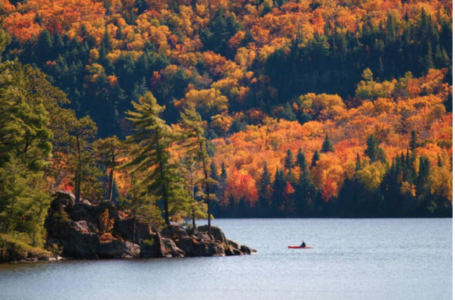 Ontario's crown jewel, Algonquin Provincial Park, is an absolute must-visit during the fall. As the leaves transition from vibrant greens to shades of red, orange, and yellow, the park becomes a canvas of breathtaking beauty. Hiking or biking along its numerous trails, such as the Centennial Ridges Trail, offers a front-row seat to the stunning transformation. Don't forget your camera to capture the awe-inspiring vistas.
FALL FOLIAGE TRAIN RIDES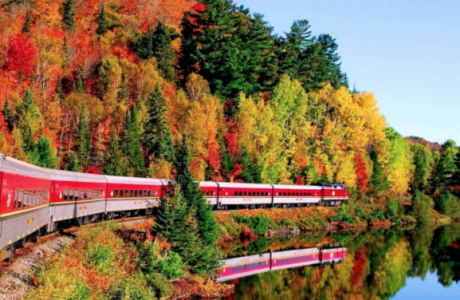 For a unique fall experience, hop on one of Ontario's scenic train rides. The Agawa Canyon Tour Train in Sault Ste. Marie takes you through the spectacular Agawa Canyon, surrounded by a sea of red and gold. In Muskoka, the Portage Flyer Steam Train offers a charming journey through the colorful forests and along the pristine Muskoka River.
Click here for a full list of scenic Fall train rides in Ontario
PUMPKIN PATCH ADVENTURES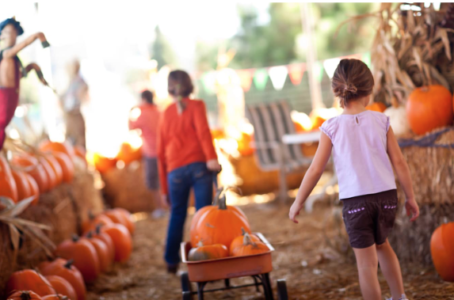 Visiting a pumpkin patch is a quintessential fall activity. In Ontario, you'll find plenty of options to choose the perfect pumpkin for carving or decorating. Saunders Farm, located just outside Ottawa, is famous for its extensive pumpkin patch and elaborate corn mazes. It's a fantastic spot for family-friendly fall fun. Downey's Farm Market in Caledon is another great option for pumpkin picking, corn maze and enjoying seasonal treats.
GET LOST IN A CORN MAZE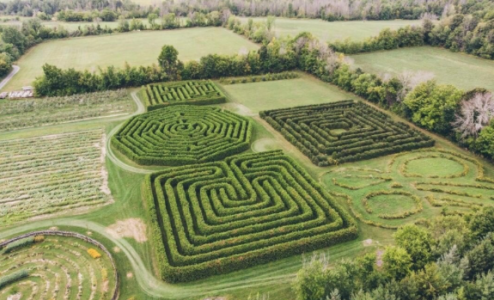 Ontario boasts some of the most captivating corn mazes to explore during the fall season. These intricate mazes, often located on family farms, offer a fun and adventurous experience for all ages. Places like Applewood Farm & Winery in Sunderland and Hanes Corn Maze in Dundas are known for their creative and challenging designs, making them ideal destinations for visitors seeking autumn excitement. Navigating through these towering cornfields while taking in the vibrant fall foliage is a great way to embrace the spirit of the season.
Click here for a full list of corn mazes in Ontario
FALL FAIRS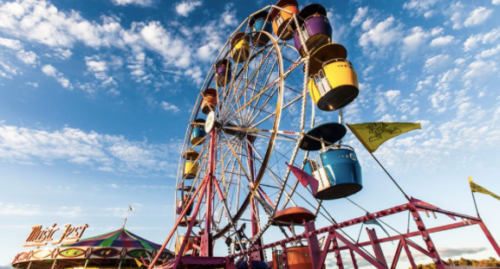 Get ready to dive into the heart of autumn at Ontario's fall fairs! These fantastic festivals are like a big, cozy hug from the season itself. Small charming town fairs are where the heart is like Noorwood Fall Fair, where you can meet adorable farm animals and taste delicious treats, and Norfolk County and Bracebridge, where you'll find thrilling rides and local goodies, there's a fair for everyone. Think candied apples, exciting rides and live music. It's the perfect recipe for a fun-filled fall adventure in Ontario!
Click here for a full list Fall fairs in Ontario
These are just a couple of ideas for fall but you can find an array of activities on our online directory and on our Event Calendar.  Don't miss the opportunity to experience the province's breathtaking autumnal landscapes and seasonal delights.
Happy Fall!
Natalie