ESCAPE THE WINTER BLUES AT ONE OF THESE 6 GORGEOUS SPAS IN ONTARIO
By admin Wednesday, March 10, 2021
---
Let's face it, the Ontario lock-down has made a long cold winter feel tougher than usual this year.  The salt and slush will soon begin to be replaced with the fresh sprouts of Spring flowers and we'll be reminded once again that Spring is a time of renewal.  Whether you had to tough it out by navigating virtual school with your kids, work out new systems to work from home, or you're just plain trying to manage in this new normal of ours – you deserve a break.  Why not take some time for that much deserved self-care by pampering yourself at one of Ontario's beautiful spas!
Ste. Anne's Spa (Eastern Ontario)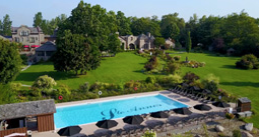 Ste. Anne's Spa is worth the splurge! It really does have it all. A heated Olympic sized swimming pool, massage chair room, eucalyptus steam room (once restrictions lift), and meditative hydrotherapy pools, all situated on 400+ acres of rolling hills and woodland.  Located in Grafton, Ontario – this spa has beauty that rivals the European countryside.  There are 30 stunning old rooms or cottages to choose from (the main house dates back to 1858!) so you could make a full weekend of it.  Reflect and restore with a stroll through the tranquil gardens or take a yoga, meditation or deep-breathing class.  Ste. Anne's definitely should be high on your list of Ontario spas to visit.
Nordik Spa-Nature (Ottawa Region)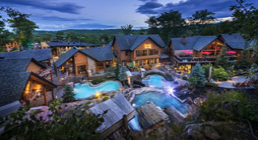 This stunning all-season spa is only a 15-minute drive from Ottawa and is the largest spa in North America.  Nordik Spa-Nature can be found in the picturesque village of Old Chelsea, Quebec on the outskirts of Gatineau Park.  A wellness centre with a focus on thermotherapy and relaxation techniques, this spa offers visitors a multisensory experience in a natural setting.  Experience weightlessness with the signature Källa treatment in a flotation pool filled with 10 tonnes of salt, or (when it's safe again) eliminate toxins and boost the immune system with the Banyä treatment, inspired by a 1000-year-old Russian tradition.  With 4 restaurants, multiple outdoor baths, saunas and resting places there's no doubt you'll leave feeling reinvigorated.
Cedar Meadows Resort & Spa (Northern Ontario)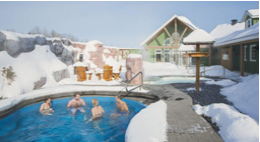 Retreat from the hustle and bustle of everyday life to a wilderness wellness oasis.  Cedar Meadows Resort & Spa is situated on 175 acres in the majestic natural beauty of Northern Ontario.  Located 5 minutes from Timmins, the spa also has 49 rooms and 5 chalets so you can roll your visit into a family getaway or a romantic escape.  Indulge in Nordic Baths, or schedule a relaxing massage, body treatment, facial, or manicure.  Once you're feeling thoroughly relaxed, you can venture out to see some local wildlife on a wildlife tour.  There's nothing more serene than a spa located right in the tranquility of Northern Ontario's wilderness.
Langdon Hall Country House & Spa (Southwestern Ontario)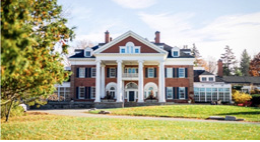 This striking country house, hotel and spa is tucked within the Carolinian Forest in Cambridge, Ontario.  With a warm rustic feel, the Langdon Hall Country House & Spa is one of Canada's top 25 spas.  The peaceful setting is perfect to replenish your soul with a massage, acupuncture, reflexology, a soothing body wrap, or other premium restorative and aesthetic treatments.  Known not only for the spa, but for impeccable dining and romantic accommodations, this location will fulfill all of your weekend getaway wishes.
Christienne Fallsview Spa (Niagara Region)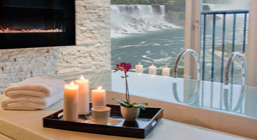 Christienne Fallsview Spa has a one-of-a-kind view of Niagara Falls that simply cannot be beat.  Unwind while marveling at one of nature's most spectacular feats, with a view of both the Canadian and American falls.  The Christienne Fallsview Spa offers a unique hydro infinity tub along with other premium spa services like massages, facials, manicures and pedicures.  Enhance your experience by relaxing in the eucalyptus scented steam room and dry sauna before or after their treatments (once it is safe to do so again).  We can't imagine anything more soothing than witnessing the sheer power of Niagara Falls while being pampered.
Le Scandinave Spa Blue Mountain (Central Ontario)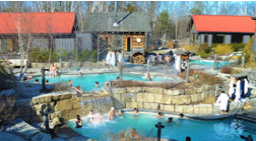 Rejuvenate post-skiing in the Scandinavian baths all year round at Le Scandinave Spa Blue Mountain.  Located on a 25-acre natural forest of Ontario birch, Canadian maple and pine trees in The Blue Mountains, Ontario – the spa also has incredible views of the UNESCO World Biosphere Reserve Niagara Escarpment.  Stimulate circulation and release endorphins in the quiet hydrotherapy pools, then Zen out in one of the many relaxation rooms.  Sit by a fire outdoors all year round and in the summer take a stroll on the certified Forest Bathing path.  Before you leave, grab a healthy bite to eat at their bistro.  Le Scandinave is one of Ontario's premier spas and we are sure you'll love it.
Rest and relaxation is so important for our mental health, especially during these times.  If the luxury of a spa day is out of your reach this year check out our Parks, Trails & Beaches Category online and plan for a break from it all with the soothing sounds of nature instead!
Natalie & Phil