Family Fun WATER PARKS & BEACHES in Ontario!
By Tuesday, July 17, 2018
---
When the sun is out and the weather is warm, there is nothing better than cooling off in the water. And Ontario has a LOT of water! Whether you are into the natural kind, found at Ontario's beautiful beaches, or the man-made kind at an Ontario water park, wet is wet! So throw on a bather, slather up with sunscreen, and get thee to some water.  Note that there are several water parks in SW Ontario, so it is getting a section all to itself, but we're not leaving out the rest of the province…keep reading!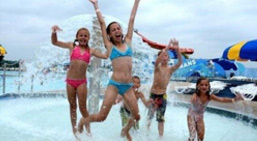 Water parks in Southwestern Ontario
Water parks are such a fun way to spend a day. They offer water activities ranging from the thrilling like huge slides, to the relaxing, like a lazy river. Most also have stuff for any age, although some of the rides have a height minimum. Earl Haig Family Fun Park in Brantford has a waterslide, lazy river ride, splash pad, leisure pool plus a Family of 5 Splash Pass only $29.00! East Park, London, has a New State of the art Wave Pool, and a 7 slide water park. Bingemans Big Splash & FunworX Indoor Playland, Kitchener has a heated Wave Pool, Spray 'N' Play (water park for kids), and 11 HUGE water slides.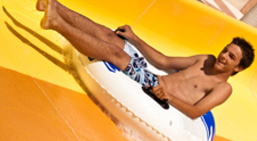 Water parks in the rest of Ontario
Most waterparks have food kiosks or restaurants but many also have picnic tables if you want to bring your own. There is usually somewhere to lock up your stuff too. Wet'N'Wild Toronto is Canada's newest Waterpark and it has water slides, a wave pool, a lazy river, a four lane zip-line and two kid's splash areas. Calypso Theme Waterpark (Eastern ON) is Canada's biggest waterpark with >35 water slides, 100 water games, 2 theme rivers & Canada's largest wave pools. Tomlinson Aqua Park in Kingston has a 10-metre water slide, lazy river, tot pool, spray features & more!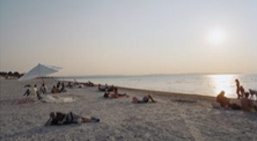 Blue Flag Beaches in Ontario
Blue Flag is an world recognized eco-certification awarded to beaches that have met 27 international standards for cleanliness, accessibility, water quality, safety and protection of shorelines & ecosystems. There are currently 27 beaches in Ontario that have attained this designation. One thing to know is that a swimming beach can only be certified as a Blue Flag beach if it is open 80 per cent of the time during the beach season, so picking one of these beaches ups the likelihood that a dip is possible.  Beaches are all very different, with different vibes, sand types, visitors, amenities and even nearby attractions or trails, so don't just stop at one – visit a bunch!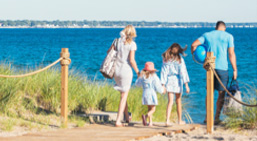 More Beautiful Beaches in Ontario
While you may think of lakes when you think of Ontario, beaches may not be as top of mind. That's a mistake because Ontario has some beauties! Even Toronto has wonderful beaches. Sarnia & Lambton County is known as Ontario's Blue Coast partly because of its kilometers of scenic waterfront, Blue Flag Beaches, and thrill-seeking adventure. Wasaga Beach is the world's longest freshwater beach so you've gotta find some good beaching there! Port Colborne is located on Niagara's South Coast and not only has festivals & entertainment, but also white sand beaches. Bayham, in SW ON, has beautiful beaches, plus birdwatching, fishing, boating & more. Binbrook Conservation Area in Niagara is the perfect place to swim or make sandcastles, catch some fish, rent a canoe or paddleboat.
So whether you're looking for some sand & sun at a beautiful Ontario beach or some giggles & screams at an Ontario water park, we've got you covered. Side note: late day dinner picnics at a beach are perfect for watching stunning Ontario sunsets, not to mention enjoying some romantic couple-time.
Enjoy your water fun!
Shari & Elisa, Publishers – Summer Fun Guide
https://credit-n.ru/offers-zaim/creditplus-online-zaimi.html