Some of the best outdoor activities & adventures in Ontario!
By Natalie & Phil Thursday, August 2, 2018
---
Summer Fun Guide has a category called Outdoor Adventures which is filled with all kinds of outdoorsy things to do. And while we call it "adventures", note that not everything listed there would be considered adventurous, so don't let the name scare you off. Many of the activities are just outdoors, and others can be adapted to your thrill-seeking preference – ranging from couch potato-y to adrenaline junkie.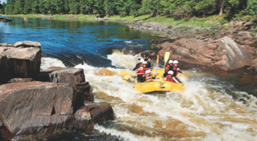 White Water Rafting
One of the great outdoor adventures Ontarians have available to them is whitewater rafting. Eastern Ontario holds bragging rights in this category and offers experiences from mild to wild & from beginner to expert. Wilderness Tours Rafting & Kayaking Resort has been in the rafting biz for 20 yrs, offering trips for ages 5+; it also has Canada's top adventure resort, so you can make it a getaway. RiverRun Rafting has High-Adventure, Family Rafting & also Tubing & it too has accommodations at its 165-acre resort. Madawaska River Family Rafting offers a 2-hour Family Raft Trip on the Madawaska River in the Algonquin Park area that is fun for any age.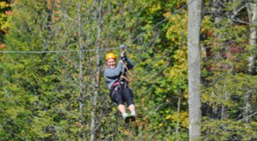 Aerial Adventures
If you like your adventures in the skies instead of the waters, you're in luck as Ontario has lots of options. Ascent Aerial Park in Sauble Beach has 30 challenging obstacles, 3 rock climbing walls, and a 35' free-fall experience! Boler Mountain – Treetop Adventure Park London lets you enjoy the Carolinian forest from the Treetops with Zip Lines, Rope Courses & Swinging Bridges. Camp Fortune Aerial Parks & Ziplines, 15 mins from downtown Ottawa, challenges you on tree top games and then lets you soar through the forest on giant ziplines. Treetop Trekking was voted Ontario's Top Outdoor Attraction in 2017. With 5 Ontario locations, you can Climb, swing and zip your way through the forest canopy. Treetop Eco-Adventure Park, Oshawa has 6 courses -beginner to advanced, age 3+. Long Point Eco-Adventures has a wide range of adventures from zipline & canopy tours, to stargazing & luxury glamping.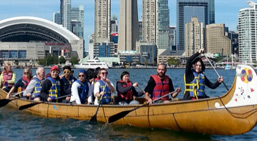 Paddling & Canoe Tripping
There is nothing like the peaceful sound of a paddle dipping into calm water as you move slowly along the river. Canoeing The Grand  will shuttle you and your canoe/kayak/tube to your desired start point on The Grand River and you paddle back and Grand River Rafting Company can create a customized guided trip for you. Perfect for group or solo paddling. Toronto's Harbourfront Canoe & Kayak Centre offers Guided Tours in Tandem Kayaks or Big Voyageur Canoes in the Toronto Islands. Toronto Adventures offers year-round activities including Kayaking, Canoeing & Paddleboarding. Ahoy Rentals, Kingston, has Sailing, Kayak, Canoe, Paddleboard & Bike Rentals + Skippered Sailing Charters. Algonquin Outfitters has been running wilderness canoe trips and day trips for 3 generations, since 1961. Portage Store also does canoe rentals & guided day tours in Algonquin Park.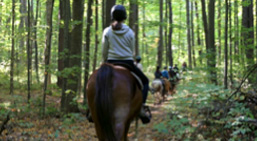 Other Outdoor Activities in Ontario
This might be a miscellaneous category, but it still has loads of outdoor fun on offer!  Skydive Toronto Inc, is Canada's longest established & most experienced skydiving school with >260,000 successful jumps. You're still gonna scream though! Pathways on Pleasure Valley just NE of Toronto offers private, romantic and group horseback trail rides on >225 acres of breathtaking scenery & tranquil forest.  Edenvale Classic Aircraft Foundation takes you on a flight in a WWII Tiger Moth open cockpit biplane – strap on some old-fashioned flying goggles and go! Wilderness Air Fly-In Fishing Adventures flies you in to a remote outpost with some of Canada's best fishing and hunting. Fly one of 20 Birds of Prey for yourself at a Falconry Workshop, at Hawkeye's 10-acre facility.
There are so many exciting, fun and adventurous activities in Ontario! Have a great time finding your favourite one.
For more things to do & places to stay in Ontario, see Summer Fun Guide.
Enjoy!
Shari & Elisa, Publisher – Summer Fun Guide