Spend father's day, or any day, with the Animals in Ontario!
By Natalie & Phil Thursday, June 13, 2019
---
Although Father's Day, birthdays and holidays are great excuses to visit the Zoo, truthfully, we don't really need one. Zoos are less crowded on weekdays or non holiday weekends and even so, ANY day is a great day to visit the animals. There are a whole bunch of places in Ontario to spend time with animals, not just zoos, and we've highlighted a few below but there are loads more if you click here.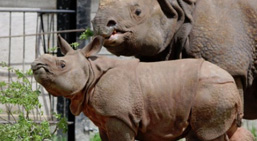 Zoos
When you think about animals, the first thing that always comes to mind is the zoo. The best thing about the zoo is that there are so many animals to see, all in one place. Most zoos have a complete range of animals, from lions and tigers and bears, to monkeys, reptiles, birds and more. Here are just a few of Ontario's zoos:  Toronto Zoo is one of the largest zoos in the world with over 5000 animals. Brantford Twin Valley Zoo has exotic animals, reptiles, petting area & great staff.  Elmvale Jungle Zoo has 25 acres filled with lions, tigers, jaguars, monkeys, lemurs and more. Killman Zoo has over 30 species of animals on a 33-acre site.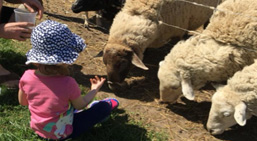 Farm Animals & Petting Zoos in Ontario
One of the things that is really fun about a farm with animals or a petting zoo is watching small kids getting up close and personal with animals, feeding and touching them. It is a different experience from seeing large animals through a fence.  Promise Land Family Fun Farm (Belleville) lets kids interact with farm animals in a safe, fully fenced, open concept space. The Big Apple Attraction may be known for its apple observatory and its pies, but it also has a petting zoo. Oshawa Zoo and Fun Farm has an interactive mix of friendly exotic & domestic animals available for hand feeding & petting.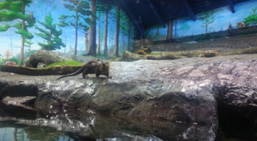 Specialty Animal Places
Instead of having a wide range of animals, birds, reptiles etc, some places specialize in just one type of animal. It is cool to really learn about a single type of creature. Bird Kingdom in Niagara Falls is the world's largest indoor free-flying aviary. Scales Nature Park in Oro-Medonte has >300 animals of 60 species in an indoor reptile facility; the most complete live collection of Canadian species in Canada. Little Rays Reptile Zoo has critters from around the world and has shows throughout the day. Toronto's Ripley's Aquarium of Canada has over 20,000 aquatic animals. Aquatarium in Brockville has a 33,000 sq ft Aquarium & Discovery Centre, with interactive, hands-on experiences.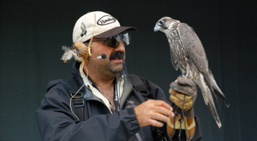 Other Animal Experiences in Ontario
Can't get to Africa? That's ok because you can go on safari at home! Parc Omega near Ottawa is home to wildlife and you can also feed carrots to 'safe' animals who come up to your car for treats. Safari Niagara is a 150-acre nature park, home to more than 1,000 native and exotic mammals, reptiles & birds. Want to check something cool off your bucket list? Hawkeye Falconry Experience in Acton lets you fly a Bird of Prey yourself! Learn about Falconry and enjoy incredible flight demonstrations.
We're fortunate to have many great places that care very well for their animals in Ontario. We can visit, learn and enjoy them all.
For more things to do & places to stay in Ontario, see Summer Fun Guide.
Shari & Elisa, Publishers – Summer Fun Guide