ROAD TRIP WORTHY FALL FESTIVALS
By Natalie & Phil Tuesday, September 6, 2022
---
With fall around the corner, it's time to start planning some road trips around the fall colours! Fall is the perfect time of year for festival adventures! The weather is still warm, the sun is still shining, and Ontario transforms into a kaleidoscope of autumn colours! The regions of Ontario are filled with fall festivals that are back this year! There are festivals happening each month with different themes, things to do and food to try. Fall festivals make the best weekend road trips to grab a warm bevy, hop in the car and head out to a new place (or somewhere you love) for some festival fun. We've put together some awesome festivals taking place this fall you won't want to miss!
Fall Festivals in the GTA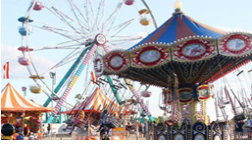 Nuite Blanche returns October 1st. This overnight art festival will be even bigger this year, expanding to neighbourhoods in Etobicoke and North York in addition to downtown Toronto and Scarborough featuring more than 150 artworks by local, national and international artists.
Brampton brings back the Brampton Fall Fair, September 15-17, hosted by the Region of Peel Agricultural Society to learn about agriculture. See livestock shows, homecraft exhibits, midway, demolition Derby, livestock shows, rodeo, tons of food trucks, antiques & classic car show, beer gardens, and dog shows! Sunderland's Fall Fair takes place this year on September 13-14 featuring a demolition derby, agricultural show, horse pull, pet show, dairy calf show, antique tractors, culinary art, crafts and yummy food! Check out the Markham Fall Fair this year October 3-6 at the Markham Fairgrounds with so much to do for the entire family. Go on rides on the midway, buy homecrafts, visit the agri-food tent, listen to live music, play in Faircrow's Farm Park, meet livestock in the livestock barn and more! The Georgetown Fall Fair will also be happening September 9-11 with tons of live music, beer gardens, children's crafts, a milking demonstration, kiddie pedal tractor, demolition derby, talent show, silent auction and lots of activities for kids.
Fall Festivals in Central Ontario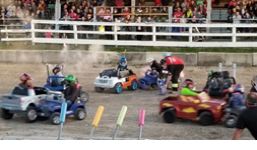 The Beaverton Fall Fair returns this year September 16-17 with a midway, parades, tug of war, stunt shows, beer gardens, live music, farmers market, car show, horse shows, demolition derby and more! The Warkworth Fall Fair features the most incredible apple pies happening September 9-11. This fall fair is one not to miss with a midway, axe throwing, live music, BBQ, baking competition, obstacle courses, beer gardens, sheep shearing, petting zoo, car show, truck & tractor pull and tons more! In Collingwood from October 8-10, grab some delicious apples at the Apple Harvest Festival! This festival will feature tons of different apples as this is Ontario's largest apple growing region, live music, cider tasting, Agora Path of Lights, Apple Pie Trail, stilt walkers, and fall driving tours! Visit the Elmvale Fall Fair October 7-10 for farm animal displays, livestock shows, parades, truck & tractor pull, midway, craft competitions, sheep show, and lots of dancing!
Fall Festivals in Southwestern Ontario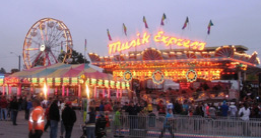 Norfolk County presents the Norfolk County Fall Fair and Horse Show at the Norfolk County Fairgrounds Oct 4-10.  This festival has been voted one of the top 100 festivals in Ontario featuring delicious food, local market, top live music, live motor sports, celebrity chefs, largest outdoor horse show in Canada, variety of competitions, giant pumpkins, huge midway and more! Visit Fergus for the Fergus Fall Fair to see the truck and tractor pull, dog show, sheepdog herding, horse shows, farmers olympics, kid's games, midway, motocross show and more! The Port Elgin Pumpkinfest on October 1-2 has some of the largest pumpkins in Ontario with a weigh off competition. Enjoy the midway, tasty treats, craft markets, food vendors, car show, and pumpkin carving! The Rockton World Fair, October 7-10 features games, rides, animal exhibits, food, entertainment, midway, demolition derby, fair animals, horse show and more!
Fall Festivals in the Niagara & Northern Regions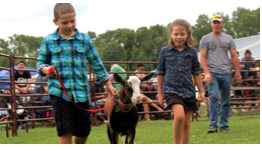 Ball's Falls Conservation Area hosts the Ball's Falls Thanksgiving Festival Oct 7-10 with a farmer's market, local food, drinks, 50+ craft and artisan vendors, heritage tours, nature hikes, and games and activities for kids. The West Niagara Fair is taking place September 9-11 and is featuring an RCMP Musical Ride, fair food, World's finest midway, Bonjovi Tribute band, livestock shows, vendor marketplace, kids zone, petting zoo, demolition derbies and more! Just outside of Thunder Bay, visit the village of Hymers for the annual Hymers Fall Fair. This classic fall fair will feature the biggest pumpkins grown locally, horse and cattle shows, delicious food, exhibitors and tons of family fun!
Fall Festivals in the Ottawa Region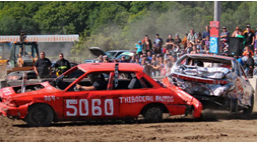 The Perth Fair returns for its 175th year September 2-5. Watch the dog shows, live musical entertainments, chainsaw carving, midway, goat show, reptile show, truck pull, pumpkin competition, ranch hand competition, sheep shearing and more! Head to Richmond for the Richmond Fair, September 8-11 for the heavy horses competition, live music, demolition derby, Winslow Dancers Orchestra, truck and tractor pulls, dance competitions, food trucks, fresh baking, midway and games! In Carp, join in the fun at the Carp Fair known as the best little fair in Canada! There will be a midway, live music, world-class horse shows, SuperDogs, a magic show, puppet show, petting zoo and learn about agriculture. The Metcalfe Fair, happening September 29 – October 2, 2022, 2022 is a huge fair taking place on 24 acres of land, just outside of Ottawa. Don't miss out on the Metcalfe Farmers' Market, Shroomfest, livestock shows, midway, demolition derby, Indigenous performances, sheep show, heavy horse hitch classes, heavy horse pull, tons of games and so much more!
Fall Festivals in Eastern Ontario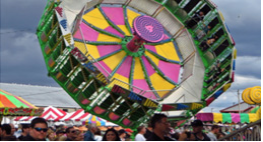 In Norwood on Thanksgiving weekend join in the fun at the annual Norwood Fall Fair running since 1868! Grab tickets for tons of events like cattle & horse shows, midway rides, kids' games, baby animals, crafts & baked goods, teddy bear show, a parade, live entertainment, lawn tractor pulls, antique car show, and more! Head to Kingston for the Kingston Fall Fair September 15-18 featuring a horse show, petting farm, sheep shearing demonstration, pony rides, demolition derby, motocross thrill show, monster trucks, live music, fresh food and so much more! In Prince Edward County September 9-11 head to Picton for the Picton Fair! This is one of Ontario's oldest Agricultural Fairs with a midway, antique tractors, calf shows, tractor pull, saddle horse show, bake sale, bingo, mini horse show and so much more! Visit Ameliasburgh for the Fall Fair happening September 24th. This fair will feature a horse show, a Balloon Genie, live entertainment, silent auction, craft show, bake sale, kids fun zone, scavenger hunt, cattle show, exhibits and more!
Please check out our Event Calendar for more fairs, festivals and special events happening near you.
Natalie & Phil