THE MOST INSTAGRAMMABLE BEACHES IN ONTARIO
By Natalie & Phil Tuesday, August 16, 2022
---
Summer isn't over yet! There is still plenty of time to soak up the sun and get outside. Whether you still have vacation time to take or you're looking for a weekend road trip spot, there are tons of instagrammable beaches across the province with incredible views. Pack a bag and a cooler and head out for a day of why not plan a whole weekend around visiting one of these amazing beaches. Make sure your phone is fully charged to take tons of incredible photos of the sandy shores and some feed worthy selfies!  If you're looking to see the complete list, visit our full listings page on our website here.
Beaches in the GTA & Central Ontario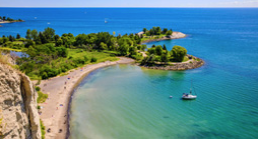 In Hamilton, Confederation Beach Park on Lake Ontario is a top beach spot in the area for its beautiful sandy beach area for swimming, water sports, and outdoor attractions to keep everyone active. After you spend the day at the beach, go go-karting, try the batting cages, mini golf, beachside restaurants, splash pad, wild waterworks and more! In Scarborough, Bluffer's Beach is a show-stopping Caribbean-vibe, beach! The bright blue waters with the tall Scarborough Bluffs surrounding the water make this a gorgeous backdrop for your summer beach photos. In Tiny Township, visit five beautiful beaches, each with bright blue waters and incredible views along Georgian Bay and are the lesser known, hidden beaches you've been looking for! Make sure you check out Woodland Beach, Bluewater Beach, Jackson Park, Balm Beach and Lafontaine Beach Park for the best beach day photos. In Wasaga, just west of Barrie, plan a day at Wasaga Beach, a 14km beach that's the longest freshwater beach in the world! Wasaga Beach sits on Nottawasaga Bay surrounded by incredible views of the Niagara Escarpment. Walk along the beaches and visit shops, eat in beachside restaurants and take selfies in front of the new iconic Wasaga Beach sign!
Beaches in Southwestern Ontario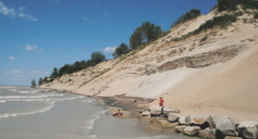 In Port Burwell, visit Sand Hill Park for views and photo ops of the largest sand dunes in Ontario! This blue water beach is located on Lake Erie with sand piles 350 feet high that cascade over the beach, perfect to climb to the top for epic selfies and aerial shots of the beach. Grand Bend Beach in Lambton Shores is known as one of Canada's best beach towns with tons of restaurants, shops, and amazing nightlife. Grand Bend Beach is accessible to all, has a boardwalk with a splash pad and a playground that you can play in as well as the beautiful clear blue beach waters that is one of only 22 beaches in Canada to have earned official Blue Flag status for water quality and cleanliness. Sauble Beach is the second largest freshwater beach in the world with seven miles of blue water, sandy beaches on Lake Huron. Snap a pic in the clear waters, grab some food along the walking strip from cute restaurants and check out the local shops. In Port Elgin, just 25 minutes from Sauble Beach, pack a bag for some beach hoping. Port Elgin is home to several beaches, all perfect photo opp spots of the crystal-clear waters, white sand beaches and incredible sunsets. Visit these beaches in this area for unforgettable days in the sun; Gobles Grove, Shipley Beach, North Shore Park Beach, Eidts Grove Beach and Port Elgin Main Beach.
Beaches in the Ottawa Region & Eastern Ontario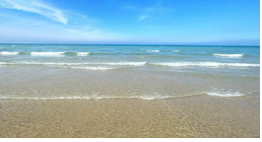 North Beach in Consecon has clear sandy shores and stunning blue waters that will make you feel like you're in the Caribbean! Pack a picnic, go swimming, bring your boat to cruise the waters of Lake Ontario and sunbathe on the sandbars in this incredible area. Sandbanks Provincial Park in Prince Edward County has twelve kilometers of white sand dunes along Lake Ontario. The dunes were formed by glaciers 12,500 years ago and are the world's largest bay-mouth dune barrier formation. Swim and take pics in the turquoise waters of this incredible beachy part of Ontario. In Ottawa, visit Constance Bay Beach where you can go swimming, boating, water skiing, canoeing, biking and horseback riding! This beach is located along the Ottawa River and is a great beach for water sports and relaxing! Visit Plage Auger's Beach in Woodlawn, Ontario near Ottawa for a sandy, warm beach also along the Ottawa River where you can go sailing, boating, fishing and swimming. The blue waters of this beach are the perfect backdrop for a summer beach photo.
Beaches in the Niagara Region & Northern Ontario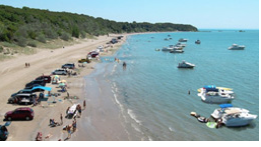 Port Colborne is home to Nickel beach, a white, sandy beach where you can windsurf, go swimming, have a picnic, play beach volleyball, go on the new inflatable waterpark and sunbathe on the soft white, sand. Located on Lake Erie, Nickel Beach is one of the only beaches in Ontario you can drive and park on the beachfront! Crystal Beach in Fort Erie has access points to the beach with the most well-known, Bay Beach where you'll find soft, sandy beaches with clear waters for the perfect beach selfie. This beach comes with completely new facilities, a playground, pavilion, festival square, beach mats and a viewing deck over the beach for the perfect photo. In St. Catherine's, plan a day at Lakeside Park Beach, on the South Shore of Lake Ontario for a picture-perfect beach with golden sandy shores and great views of Port Dalhousie harbour and a lighthouse! Go swimming, lounge on the beach, play on the playground, take a ride on the carousel, eat a picnic, grab a snack at the snack bar, play beach volleyball and hike the Great Lakes Waterfront Trail all during your visit! Visit Old Woman Bay in Lake Superior Provincial Park for a truly unique beach experience where you can swim in Lake Superior, surrounded by rocky cliffs in the shape of an old woman's face. Snap a pic with this incredible rock formation, known across Canada.
We hope you enjoy the rest of your summer and if you can't make it to one of these gorgeous beaches this year they are definitely worthy of adding to the bucket list for summer 2023!
Natalie & Phil