17 Places to ride the Rails or Cruise the Waters in Ontario
By Natalie & Phil Monday, June 4, 2018
---
17 Train Rides & Boat Cruises in Ontario.
There are loads of ways to see our wonderful province – by car, on foot, by plane…but 2 great ways are by boat and by train. Both move quickly enough that you get to see a fair amount, but slowly enough that you REALLY get to see and enjoy (and also, someone else is driving so you can look around). Both also let you see the province from a slightly different vantage point and let you go places that cars and feet can't take you. We recommend both highly! Check out our online Boat & Train excursions list too.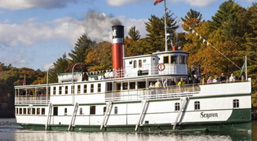 CENTRAL & NORTHERN ONTARIO CRUISES & TRAINS
With all of the gorgeous lakes in Central & Northern Ontario, you can cruise to your heart's content! Boat Cruises on Georgian Bay offers cruises from Midland, Penetanguishine & Port Severn to discover Georgian Bay. SS Bigwin Steamship Cruises explores Lake of Bays on a majestic wooden hybrid vessel. Sunset Cruises offers the "Muskoka Experience" – a cruise on the big 3 Muskoka Lakes. Muskoka Steamships & Discovery Centre offers tours of Muskoka's lakes aboard RMS Segwun or Wenonah II steam ships – visit the Discovery Centre to learn the history of ships/ boats, aboriginal and early settlers too. Island Queen Cruise has daily tours of Georgian Bay's 30,000 Islands. Most offer scheduled tours and private charters and many have sunset or dinner cruises too.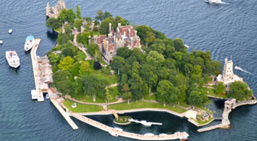 BOAT CRUISES in EASTERN ONTARIO
The 1000 Islands region is spectacular from the water, with views of Boldt Castle and luxurious cottages on many routes. Early owners of some of those "cottages" were people like the Pullmans, the inventor of the railway Pullman car, John Jacob Astor, a NYC financier, and Helena Rubenstein, from the cosmetic company. The first sightseeing tours were by a mail boat owner who took people on tours as a sideline to delivering mail to the islands. 1000 Islands & Seaway Cruises – Brockville passes by both Boldt & Singer Castles and has both a fast tour boat and a traditional one. Gananoque Boat Line Ltd. lets you discover legends & lore on a "Lost Ships" cruise in addition to its regular sightseeing tours. 1000 Islands Rockport Cruises has Sightseeing, Castle Tours or Dining Cruises to choose from.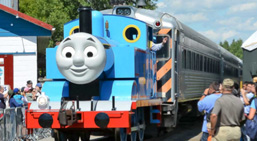 BOAT CRUISES & TRAIN RIDES IN TORONTO
The GTA region has more trains than boats, although there are excellent tours of Lake Ontario operating out of the Harbourfront area. Mariposa Cruises lets you enjoy Toronto's iconic skyline & harbour with both its sightseeing and dining/event cruises. If you like to ride the rails, York Durham Heritage Railway offers heritage train rides through the Oak Ridges Moraine. They also have a Day Out with Thomas in August. So fun! Halton County Radial Railway & Streetcar Museum in Milton is a museum with a full-size operating electric railway. They offer unlimited rides, and have a historic Railway Station.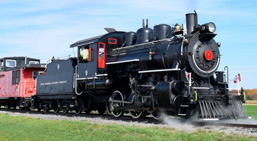 SOUTHWESTERN ONTARIO CRUISES & TRAINS
Southwestern Ontario has a variety of options – both on the rails and on the waters. South Simcoe Railway in Tottenham, is Ontario's First Steam Heritage Railway & offers scenic, narrated excursions. Grand River Dinner Cruises, Caledonia is known for its scenic boat cruise on the Grand River with food, entertainment & fascinating narrative. Waterloo Central Railway (St Jacob, Woolwich)  has both Day Trains & Themed Trains, like Easter Trains, Great Train Robberies, Pizza Trains and more! Chi-Cheemaun Ferry (Owen Sound Transportation Company) in Tobermory travels to Manitoulin Island to experience Aboriginal heritage & natural beauty. Windsor River Cruises Limited cruises down the historic Detroit River with historical commentated Sightseeing, Day Trips to Amherstburg, & other cruises and events.
The nice thing about train rides is that you can often do them all year (or almost all year) long. In addition to  summer excursions, they offer great opportunities to see the stunning fall colours we are lucky enough to experience in Ontario. Whenever you go, and whatever you do, have fun. Please let us know if we've missed a cruise or train ride you think we should include.
Find more Things to do & Places to stay in Ontario.
Shari & Elisa, Publishers – Summer Fun Guide